The micro-blogging site, Twitter is reportedly planing to launch its IPO by year end. However, before any official announcement, initiative of IPO launch is filled with lot of speculations in minds of public and investors. In its recent filing of  initial prospectus ( S-1) with security regulators ahead of its IPO launch, Twitter has revealed lots of data and stats about company's progress in Q1 and Q2, 2013. There statistics are vital for investors to make firm decision and, unfortunately, the post-filing response doesn't bring much of excitement towards Twitter.
According to the pbservation by Jim Edwards – who also owns Facebook stock and closely monitoring Twitter progress towards IPO – the micro-blogging website is burning down major part of investment in its endless employee expenditure. Although overall revenue is rising, but expenditure costs are too high and it isn't making enough profit. It lost $69 million on $254 million in revenue in first 2 quarters of 2013 due to exponentially staggering employee expenditure. Twitter has hired close to 2,000 employees in last 2-3 years. For a 140 char display device, 2,000 might seem a little higher. If it has to maximise its profit margin in future, shortening of workforce should be prioritized.
But Twitter's challenges are not limited only to investment done on employee expansion. Intense competition from Facebook, LinkedIn and Google+ is hitting growth of Twitter's user base.
The growth in number of users is less compared to earlier quarters. Last quarter Twitter added just 1 million active users in the U.S, which is 1/50th of its total number of registered users in the state. It is important for Twitter to keep "Active users' population" growing to boost ad revenue. Almost 87% of its revenue is coming from ads in form of  "promoted and sponsored tweets". Advertisers would be interested to promote their brand only if majority of population is active.
Twitter claims to have 218 million active users until now, which isn't much higher as it had already crossed 200 million mark last december. Twitter's user growth relies  on impressive public profiles of politicians, entertainment, sports stars. This factor could be worked on and used to attract more users on the micro-blogging site.
Twitter's growth targets has been largely affected by spam. The company went through a significant campaign to get rid of bogus accounts earlier in the year. Although efforts were successful enough but it ended up shrinking Twitter's true user number. But one advantage that Twitter can boast about now is delivering valuable ROI to advertisers and maketers, user-wise.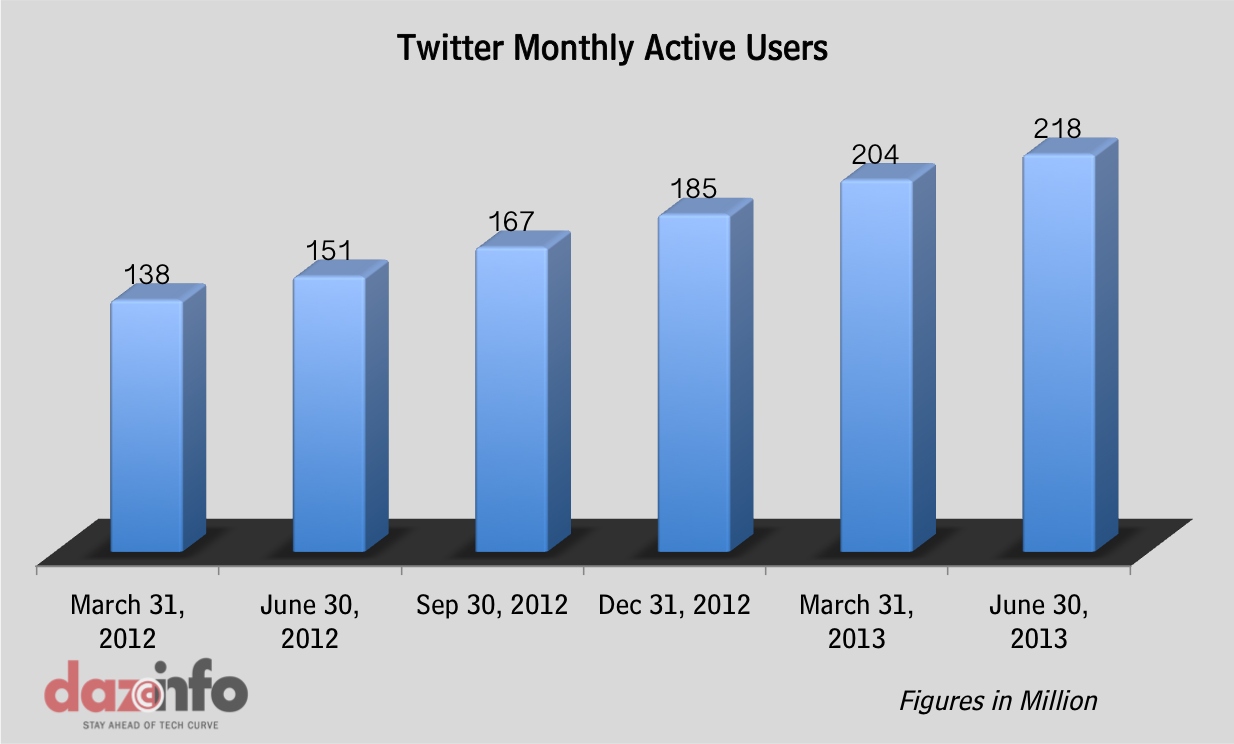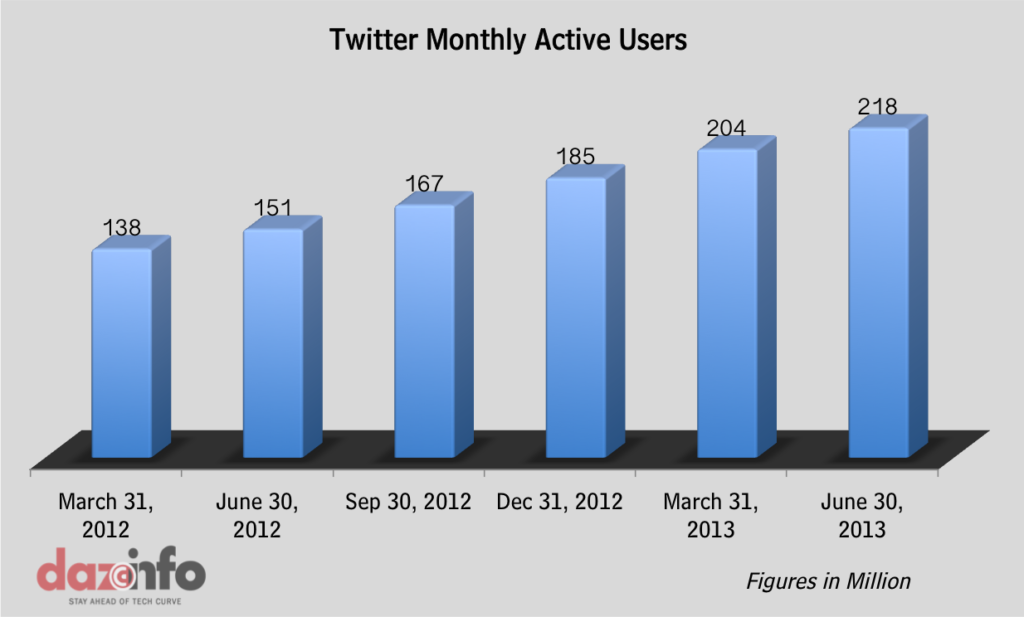 Overall revenue of Twitter is spiking up with 107% growth rate on Y-O-Y basis, but at the same time expenses are growing at faster rate than revenue. Looking at graph below, we can observe multifold rise in revenue and decrease in net loss until Q4,2012. Last 6 months of 2013 has been disappointing due to steady increase in net loss from $9 million to $42 million. Revenue spiked up in Q2 of 2013 but net loss too has increased significantly. There are lot of things to be fixed for Twitter if it needs to stand in race with Facebook and other Social media giants. Immediate cut down on expenses is the need of the day.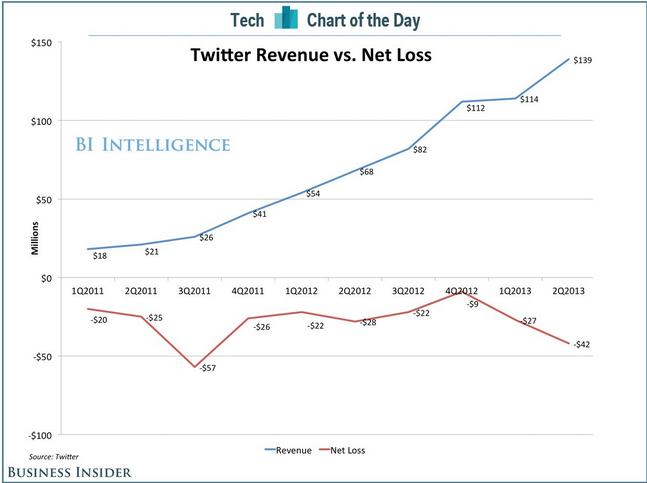 Facebook Inc. (NASDAQ:FB) disabled Instagram's photo integration with Twitter such that Instagram photos are no longer viewable within Tweets. When users push an Instagram photo to Twitter, instead of a cropped photo, there is just a white space in the Tweet, and a link to the web-version of the photo on Instagram. As a result users may be less likely to click on links to Instagram photos in Tweets, and Instagram users may be less likely to tweet or remain active users of Twitter.

Future Of Next Generation Micro-Blogging Site
Twitter is, no doubt, a growing company with robust revenue but there are couple of areas to be worked out for the company in order to keep the stock price rising. Its opening financials and metrics are messy, and they compare poorly to Facebook's S-1 report a year ago, which showed a wildly profitable company with no major problems in front of it. Twitter's move to IPO seems as a measure to overcome its earlier mentioned challenges and  not as a company which would be investing more in making the micro-blogging site much exciting.
One of the toughest challenge for Twitter is with 
churn
 – people register in Twitter and then stop using it. Twitter has its own customs and traditions, and common man is failing to grasp the excitement of using it effectively. Users are failing to understand basic usage of "ReTweet" and its difference with "modified tweet". Although, the company is working hard to make it easier for novice users to find stuff lots of people are talking about. It is sending lots of emails, pointing out when you've been mentioned or retweeted in an effort to lure back wayward users. But task doesn't seem to be easy for them, also at present it has few other internal issues to fix up.
Even if Twitter can't show rocket-growth in its user base, it may still have a convincing story to tell when it comes to revenue. Mopub
acquisition
might aid Twitter well and keep the next generation micro-blogging site as users' favorite.