Global Smartphone shipments in Q3 2013 exceeded 250 million units, while Samsung Electronics Co., Ltd. (KRX:005935) widen the gap with Apple by controlling 34% of the market. The Korean electronics giant shipped an estimated 85 million Smartphones in Q3, 2013 compared to Apple Inc. (NASDAQ:AAPL) that managed to sell 33.3 million Smartphones (iPhone) during the same quarter. But, it was Nokia that surprised everyone by shipping 15 million –including 8.8 million Lumia series smartphone – and regained a spot in the list of top 3 smartphone makers.
In Q3, 2013 Smartphone industry represented 10% Q-O-Q growth and nearly doubled its growth compare to year ago quarter. Interestingly, the growth is estimated to increase further in Q4, 2013 due to holiday seasons and recent launch of Samsung Note III, iPhone 5S and iPhone 5C.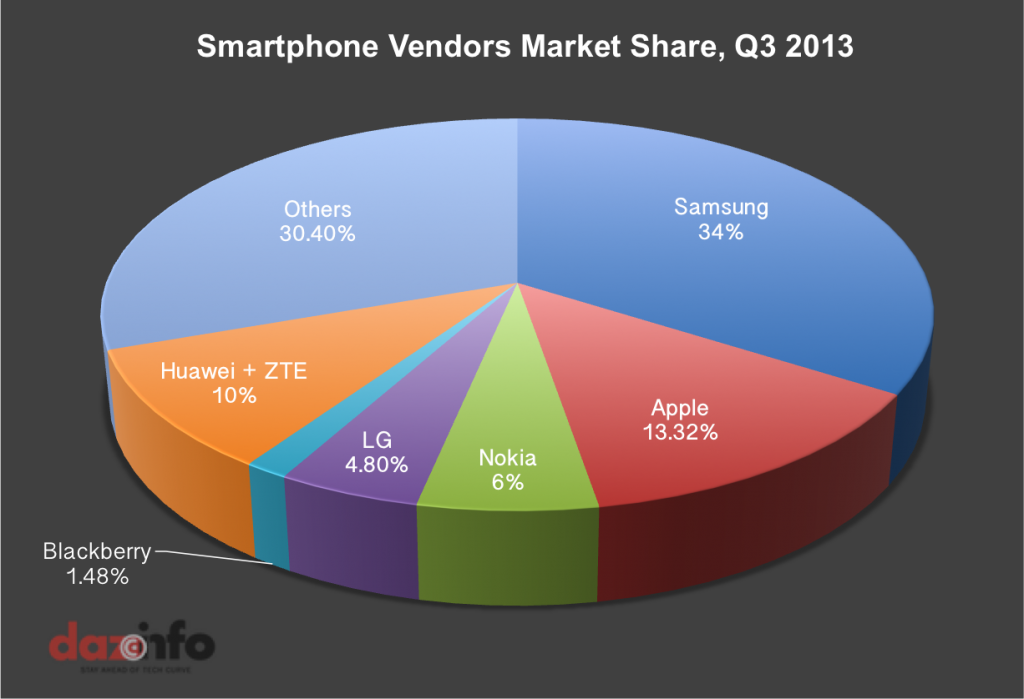 Samsung, Apple and Nokia largely drove the Smartphone growth in Q3 and the trend is expected to continue in Q4 2013 as well; Samsung shipped nearly 85 million smartphones – every 3rd smartphone. However, Nokia leapfrogged LG second time in this year; compare to Nokia's 15 million Smartphones (including Asha) LG managed to reach to the shipment count of 12 million in Q3, 2013.
Samsung is widening its gap with rest all mobile vendors by leveraging upon highly popular Android OS and aggressive marketing strategy. In spite of the fact, Samsung is clearly foreseen tough competition from emerging local vendors in developing countries likes of India and Indonesia.
Smartphone contribution in the global mobile handset market is yet to reach to a sizable number. In world's third-largest country by mobile subscriptions India, smartphone penetration is mere 2% and a majority of new users are first-time Smartphone owners whose selection of device is primarily influenced by price point – something where local players such as Micromax and Karbonn have got an edge over global brands.
The challenge is not limited only to India; In APAC – world's largest mobile market as a region – homegrown smartphone vendors such as Micromax, Lenovo, and Huawei are leading the market by beating Samsung, Apple and Nokia.
Source: Juniper Research Q3, 2013