Popularity of any social networking site is completely based upon the number of users and Twitter's accomplishment of the 500 million users mark, sets the tone of the micro-blogging site in the same direction.
According to Semiocast, Twitter has touched the 500 million user mark in June 2012. Not only that, there are over 140 million users in the U.S alone who are engaged with the site. Though users' growth from countries like Korea and Japan is slowing down, but still Japan is one of the most active countries.
Global Phenomena of Twitter
The report was generated by analyzing 517 million Twitter user accounts (created before 1st of July 2012)  and over a billion public tweets (posted from June 1st to June 30th 2012).
U.S portrays 27.4% of Twitter users which is comparatively less than that of the Twitter users in January of 28.1%. But whatever the growth rate, U.S is the leading Twitter nation with 25.8% of all public tweets tweeted.
But one thing that is not yet disclosed is the details about the number of active users or monthly active users, especially in the mobile sector. As on march, Twitter boasted in its blog post of 140 million active users. Looking into the statistics, a question that pops up is – were all the 517 million user accounts, that were analysed, Genuine? In other words there are chances that there might be inactive accounts and moreover there might be many pseudo Twitter accounts.
As per the report, the number of Twitter users in Brazil (representing 8 % of twitter accounts) grew from 33.3 million in January to 41.2 million in July 2012. Sao Paulo and Rio de Janerio in Brazil are the two top cities among the top 20 tweeting cities.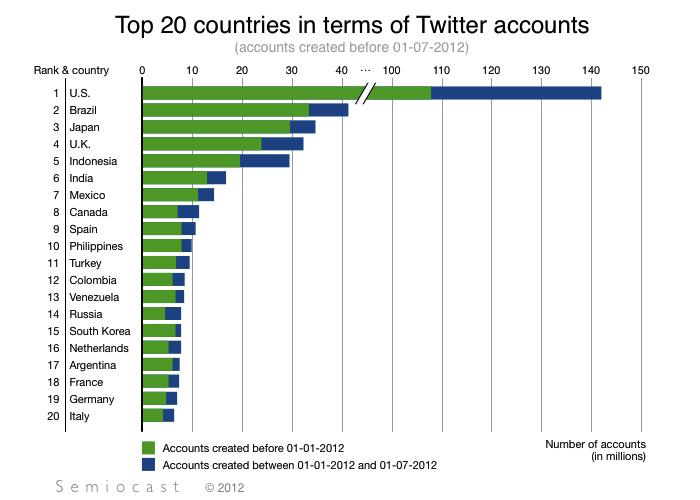 Jakarta, Tokyo and London are the top 3 cities with the highest number of posted tweets. India is not even in the list. New York is the first United States city which is in the 5th position.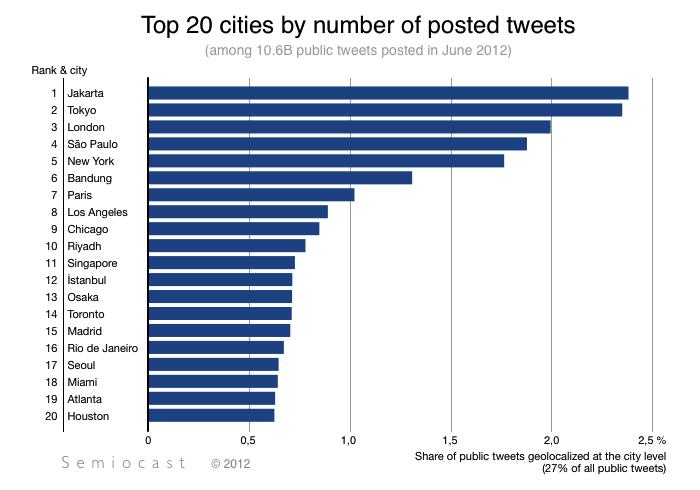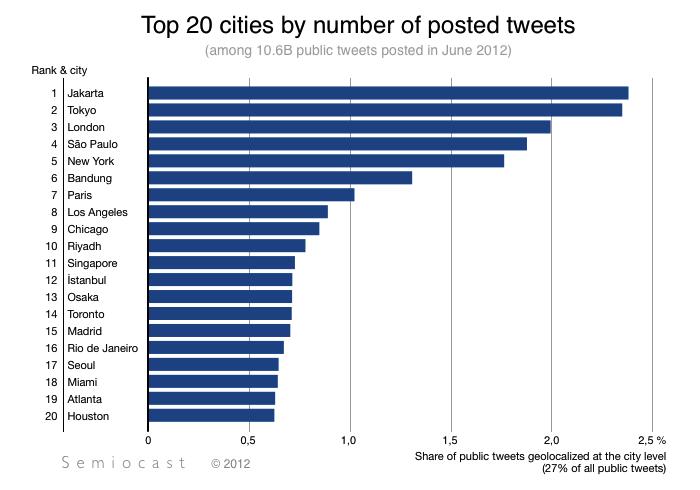 When it comes to India, it is in the 6th place in terms of Twitter accounts and also there is not a single Indian city in the top 20 cities in terms of tweets. Unlike Facebook – where India is the top 3rd Facebook country – Twitter is still struggling to common people and internet users.
Majority of Indians, especially the youths, are more interested in interacting with friends, family etc via Facebook when compared to Twitter. However, Twitter has emerged as a 'status symbol tool' often being used by the business professionals and celebrities.
One of the reasons behind such differentiation in the status of the top two social networks is the Facebook's stereotype popularity which is constantly increasing amongst Indian internet users. Twitter demands more dynamic and well-tuned statement under 140 character with inherited strong message while Facebook provides freedom to people to write in their own style related to personal, professional text, images and video status updates – which is also an important aspect behind such massive adoption in India.
India has a long way to go in order to file itself among the top 3 Twitter nations. Majority of the common people in India are still not accustomed with the usage of Twitter. However, keeping in mind the nature and the amount of revenue that a social network can drive from India, I don't think that Twitter investors can ignore such facts for long.