Finally, Microsoft has decided to launch the new avatar of its email system in the form of outlook.com, and not making another creepy attempt to revamp its current email system Hotmail. Today, company has launched the public beta version of Outlook.com which is being appreciated by most of the analysts from the tech industry.
With the launch of Outlook.com, Microsoft has fueled the fire in the email market largely controlled by Gmail. And, undoubtedly, with many great features in Outlook.com, the current bet seems favoring Microsoft by all the means.
What's New With Outlook.com
You can find hundreds of site and blogs who are talking about the features and functionality of new Outlook.com. Therefore, I am not going to serve you the same meal only to make your frustrated and dishearten. Instead, I will briefly point out few really great features which is worth knowing and using:
Apparently, Microsoft is trying to bring all its users under almost identical ecosystem. The new Outlook.com has the touch and feel of Metro Style theme that has been used in upcoming Windows 8 OS.
The integration of Facebook and Twitter adds a whole lot of value for users who wish to stay confined inside the social network only related to their contacts. This private arrangement will not spice up your social media experience but will also become more productive than ever before due to display of only relevant Facebook updates and Tweets. In fact, Outlook users can do almost all major activity without leaving Outlook.com like Status update, tweet, personal messages, Private messages etc.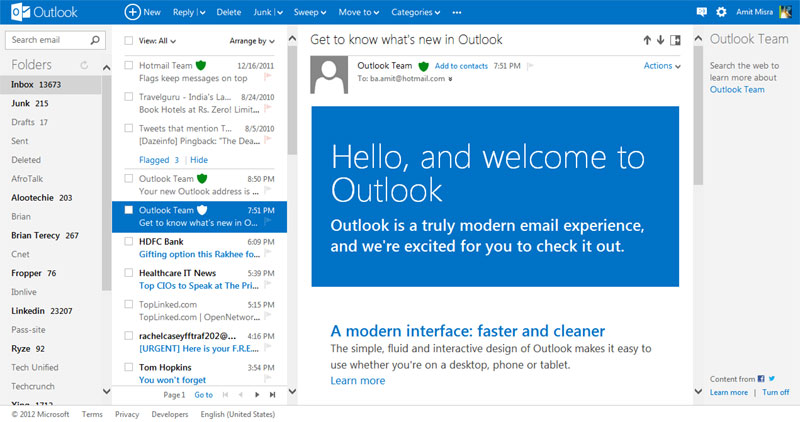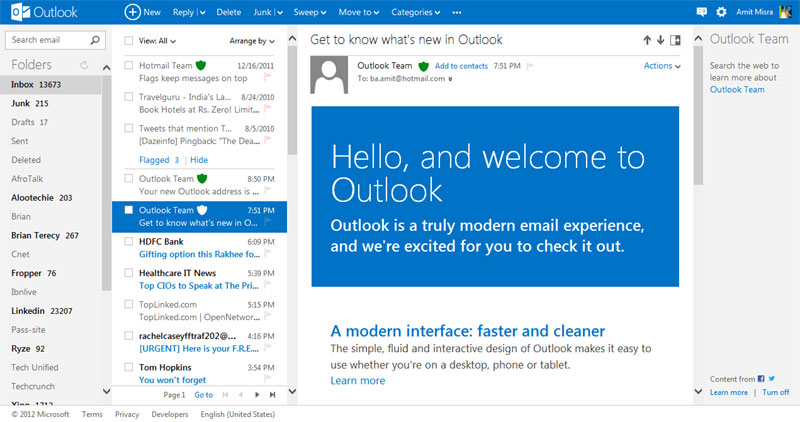 Why Outlook.com Rocks
The quite clean and light weight theme loading in no time makes the whole 'old-styled' Hotmail experience a nightmare. The new UI is also focused over content and email rather than ads and other non-related stuffs. Thank god ! Microsoft has finally pushed the ads a side only to roll with your message body in the form text. Is this making you remind something. Yes, its identical to Gmail ads. Now, the Outlook.com ads will follow the style and display methodology of Gmail ads to display more relevant ads rather than filling up the space with just anything.
But then how come Outlook.com sits on top of Gmail ? Yes, Outloo.com ad display ahs got the twist. Microsoft has decided not to show any ads on any personal one-to-one emails. Rather, it will display ads only with newsletter or any other official communication from company side. This way users will get quite clean, white-space area while reading the emails.
Threat To Gmail
Trust me, I have never seen such clean and appealing UI for any of the Microsoft service before. Undoubtedly, the efforts should be praised – and will be when 350 million Hotmail users will see such pleasant change.
A UI that stands close to Gmail but holding many additional great extensions – missing from Gmail – is surely a commendable aspect. In the world of social media with 1.6 billion users, integration of Facebook and Twitter is a splendid initiative by Microsoft. The other self-styled but rather clean integration of Skydrive and Windows 8 makes the whole Outlook.com experience jubilant.
However, I am not sure how far Microsoft will be successful in its prime objective behind the launch of new avatar of Hotmail – convincing non-hotmail users to ditch their current email system. Gmail has also got its own set of advantages and shares for people to stay intact. Therefore, it will be difficult to pre-analyze the exact dent for Google or benefit for Microsoft. But Microsoft has placed its card and this time it has got the wining proposition, apparently.
How To Get New Outlook.com Email ID
First you need to upgrade your current Hotmail UI. To do this just, visit www.out.com and sign-in using your Hotmail credentials. Once you will successfully log-in, you will see a welcome email from Outlook.com which will be containing the a Link over the text "Get New ID".
Click on the link and you will be asked to enter the new email ID ( you can retain the same name only with the difference of @outlook.com) for Outlook.com domain.
You should hurry up to secure your username with outlook.com before anyone else secure the same.