Apple Inc. (NASDAQ:AAPL) App Store and Google Inc. (NASDAQ:GOOGL) Play store each boast of at least 1.2 million apps available for download and this in turn is causing the time spent on apps to skyrocket as well. According to the latest mobile app report form Comscore for the U.S., 52% of the time spent on digital media comes from the apps. Yet, interestingly, almost two-thirds of smartphone users in the U.S. do not download apps during a typical month. A majority of app activity now takes place on the top apps such as Facebook, YouTube and messaging apps.
Mobile Apps Drive The Majority Of Media Consumption
The typical U.S. smartphone users spend 2 hours and 12 minutes a day on a smartphone. Digital media time spent in the U.S. has risen by 24%,  largely due to mobile app usage, which surged up by 52% in the past one year. Desktop computer usage managed to grow by 1% as well and now constitutes 60% of digital media activity.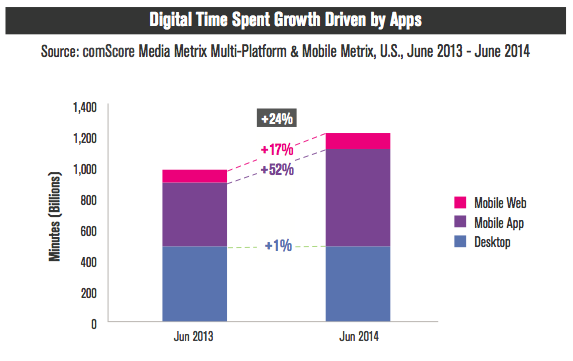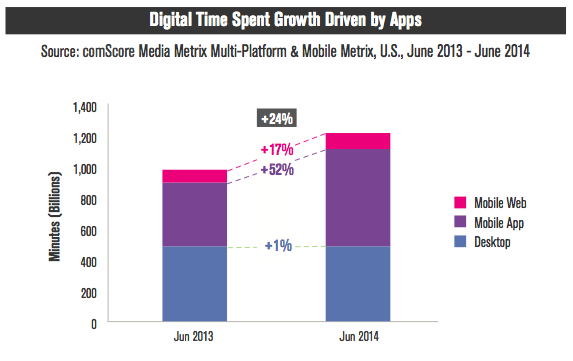 The average U.S. users now spend 7 out of 8 of their mobile minutes on an app. Since mobiles are used mainly for entertainment and social networking, it's no surprise that these apps account for nearly half the time spent on mobile apps. Hence the mobile is still largely more of an entertainment platform than desktop computing.
Mobile App Downloading Not As Popular As Believed
The report also examined the average app user habits of a typical U.S smartphone user. It was observed that at least one-third of all smartphone users downloaded at least one app every month, while the average smartphone users downloads three apps in a month. However, at least two-thirds of users do not download any app at all. Only the top 7% of smartphone users are responsible for half of all download activity in a given month.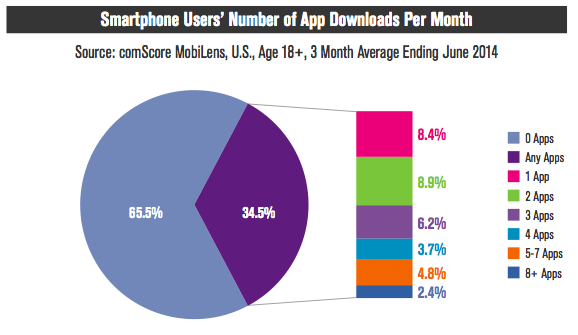 One explanation to the finding may be that users are happy with their available apps and are not looking for new ones. People are, however, certainly addicted to their favourite apps with 42% of time spent on smartphone occurring on the individuals most used app. 57% of smartphone users use apps every single day, while with tablet users this figure is just 26%. Nearly three out of four minutes of app usage occur on the individuals top 4 apps.
iPhone

 Users Have 40% More Median Income Than Android Users

Google Android is the top operating system in the U.S. with a total of 83.8 million U.S. smartphone subscribers, which is 16.4 million more than Apple's iOS platform. The farther one also holds a market share of 51.9% versus 42.1% for iOS among smartphone OS. However, Apple is still the largest OEM vendor in the U.S. with a market share of 42.1% and a total of 67.4 million owners in the U.S. alone.
Some interesting traits of both Android and iPhone users were also revealed. The average iPhone user earns a median income of US$ 85,000 per year,  40% more than that of an Android user who earns US$61,000. iPhone users are also more engaged with their devices, spending nine hours more in a given month than Android users. It is also interesting to learn that the average iOS user is likely to be younger than a typical Android user in both the smartphone and tablet segments.
Digital Media Brands Dominate The App Rankings
The largest digital media brands such as Facebook Inc (NASDAQ:FB), Google, Apple, Amazon.com Inc. (NASDAQ:AMZN) and eBay Inc. (NASDAQ:EBAY) dominate the app rankings with their assortment of available apps. These brands account for 9 of the most top 10 used apps, 16 of the top 25 and 24 of the top 50 apps. The most popular app of all is Facebook which has topped in both audience size and share of time spent across all age groups. Thus its popularity and importance to the mobile media landscape will be irreplaceable for years to come.
Although app engagement is soaring above that of desktop and browser, it remains vastly untapped as an advertising medium despite the vast utility provided by all kinds of apps. The future of the mobile app economy is bright as advertisers and media professionals continue to develop the right infrastructure.