Mobile addicts are typically referred to as 'zombies' by the media, because of their uncanny ability to stare at their devices, for long periods of time. The true definition of a mobile addict was defined by mobile analytics firm Flurry, which obtained the data from 500,000 apps across 1.4 billion devices as of March 2014. According to Flurry, a mobile addict is a consumer, who checks his apps at least 60 times a day. This means, that on an average of 15 active hours a day, a user is checking his apps at least once every 15 minutes. The average mobile user launches his apps just 10 times a day, and this segment of users is still the largest among all mobile users, for now.
The Number Of Mobile Addicts Increased By 123%  In Just One year
The statistics are all the more worrying, because the segment comprising mobile addicts is growing the fastest. In March 2014,  the number of mobile addicts was 176 million, leapfrogging from 79 million during the same month last year. This is almost 12.5% of smartphone users on the Flurry platform, and growing as the fastest, registering 123% growth in only one year. 784 million mobile users or 56% were classified as regular users, or those who check their apps less than 16 times a day. This is the slowest growing category, with just a 23% increase in one year. Users who check their apps between 16 and 60 times a day, are branded as super-users, and they constituting 440 million, or 31% of users, a 55% increase from March 2013. With the number of smartphone users set to increase to 2 billion by the end of 2015, and the world of apps continuously expanding, the number of mobile addicts will continue to grow. In 2014, in the U.S. alone, consumers spent an average 2 hours 19 minutes a day, browsing through mobile apps.
Females More Likely To Be Mobile Addicts Than Males
Among general mobile users, the breakup is roughly 407.6 million male users or 52% of all users and 376.3 million female users or 48% of all users. In the mobile addiction segment, however, it was found that there were more female addicts than males. Out of 176 million mobile addicts, 84.48 million men or 48% were mobile addicts, and 91.5 million females or 52% were mobile addicts. According to the report, women were more likely to be addicted to their mobile phones than men.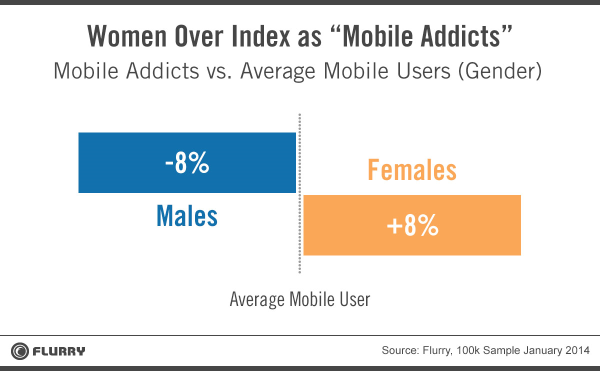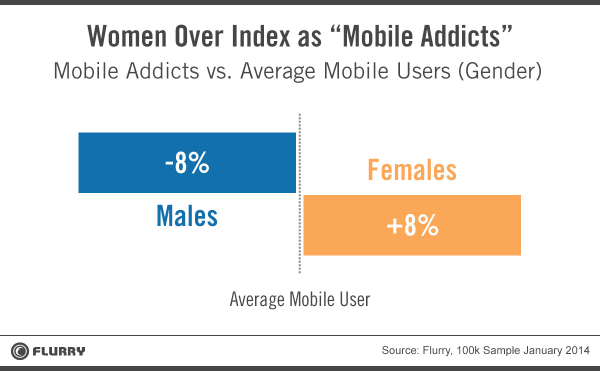 Mobile Addiction Is High Among College Students and Middle Aged Parents
For the various age groups, the results are surprising. Among teenagers, the usage of mobile devices is 25% higher than the average mobile user. The biggest addiction is among college students between the age groups – 18 and 24 years, as there was 49% more usage than average. Parents aged between 35 and 54 years are also among the most addicted, with 40% increased usage than the normal mobile users. Middle aged consumers constituted 28% of mobile addicts, but only 20% of the average mobile consumer. Among adults aged between 25 and 34 years and seniors citizens older than 55 years, usage was far lower with more than 40% and 88% decreased usage than normal respectively.
The report also provided an understanding of the persona of the mobile addicts by revealing the app habits of both male and female mobile users. From the chart below we can see that female mobile addicts are 6.5 times more likely to be sports fans than a regular mobile user. Similarly among men, a male mobile addict is 9 times more likely to be an auto enthusiast compared to a non addict.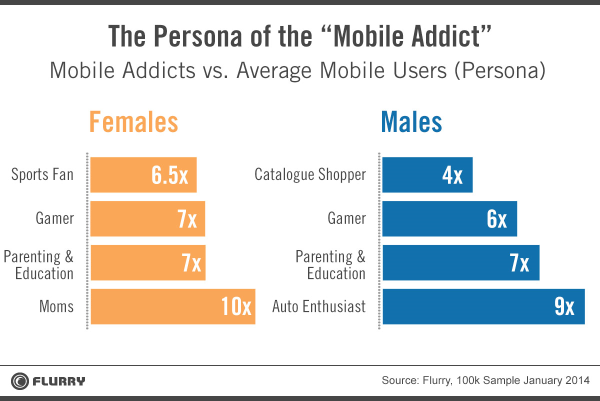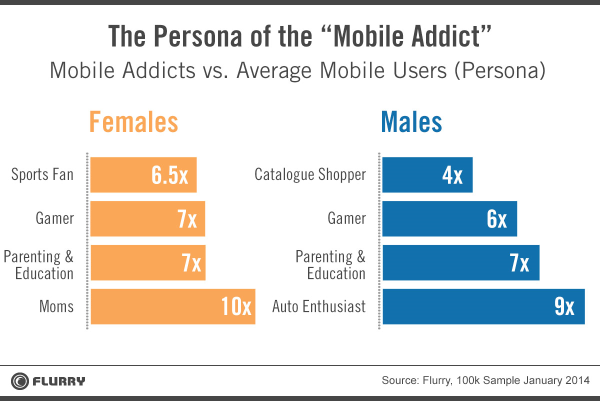 The Full Profile Of A Mobile Addict
Based on all the above statistics, we can identify a vast majority of  mobile addicts. They are more likely to be females, teenagers, college students or middle aged parents. For the youth, mobile addiction is a natural phenomenon as they coincide with the mobile revolution, and hence they are making far better use of these devices rather than those using it at a later stage in their lives. Young adults were found to be under-indexing the segment for reasons such as being single, newly incorporated into the workforce and being too busy throughout the day to check their devices.
Mobile addiction among the middle-aged group beats that of teens, as these devices are more likely to be shared in a family among multiple members, including children. In a family of four, with two phones and one tablet, it was normal to share all devices for various functions such as entertainment and education.
Future Implications Of Mobile Addiction
Concerns of mobile addiction are real, with 66% of people admitting that they wouldn't last a day without their smartphones. A true mobile addict can essentially be classified, as a person who is always on his device 24/7. With such high app-open usage on a daily basis, the only logical next step for customers is to wear their devices all the time. Tech companies are gaining from the mobile addiction by announcing new products, such as Smartwatches and Smart Glasses. Google Inc. (NASDAQ:GOOGL) has announced its plans to develop Android Wear, an operating system for smartwatches this year, and with its introduction customers will be attached to their devices throughout the day, seamlessly. Developers will also need to develop the right apps to resonate among mobile addicts of all age groups.
Another significant factor worth noting is the young age at which people are now using their first smartphones. For such consumers, the ecosystem they choose to be familiar with, will resonate with them increasingly as they grow older. They are also more likely to stay in that ecosystem for a long period of time, such as Apple Inc. (NASDAQ:AAPL), where at least 76% of users  stick to their Apple products, rather than switch to a new product. By using a single platform for most of their lives, the average-cost-per-user is bound to be enormous for tech companies. With more apps being added on a daily basis and the increasing usage of apps, the cost-per-user will climb significantly over the next few years. By releasing entry-level devices such as Nokia Lumia 625 for Windows OS, and Moto G for Android OS , the next frontier for mobile ecosystems will be to target the youngest users.