The Apple Inc. (NASDAQ:AAPL) App Store celebrated its sixth birthday on July 10, 2014. Since its inception, App Store has gone through various iterations and changes, and subsequently, the number of apps has grown multi-fold. The categories within the apps, such as the health and fitness apps, have become an industry of their own and catering to a specific section of audience. However, getting an app published is still a daunting task due to complexity involved, and all those apps that are uploaded on any store do not keep in the long run and are taken down either by the developer or the company.
On the birth anniversary of Apple App Store, Adjust – a mobile attribution and analytics company – has published a report, titled Birth, Life and Death of an Apple App, covering all the major statistics, insights and milestones of App Store till July 2014.
Apple App Store: Major Breakthroughs & Highlights
Currently, there are 1,252,777 apps available on App Store.
The monthly app additions on App Store amount to sixty thousand with an ever-increasing rate.
In 2013, 15% of the apps were removed from App store.
The major categories of apps are Games, Lifestyle, Entertainment, Education, Business and Utilities.
Books, followed by entertainment and utilities, have the maximum percentage of dead apps, categorically.
All the data and figures are based on the apptrace database, a free online tool, providing valuable insights of the app performance in the two major stores – App Store and Google Inc. (NASDAQ:GOOG) Play Store.
Birth of an App
During the early days of discussion on roping in external developers to make apps for iPhone, Apple's visionary CEO Steve Jobs touted the concept as the Biggest Blunder However, he later agreed to allow third-party apps after realising the challenges and damages involved in using browser-based apps and avoiding huge developers' community. At the time of the launch of App Store in 2008, it was one-of-a-kind platform and developers vied to launch a top-notch app on App Store. However, all the apps sent to Apple are not published on App Store. The process of getting the app published on App Store involves a series of steps and scrutiny and any lag on the part of developer can lead to the removal of his app. Out of 1,601,413 apps that have been uploaded on App Store, only 78.23% are available now. In the device segment, majority of apps are developed with iPhone focus approach than iPad.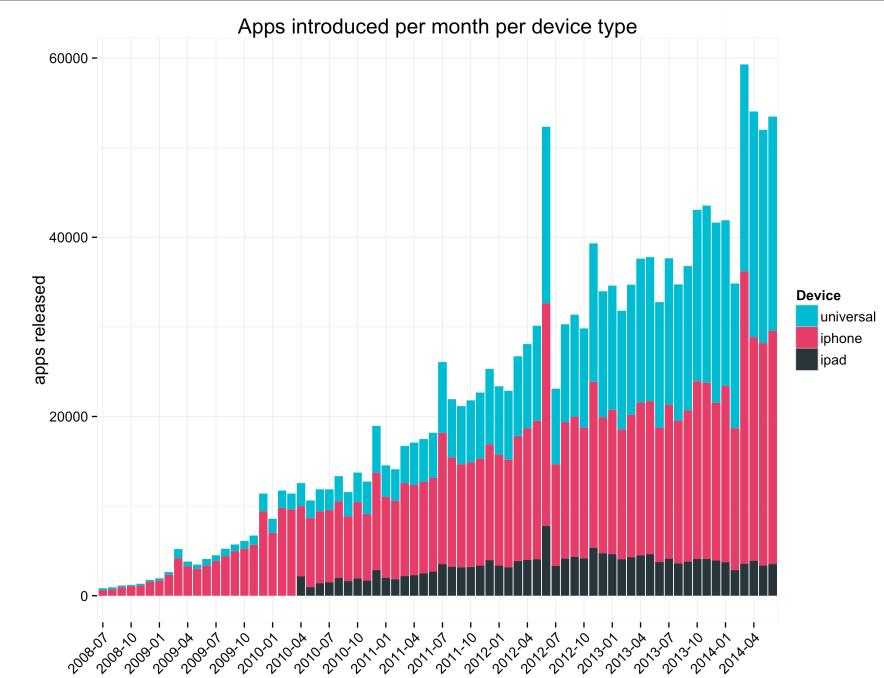 The number of iOS apps released in the month of May 2012 drastically went up and since the beginning of 2014, the usage on apps has also increased by 33%. However, the number of apps released for iPad has remained steady since mid of 2011.
The report went on quoting about the new app market; As Apple iOS generates 45% more revenue than Android, which also reflects in app developers earnings, developers are more focused on burning their oil for Apple App Store. This will lead to 578,000 new apps that are are expected to be launched in 2015 on App Store.
But, everything is not working as Apple wanted it to be; The growing number of Zombie and Dead apps are becoming the worst nightmare for Apple to deal with. No wonder why this was the major concern behind Steve Jobs' strong opposition to App Store. Probably his strong foresight convinced him why should Apple keep third-party app developers away from core app ecosystem, recently revealed.
Hit-List and Zombie Apps!
The growing number of apps on App Store possesses a challenge to the discovery of apps and to combat this, Apple has 39,171 top lists of apps combining the countries and the categories. These top lists ensure that a user downloads only the best app suited to his needs by evaluating it on ratings and reviews. With 75 billion downloads reported on App Store till June 2014, the app industry is nowhere close to ceasing down.
If an app does not receive attention from users to feature regularly in the ranking list, that app is known as a Zombie App – the term was coined by adjust in 2012.  With the phenominal increase in number of apps on App Store, the Zombie apps are also being introduced in greater number than ever before. In June 104, the number of Zombie apps on App Store touched a new height when 79.6% of apps were classified as Zombies. App developers must pay close attention to the attribution and prevent their apps from being a Zombie; an app must feature on a position in any one of the 39,171 lists for two out of three days over a one-month evolutionary period.
The Death of an App
The apps that are removed from App Store, either by the developer or Apple, is termed as a dead app. Like Zombie apps, the number of dead apps is also scoring and almost one-fifth of the apps, available on App Store, are tagged as dead. Even a new version of iOS can render the app useless and they have to be revamped or scrapped altogether. The older versions of iOS had rendered many apps useless when iOS 7 was launched. A similar trend could be observed in the coming few months when iOS 8 is launched.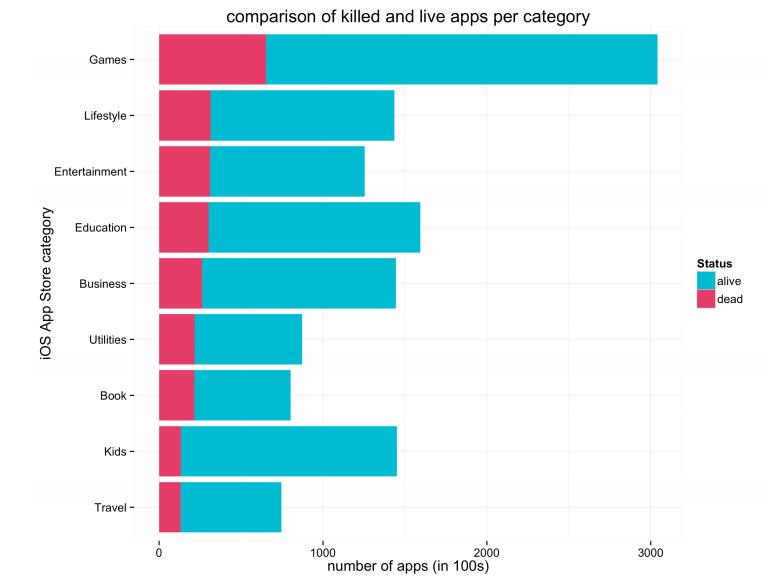 Gaming apps are the most popular type of apps among users. The gaming app market is bringing in far more revenue and engagement to App Store compared to other type of apps. However, the industry is also being targeted by app developers actively, resulting in hundred of thousands dead apps, but this percentage is lower than books, entertainment and utilities apps. Apps pertaining to kids have the highest survival rate. Till now, less than 9% of kids' apps have been pulled out from the App Store. Here, Apple has adopted over cautious approach as the category is classified as the most sensitive industry. Any wrong/faulty selection in the kids' apps is likely to defame the company's image of being family friendly.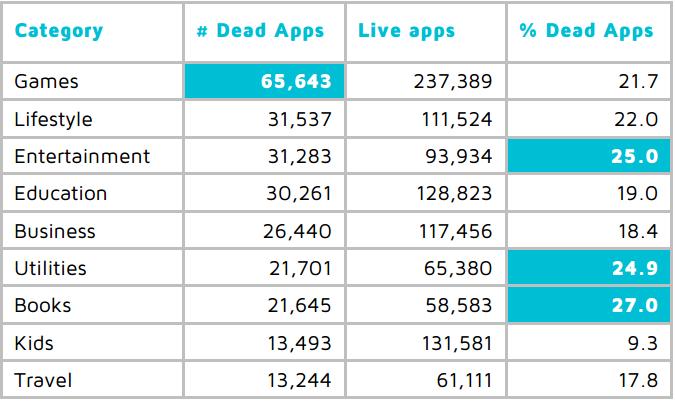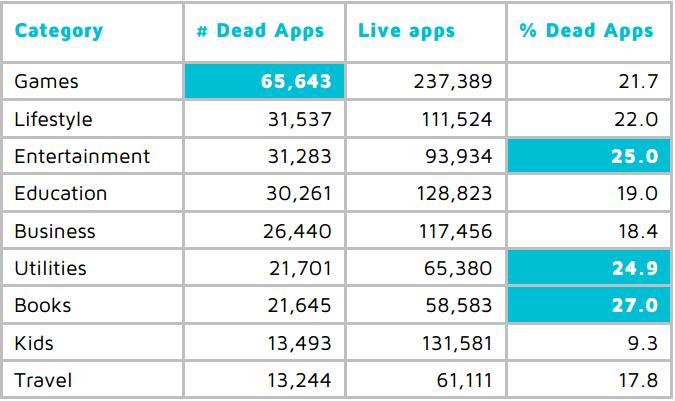 The life-cycle of an app is pretty bumpy on a daily basis. The increase in total count of apps also increases the pressure on developers to keep the audience constantly engaged and give them their money and time's worth of return. Failure to do so may result in loss of consumers, causing the app to shift in the Zombie stage.