It's hard to imagine what went wrong when you apply all your marketing gimmicks and strategies to become the world's largest smartphone vendor. A company floods the market with devices, applies all top-notch marketing strategies like rebranding a terminal of an airport but still, fails to register a growth in the profit. Blame it on strong Korean currency against euro and dollar, the declining sales of tablet or the advent of local vendors, the profit of  Samsung Electronics Co. Ltd. (KRX:005930) is decreasing. For the third quarter in a row, Samsung reported a decline in its unaudited report of Q2, 2014.
In the unaudited version, Samsung reported sales worth 52 trillion won (US$51.3 billion) while the operating profit is estimated to be 7.2 trillion won (US $7.1 billion). The net profit estimated by Samsung is way below the estimated profit of 8.1 trillion won (US $8 billion) by analysts for the three months ended June 2014. The profit estimated for the second quarter 2014 shows a 11.25% quarter-over-quarter decline in the unaudited report. In addition to that, the profit shows a 24% decline since Q2 2013. Sadly, Samsung had launched the flagship model Galaxy S5 in April, 2014 but the smartphone failed to beat the market expectations and failed to contribute much to sales.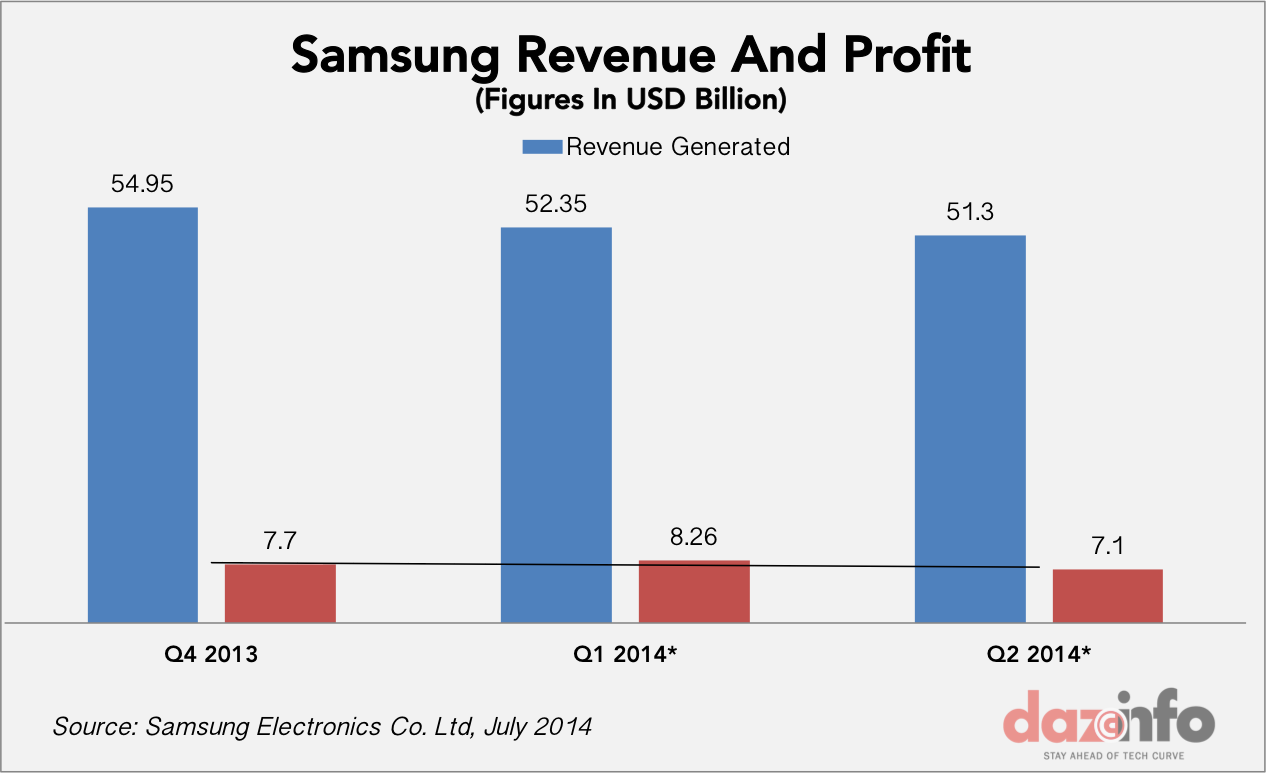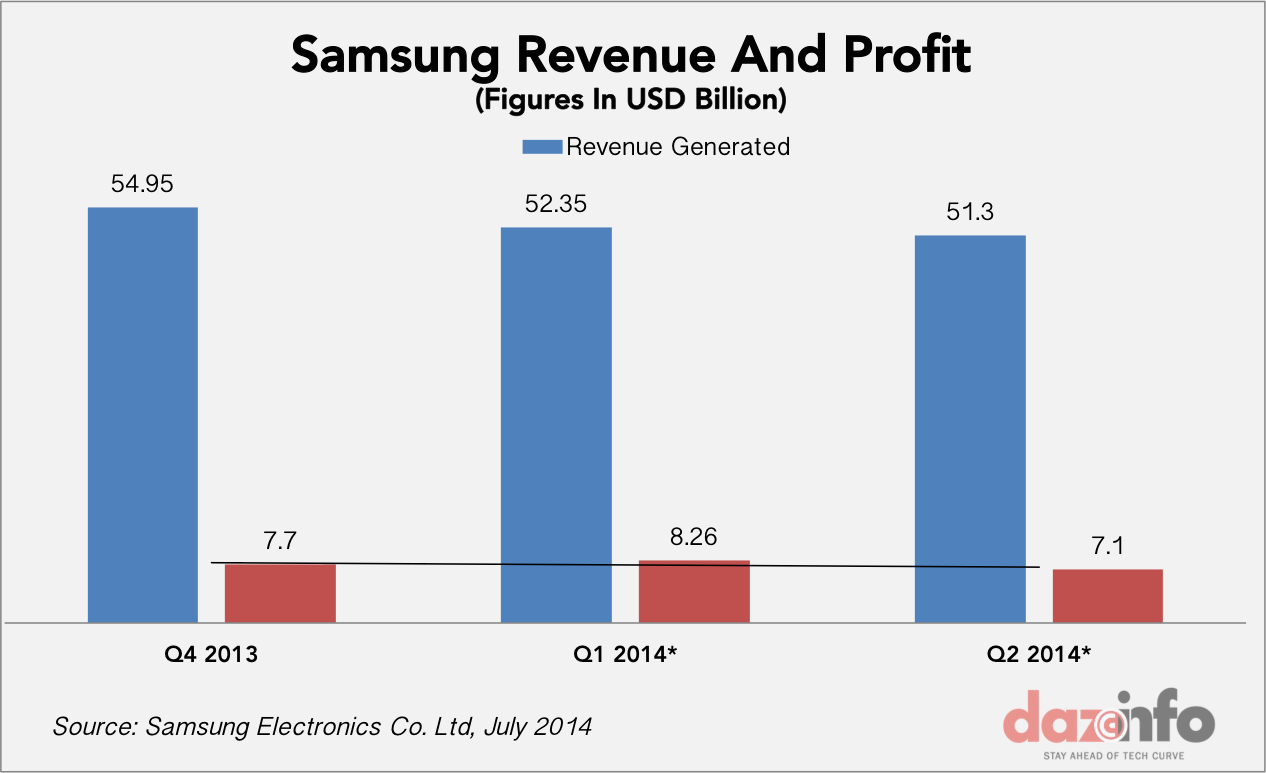 The Threats in Samsung's Domain
There was a time when Samsung was promoting the sales of phablets. But, in its latest statement, the Korean company has accepted that the rise of smartphones, in the screen-size 5 to 6 inches, is somehow killing the demand for tablets. Furthermore, users do not dispose off their tablets easily as compared to smartphones which ultimately results in fewer sales of the tablet devices.
Initially, Samsung was the major global player in almost all the mobile markets with its devices featuring in all price-ranges, screen-sizes and the functionalities. But, with the declining average selling price (ASP) of smartphones, users are making more informed choices now. Local vendors are turning global and capturing the markets like never before. Companies such as Huawei Technology Co Ltd (SHE:002502), Xiomi, Motorola are already captured a sizeable smartphone market in their homelands and gearing up to make their presence felt globally. In Q1 2014, Huawei emerged as the third largest smartphone vendor globally. Similarly, other smartphone vendors are attracting more customers than bigwigs like Samsung and HTC Corp (TPE:2498). Apple Inc. (NASDAQ:AAPL) stuck to high-end devices and created a niche of iPhone loyalists who do not refrain from jumping off the ship easily, while local vendors are indulging in low-profit high-volme game. Considering these changing market equations, maybe it's time for Samsung to revamp its Galaxy series and look for other options.
The Currency Conversion is Hurting Samsung
The declining price of South Korean is also a pain-point for Samsung. The South Korean Won has declined to 1012 KRW to US$1 – a 6-year high against the U.S. dollar. This has affected payouts, production cost and component trade for the company, resulting in loss of revenue and profits generated by Samsung.
The Next Step for Samsung
Samsung is aggressively marketing and rolling out products one after another in the wearable segment. The strategy is similar to what it employed in mobile devices. As the vendors are very few in the wearable gadgets segment and wearable market is booming, Samsung can still rope-in revenue till it's time.
Samsung is also focusing on Tizen OS and all set to launch its first Tizen OS powered smartphone. However, the markets in developed countries are already saturated and Samsung could expect sales only in the developing markets where people prefer low-range smartphones.
The declining profit share of Samsung is a cause of worry for the company. However, Samsung is hoping to see better profits in the next quarter but with the impending iPhone 6, that is definitely a tough deal to crack as users are more willing to ditch Android in favour of large-screen iPhone 6.