Mobile gaming is a rapidly developing industry worldwide. It is very much affected by regions, history of game play behavior, cultural impact and gaming landscape. Although gaming industry faced a few setbacks due to rampant piracy issues and ban on video games, it has not looked back since the advent of mobile gaming.
In 1997, Nokia was the first company to introduce Snake, a game preloaded on all its devices. Since then, mobile gaming industry has advanced forward. An estimate by Newzoo predicts the revenue of global game market will reach $86.1 billion by 2016 and is expected to grow by 6.7% year over year.
Tablets Are Powering The Gaming Revolution
China leads the way in the field of mobile gamers playing computer games with 56%. Americans and Koreans not far behind with 43% and 40% gamers respectively. TV/Console gaming still has the major share of gaming market with 32.4% and estimated revenue of $27.9 billion but tablets has the highest CAGR (Common Annual Growth Rate) of 47.6%. The combined share of handhelds at 3.9% and computers at 5.8% is less than tablets which has an 11.2% market penetration. Together, smartphones and tablet account for little over than one-forth of the market.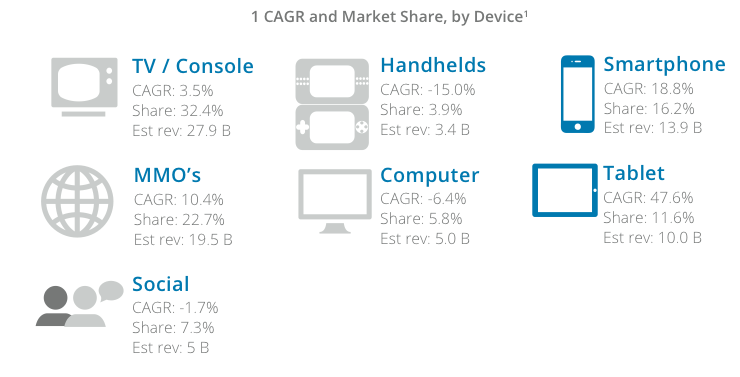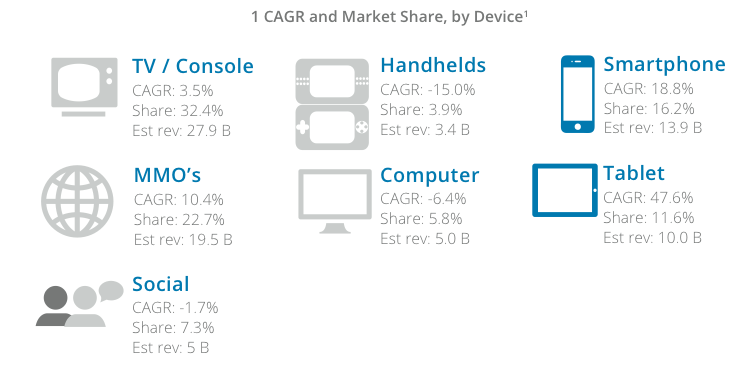 These findings are derived from the study, titled Mobile Gaming Cross-Market Analysis Q1 2014, conducted by InMobi over 1,250 gamers in the U.S., China and South Korea market during Q3 and Q4 2013.
RPG /Adventure Games And Puzzle Games Are The Favourites
Gaming industry is affected by a variety of factors including history of the region, adaption of smartphone, time constraints and age groups. Only 23% mobile gamers in America prefer role-playing games (RPG)/adventure games, which is almost the half the number of people going for puzzle games-45%. This can be attributed to fact that 61% of mobile gamers in America are females. Two-thirds of Korean gamers are male compared to China, where 60% of gamers are males.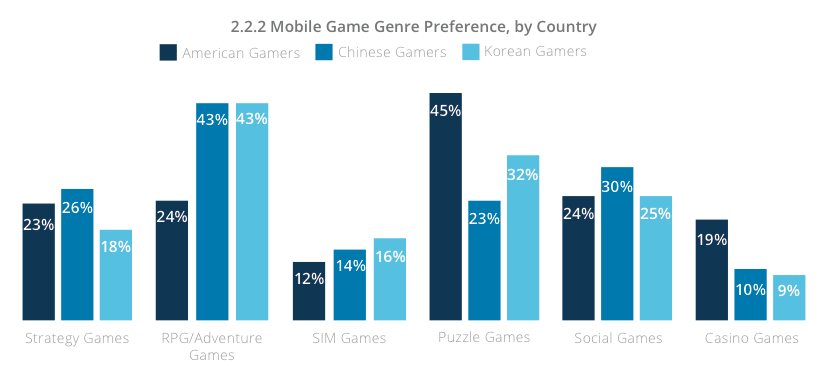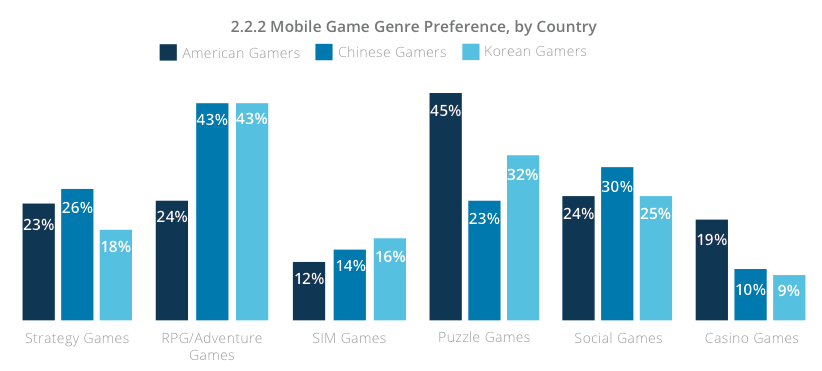 The preferred genre of games in China and Korea is RPG/adventure games. It is also noteworthy that majority of gamers in America belong to the age-group of 45-54 or 15-18 whereas China has 42% gamers in the age group 25-34. The major reason for this trend in America could be high smartphone penetration and responsibilities of home and family. Before the introduction of mobile games, people used to indulge in traditional games and crossword puzzles but now mobile has taken over this too.
Where Do People Go To Play Games?
The biggest driving force behind playing games is to kill time. Chinese gamers are 112% more likely to play games while commuting compared to 46% of Korean gamers. This brings to light the fact that Americans drive their way to work or home while Koreans and Chinese use public transport. Koreans, who are social gamers, also enjoy Seoul Station's internet connectivity of about 150 mbps – which is 3x the speed of their American counterparts. PC bangs – or cyber caffe as we call them – are the common hub for playing games in the country. In contrast, 65% Americans prefer to play games at their homes and 57% chose to play games while watching movies or TV. This strengthens the fact that more than half the America has at least one dedicated console at their home.
The frequency of playing games in all the three nations, China, America and Japan, is same. Almost 57-60% people in the three countries play games multiple times a day and less than 10% play once a week or even less than that. As the Koreans indulge in gaming while commuting, they play games spanning less amount of time, on an average 22.6 minutes.
Age and responsibility have a huge effect on gaming sessions. As Americans play in their homes they can afford to spend more time gaming. An average American gamer spends 31.4 minutes per session playing games while Chinese play games for 32.7 minutes. People in China spend their maximum time on mobile, more than watching TV, listening to radio and reading newspaper combined.
Understanding Demography Is The Key For Revenue From Gaming
It is imperative for game developers to understand the demography and gaming patter of each region. Americans choose to play games at their homes so they can indulge in games involving more of strategizing for longer duration. Koreans play games for a shorter duration while in China, people in the age group 25-34, i.e the working class, plays most of the games. Chinese gamers have the highest download rate with almost 8 apps in 30 days.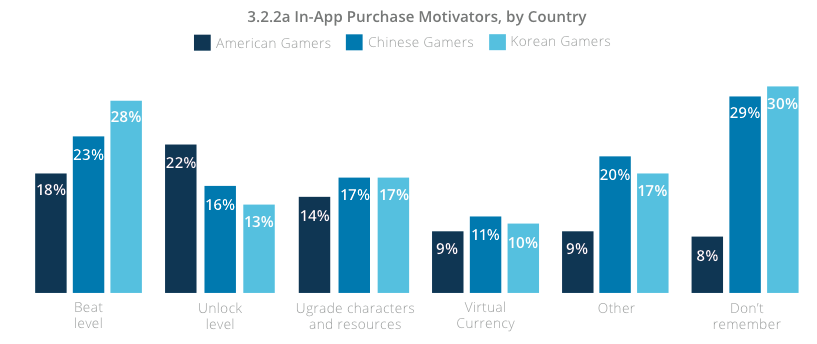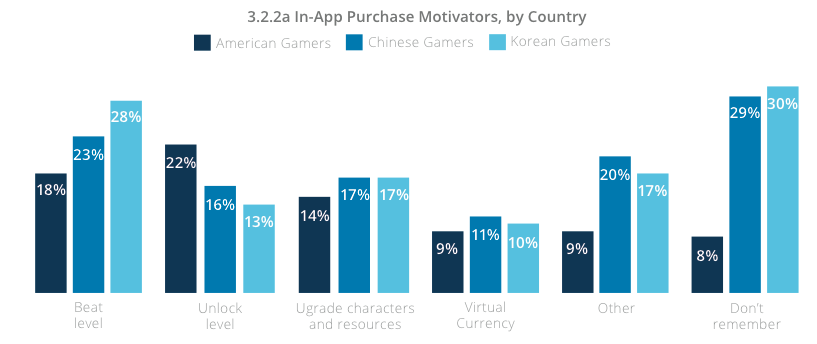 But, the spending pattern of people in these 3 countries is almost the same. Almost 55% gamers would rather download free games than pay for it. Only less than 3% people chose to pay for games. American gamers are 36% more likely to go for mix of paid and free apps than the Chinese. Similarly, Korean gamers are 47% more likely than American or Chinese to go for in-game purchases. 57% American gamers are never likely to make in-app payments, which include paying for extra moves or lives or resources.
29% Americans enjoy challenging games, hence they are more likely to spend money on unlocking next level whereas 28% Koreans are more likely to make in-app purchases to beat a tough level. Korean gamers are more interested in extra lives or additional play-time. But, at the same time Chinese and Korean gamers are three times more likely than Americans in not remembering where they spent their moolah!
Americans have a bleak chance of discovering a game through newspaper, advertisements or websites. Almost one-quarter of Americans discover their games through social media. Only one-third of Chinese rely heavily on mobile apps and websites for game sighting. Rest of the Chinese depends on app stores. Korea has more market fragmentation than America but less than China.
Asian Gaming Platforms More Popular than Google Play
Despite generating the most revenue for gamers – second only to Japan – Google Play does not monopolize Korea's gaming market. Smartphone companies and local carriers create their own app stores. In fact Koreans discover apps through Kakao's game platform almost 90% games are made for. Among other features Kakao's platform enables users to invite their friends to download games, play games with their friends and make in-app purchases.
Ads Are The Best Way To Monetize Games
Developers should aim at providing enjoyable experience to their game users and this can be achieved by controlling their data. Mobile advertising is an efficient way to monetize games. Emergence of new formats of ads, especially native ads, has redefined mobile ad industry. Placement and timing goes a long way in making an ad successful. Ad receptivity in consumers is high with Korea in lead as 95% Koreans notice and respond to an ad.
Mobile is rapidly replacing console and computer games, especially social computer games. Developers need to maximize channels to reach their gamers. They need to continue optimizing their market strategy. By making use of metrics like lifetime value and ad-tracking technology, developers can make informed decision to target users.