World of social media advertising is innovating itself with a remarkable pace. Major giants such as Facebook Inc. (NASDAQ:FB) and Twitter Inc. (NYSE:TWTR) are continuously proving themselves by providing desirable ROIs to social marketers. Nearly 92% of social media marketers rely on Facebook for advertising and promoting their brands. Although analysts predicted that the massive social interaction platform of over 1.22 billion users might see doomsday very soon, but the continuously growing enthusiasm amongst advertisers and users towards the networking platform portrays a different scenario. Advertisers are finding Facebook as the most reliable platform for marketing their brands and drive ROIs on a long-term basis. Facebook has exceedingly done well in driving major share of referral traffic to websites both at mobile and desktop level.
Facebook News Feed Ads on Desktop + Mobile Drive Highest CTR
Influence of Facebook among advertising is growing with each passing day. Advertisers are investing heavily in the various form of Facebook ads, like Desktop ads, News Feed (Desktop + Mobile) ads, News Feed (Mobile), News Feed (Desktop) and right-hand column ads.
Facebook users spend maximum time on News Feed, which is clearly reflected in CTRs of ads on desktop and mobile platform. According to the latest report by leading social media analytics platform Socialbakers, the combination of Facebook News feed ads on both mobile and desktop platform drive highest click-through-rates (CTR) when compared to rest of the ad placement options. Although, Facebook users are rapidly migrating to mobile platform, still a sizeable number of users are still accessing Facebook from desktops. According to Facebook's Q1 2014 revenue report, nearly 76.9% of users operated the site through mobile devices and the rest through desktop.
The below graphs highlights the growing CTR on News Feeds ads on mobile in successive quarters. CTR of mobile news feed reached 0.02% mark in Q1, 2014 whereas desktop news feed ads decreased from +0.01% in Q4 2013 to +0.006% in Q1 2014. Mobile users also playing a crucial role in Facebook referral traffic that spiked up by 253%, while the overall referral rate to websites increased by massive 170%, according to a latest report by shareholic.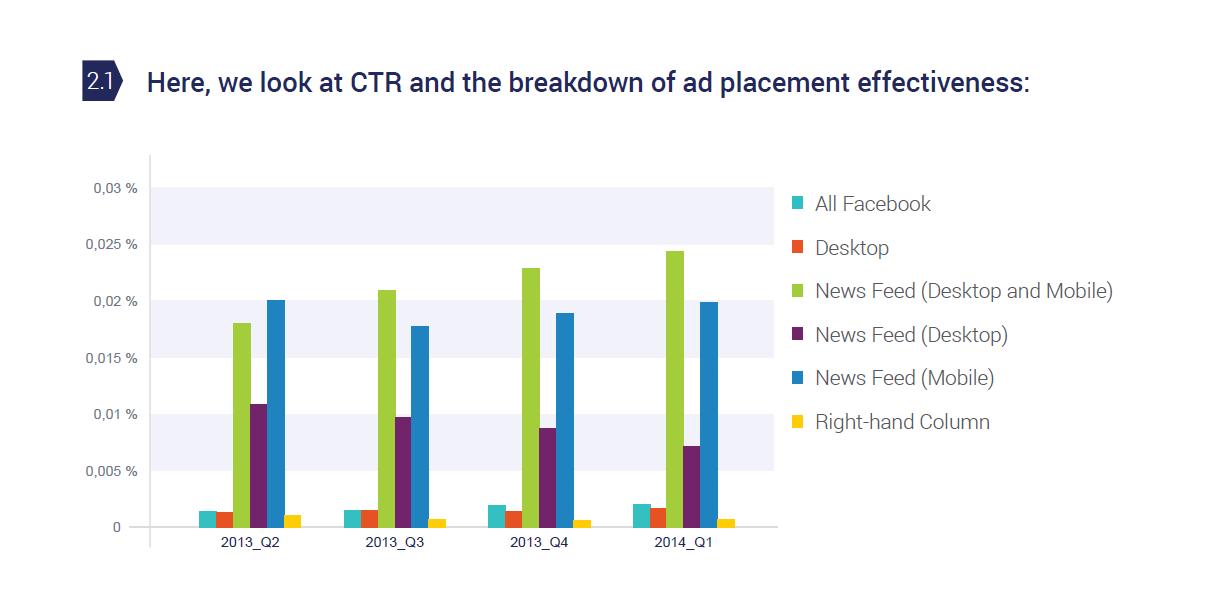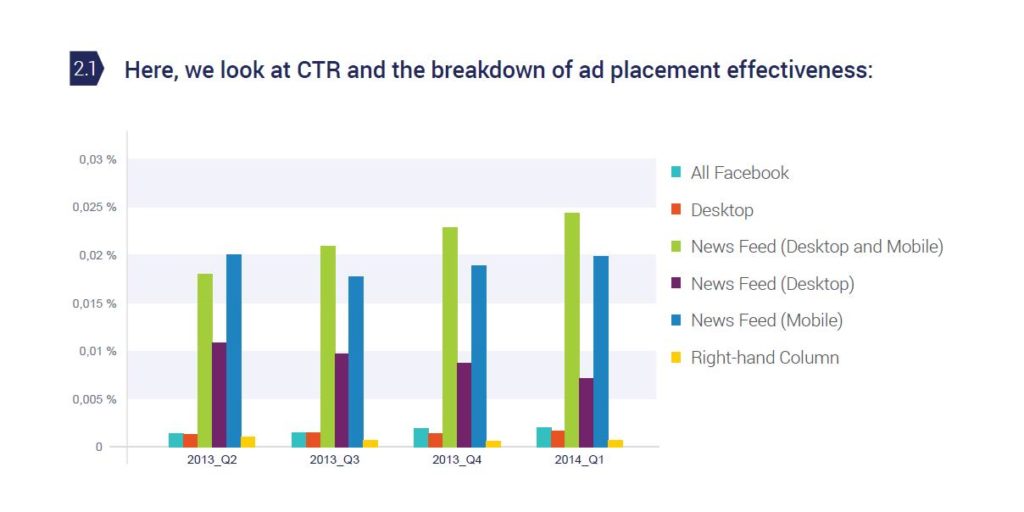 Advertisers opting for Facebook ads, both at desktop and mobile level, are bound to be more successful as the CTR for news feed ads is highest for both the platforms combined. Although, the main reason for highest CTR could be attributed to mobile but still 1/4th of the user base is relying on desktop. Therefore, investing on both the platforms would be a better option for advertiser until the mobile space totally outplays the desktop.
Cost-Per-Click And Cost-Per-Impression Is Highest For Desktop And Mobile News Feed Ads
After the third quarter last year, CPC for right-hand column ads has been decreasing significantly. The similar trends have been recorded with desktop ads, whereas CPC for mobile news feed ads increased marginally in the last quarter of 2013.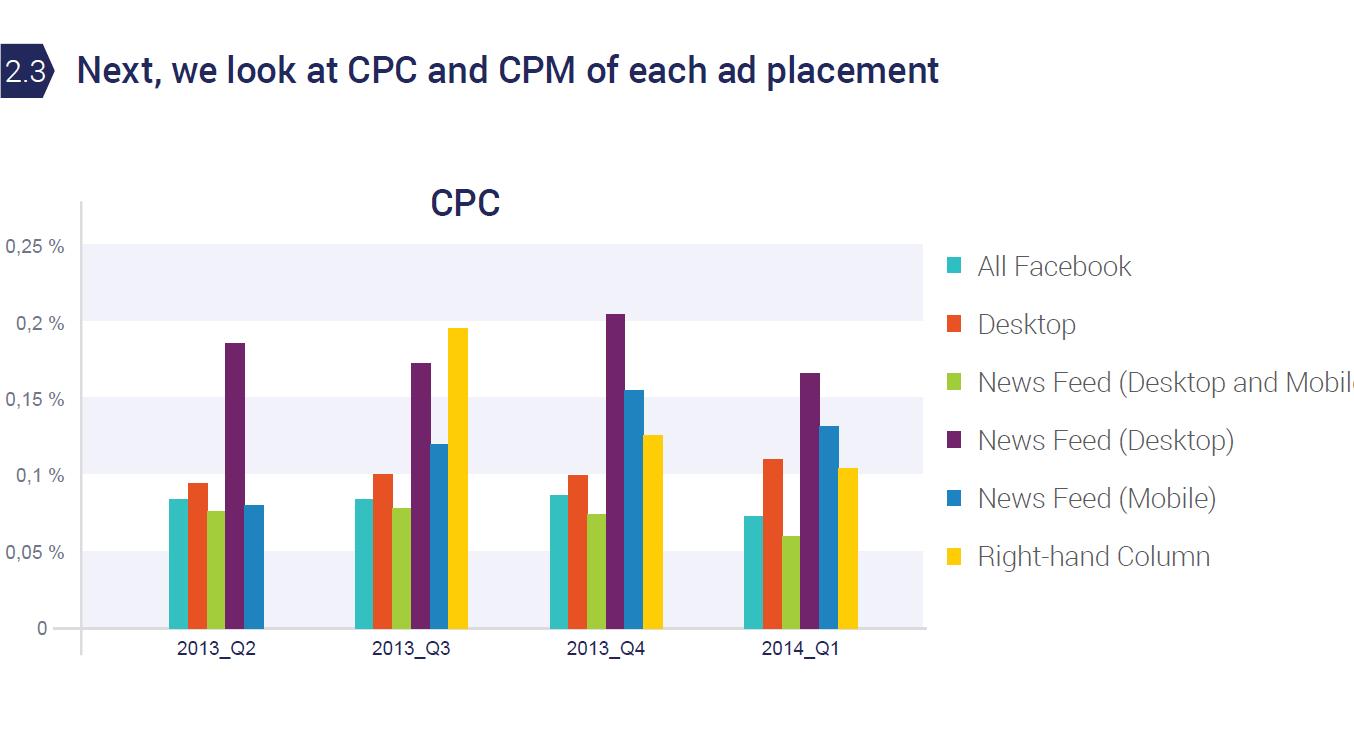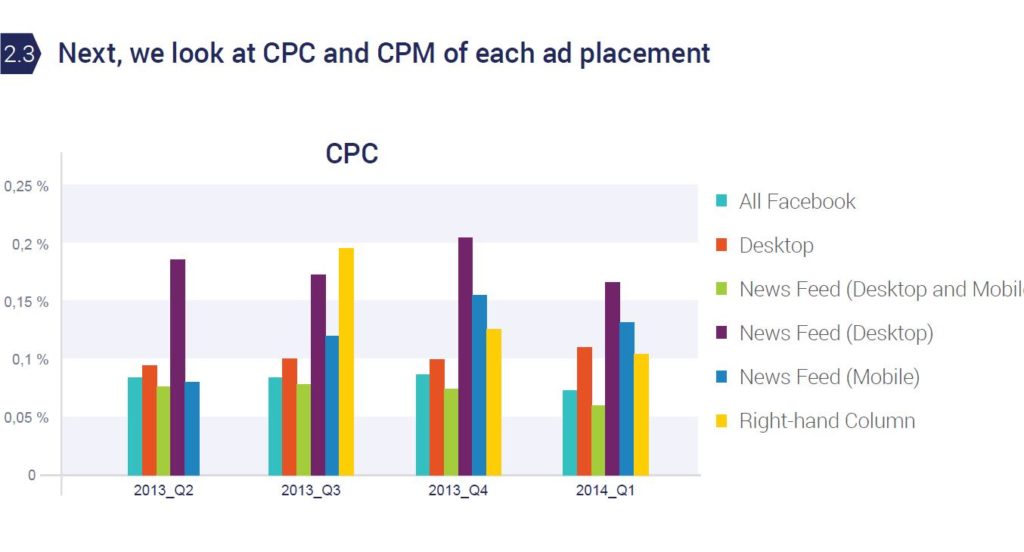 Cost Per Click (CPC) was recorded highest for Desktop and mobile News Feed ads, attributing to the growing demand of users for informative content on social networking sites. Revamped News Feed, which displays brand ads based on factors like browsing history, cookie information, has encouraged Facebook users to click on ads due to higher relevancy and interest. The interaction level by users in these various forms of Facebook ad placement options has reflected on CPC rates. Mobile news feed ads are likely to dominate both in case of effectiveness and CPC pricing.
If we consider Facebook's ad placement options based on CPM, News Feed ads on mobile-only platform outplayed the rest ad zones with highest CPM rates. With advent of Go-mobile era mobile ad CPM is likely to increase in future. The CPM for mobile only news feed ads increased from +1.5% in Q1, 2013 to just under 3% in Q4 of 2013. Cost-Per-Impression (CPM) for News Feed ads at desktop level decreased from +2% to much below 1.5% in last 4 quarters. Overall Facebook ad declined on both CPC and CPM basis as the users' engagement remained very limited beyond news feed section. Right column ads too had lower CPM rates.
From above 3 scenarios, it is quite evident that go-mobile era and increasing demand for relevant news content is likely to divert advertisers to mobile platform. News Feed ads on mobile are growing in importance and are likely to record higher CPC and CPM rates due to higher Click-Through-Rate (CTR). As more posts are promoted or rather junked into user's feed, the cost for these ads has and will continue to increase significantly in future. Right hand column placement has seen a sharp decrease in both ad-costing and effectiveness due to lack of user engagement. Social marketers should invest smartly into different ad placement options based on their target audience and their engagement areas.