In comparison to the overall app industry which grew by 115% in daily usage, health and fitness app industry registered a growth of 49% in 2013. To understand the new developments, a recent report from Flurry measured the growing usage of Health and Fitness apps on Apple Inc. (NASDAQ:AAPL) iOS platform in first half of 2014. The findings were surprising enough as Health and Fitness apps has outpaced the overall iOS app industry growth with nearly 100% margin. These numbers are recorded by taking into account the usage of over 6,800 iOS apps, in a sample of 100,000 devices, listed in health and fitness category on Flurry's platform from December 2013 to January 2014. The Flurry also goes on to define the term Fitness Fanatics – users who check health and fitness apps more than three times the average usage of such apps.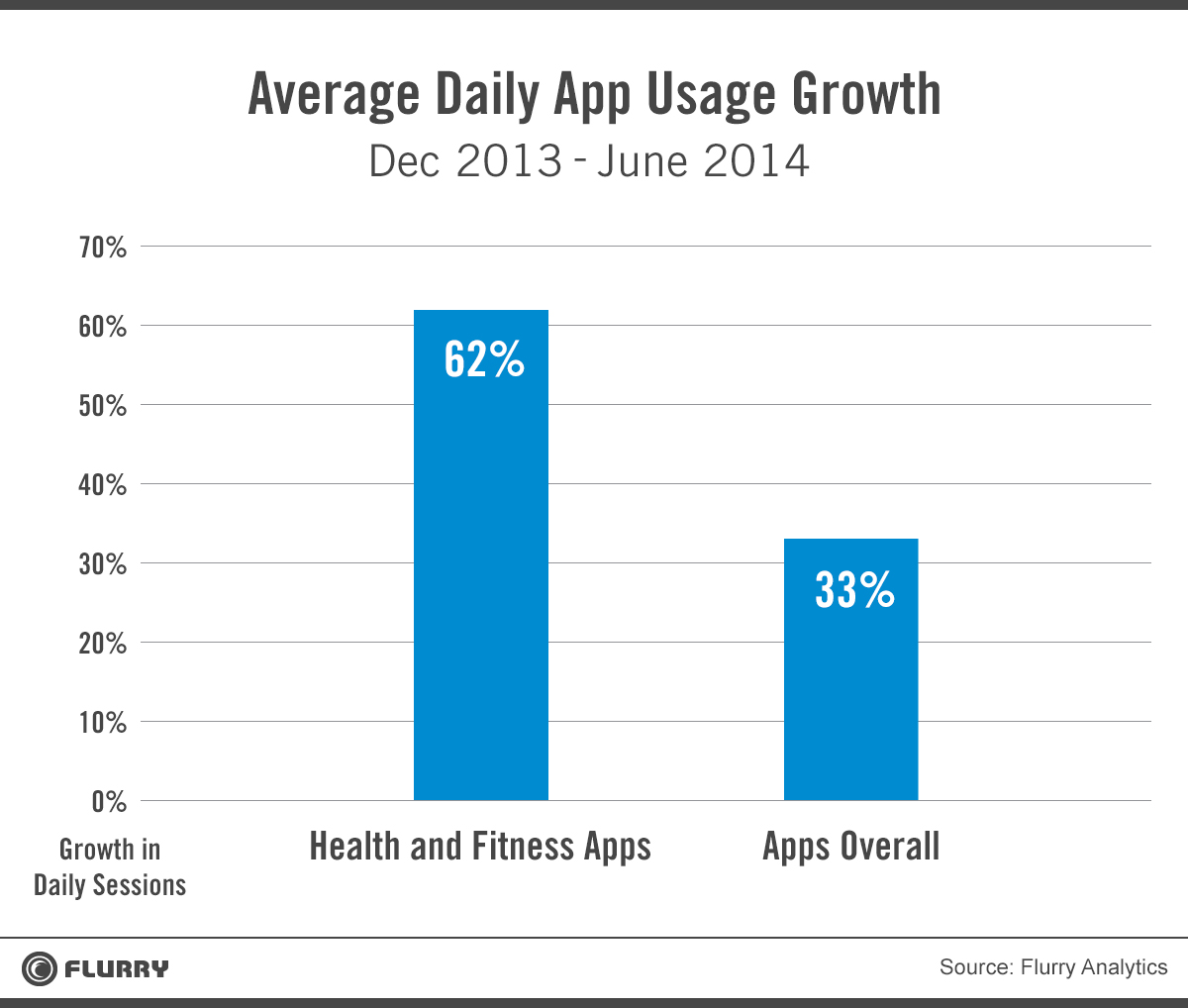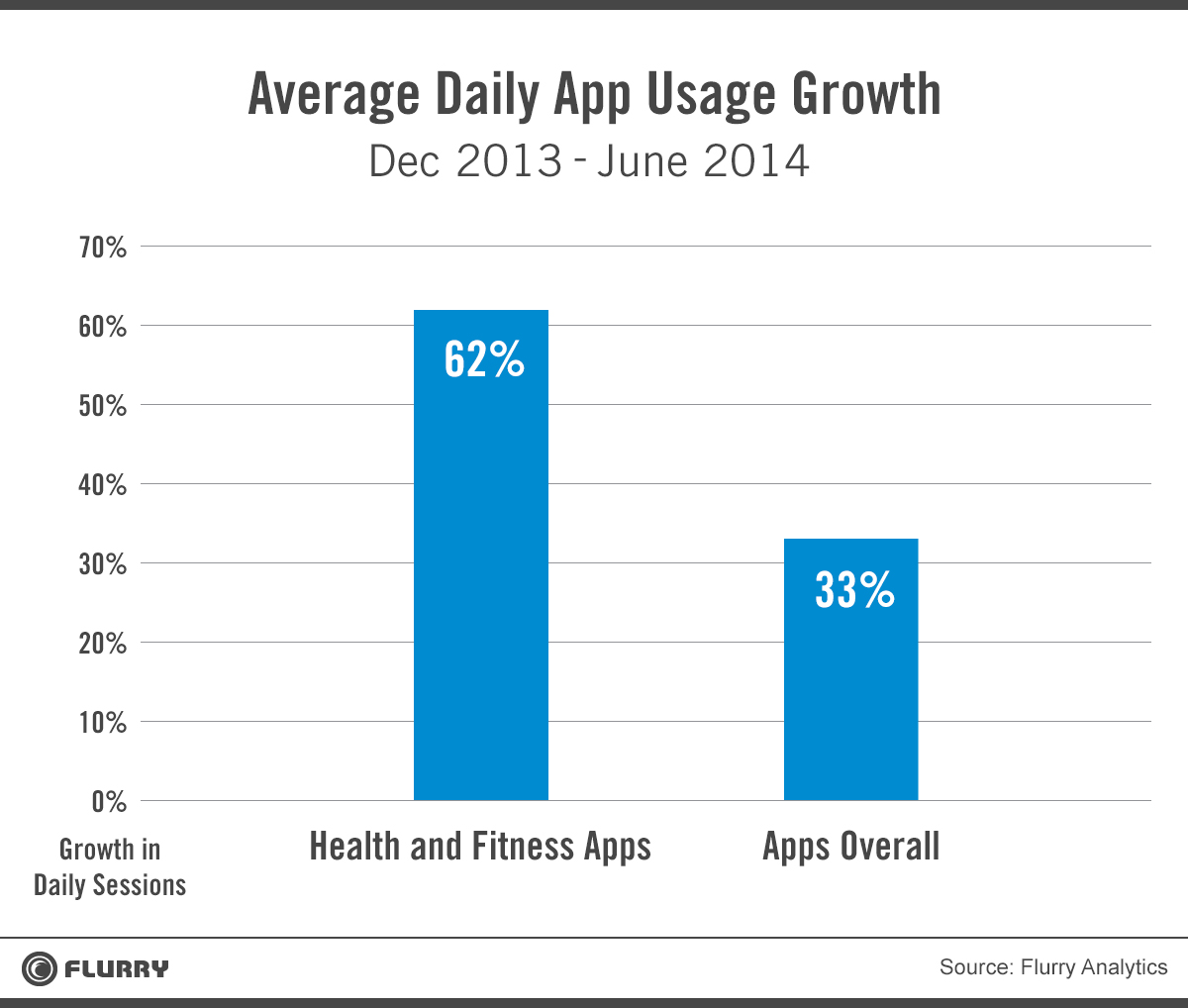 62% Females are More Health Fanatics
The Apple iOS app store boasts of more than 1.2 million apps, out of which 6,800 health and fitness apps were studied that presents the changing adoption of various app types. The health and fitness app industry recorded a growth of 62% compared to 33% overall iOS app industry growth in last six months. Moreover, health and fitness app industry on iOS grew by 87% faster than the rest of app industry. The plethora of choices given by Apple fitness retail stores and seemingly easy integration go a long way in making these apps useful and famous among users. The desire to remain fit and productive encourage users to check these apps and keep updating their scores regularly.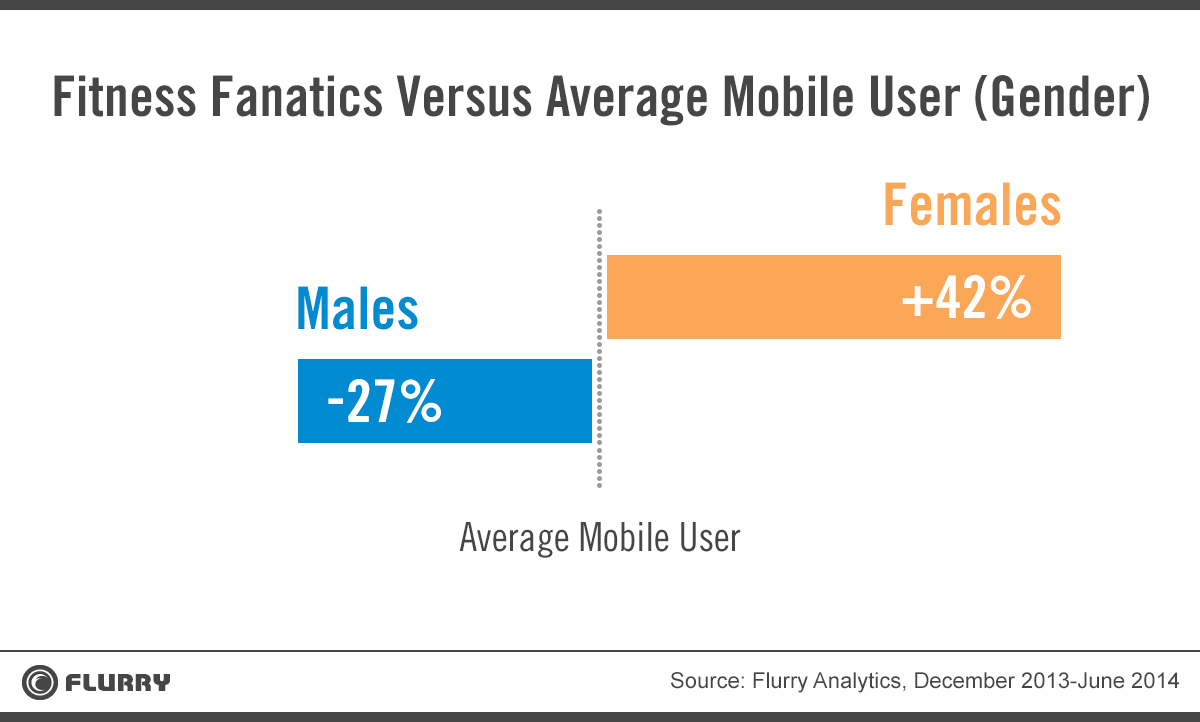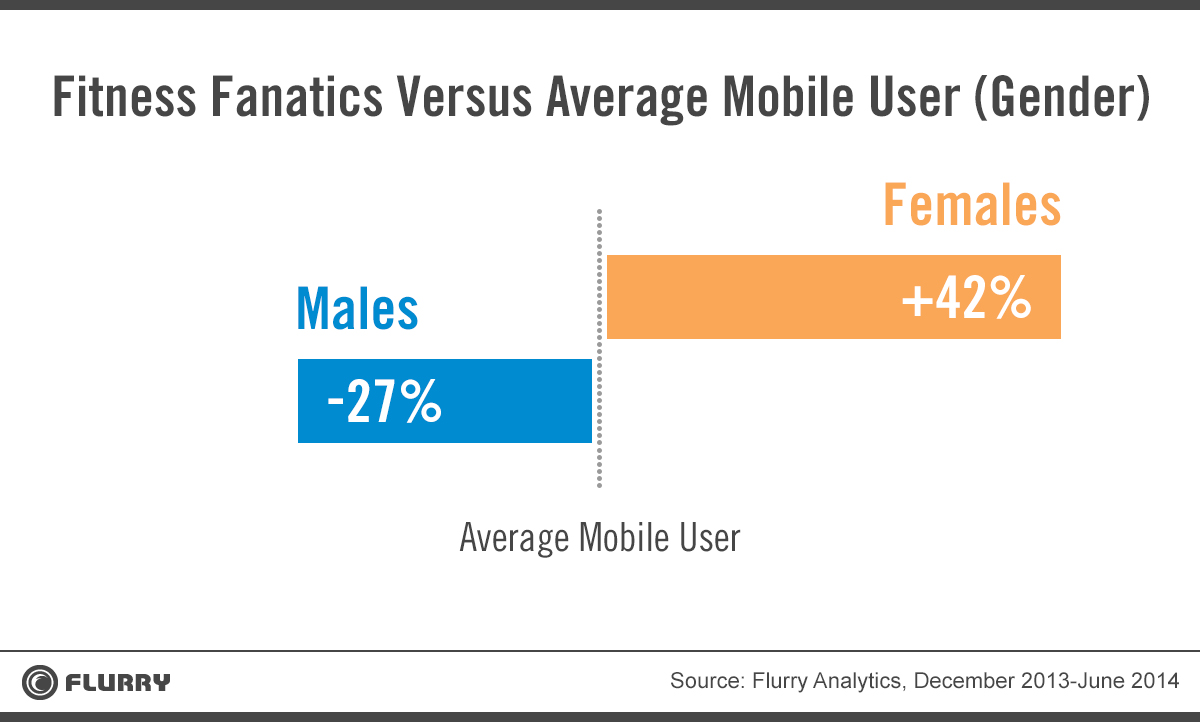 Out of the 48% female iOS mobile users, as against the 52% males, 62% females are more health fanatics leading to a 42% over-indexing on the female side while only 38% males indulge in using health and fitness apps. Generally, the females are more health conscious and careful about their calories and bodily intake.
Middle-aged Parents and Sports Fan Lead a Healthier Lifestyle
Surprisingly, the so-called young users between the ages of 18 and 24, registered the lowest under-indexing of 57% against the average mobile user while the people in the age group of 25-54 were found to be most health conscious. These included the parents, avid runners and sports fan. The sports fan experienced the maximum over-indexing of 80%.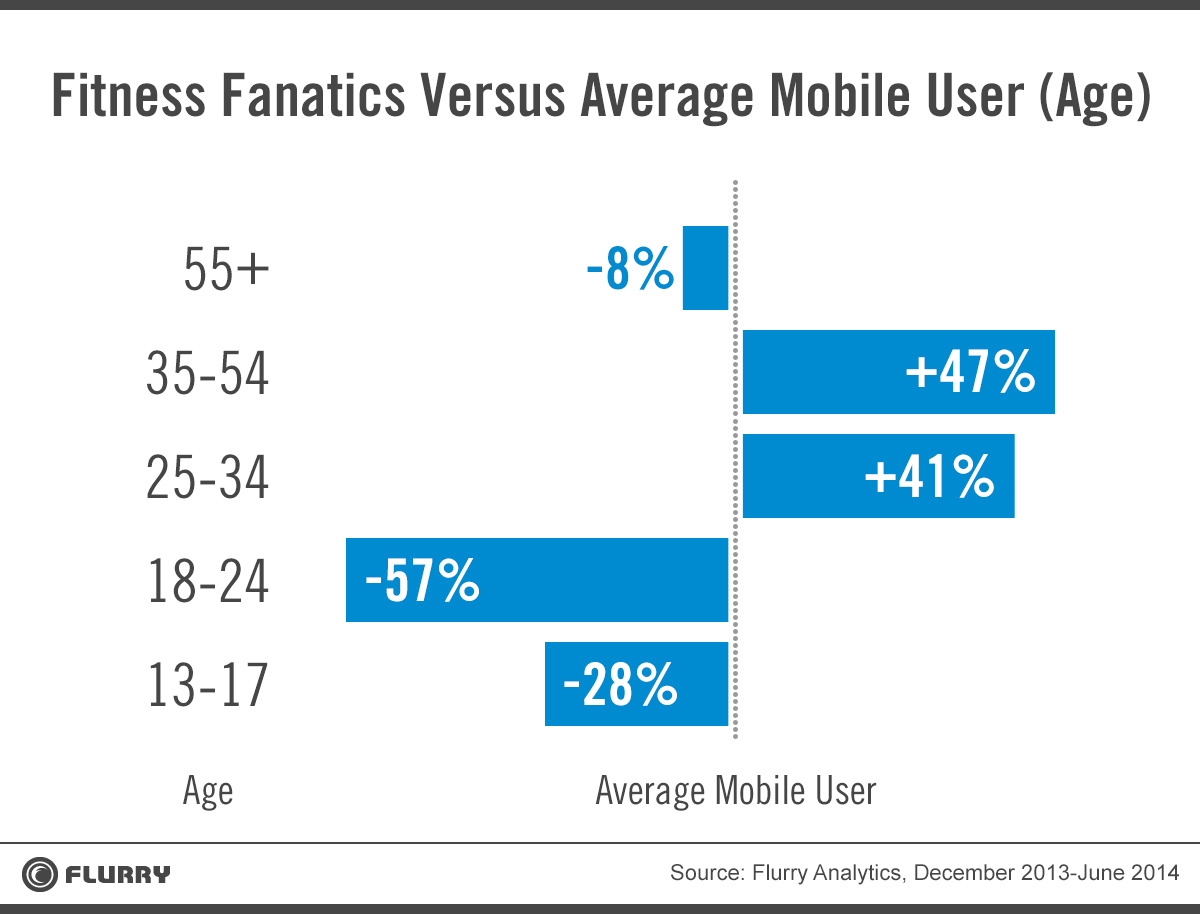 Looking at the data above, it is safe to say that women in the age of 25-54 are more health conscious and in-sync with the fitness technology. The inclination of the indexes and figures might suggest ways for app developers to monetize their health and fitness apps for optimum ROI. Furthermore, the growing adoption of wearable gadgets are fuelling the growth of health and fitness app industry. Apple is rumoured to launch its iWatch later this year and considering Apple users are more app centric, there people are likely to be early adopters of wearable gadgets.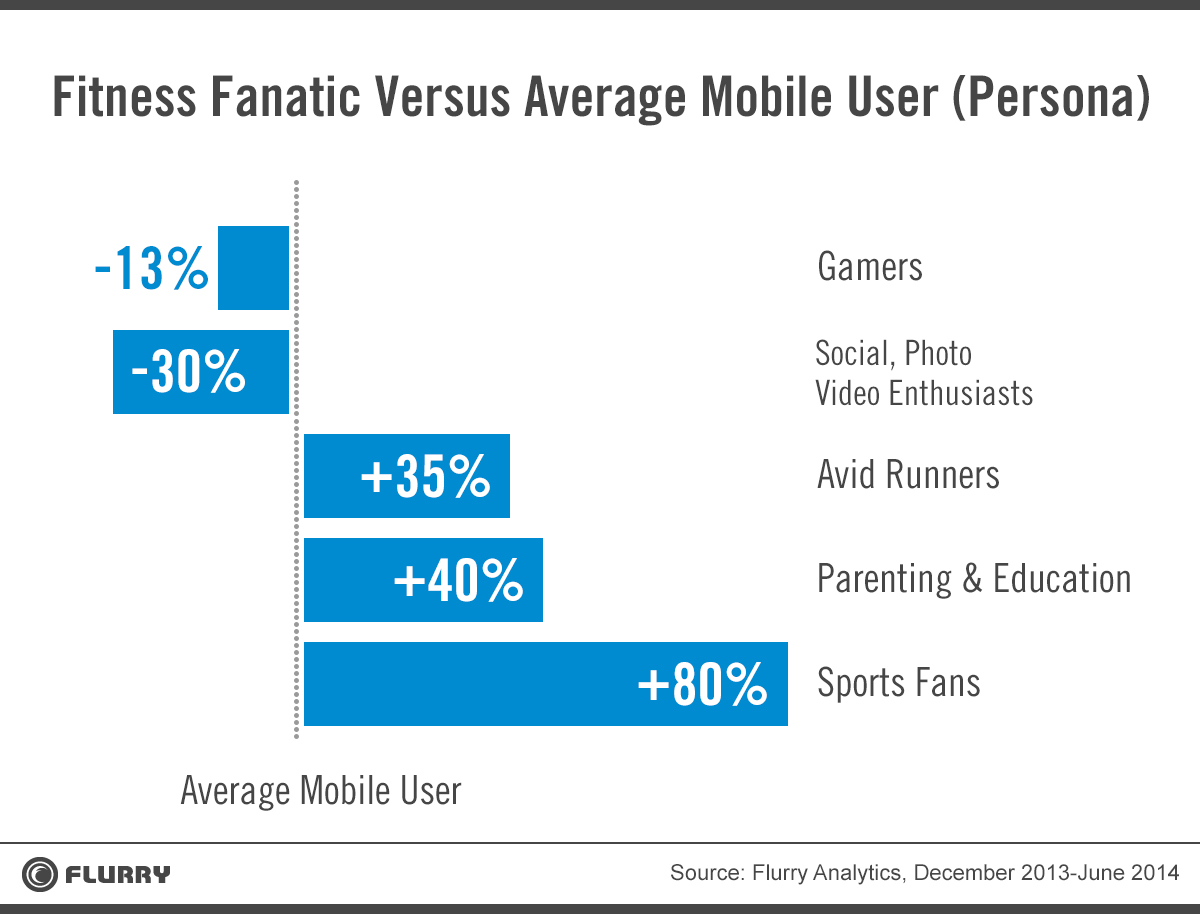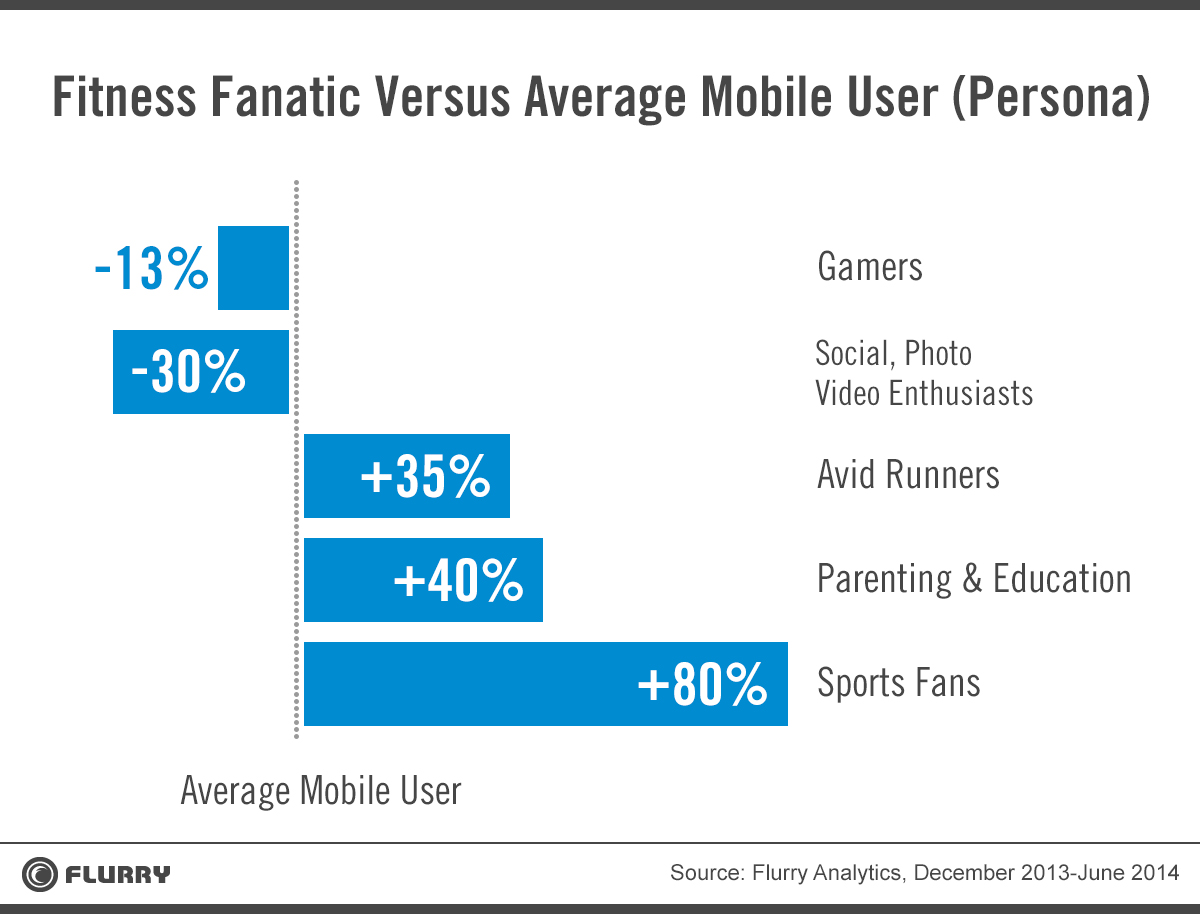 Strong Growth of Health and Fitness Apps Spells Good News for Wearable Gadgets
The smartphone industry is already reaching a saturation point on the developed nations. The consumers over there are looking out for more avenues which spells a good news for vendors of wearable gadgets. With the impending launch of Apple iWatch in October, health and fitness app industry is likely to experience another boom. In addition to that, Google Inc. (NASDAQ:GOOG) reaches out to smartphone users with more than 1 million apps, out of which, a sizeable number belongs to health and fitness apps.
Companies like Samsung Electronics Co., Ltd. (KRX:005930), Google and Pebble are already reaping in good revenues from the smartwatch industry. With the introduction of Simband and SAMI, Samsung is high on innovation. The growth of wearable gadgets is in synchronization with the growth of health and fitness industry. Combining all the factors and numbers from the Flurry report, developers can try their hands at innovation to keep the users engaged.
Key Takeaways:
Health and Fitness apps are generating greater engagement in 2014. App developers must work on strategy to tap the growing opportunity in the industry.
Wearable gadget vendors as well as health app developers must target users aged between 26 and 55 years.
App developers should include features in their health apps more relevant to female users.