iPhone users all around the world must be impatiently waiting for the new redesigned OS from Apple Inc. (NASDAQ:AAPL), the iOS 7. It is evident from the numerous comment section and blogs from all around the World Wide Web that expectations are sky-high. The ongoing war between Android users and Apple devotees has stiffened lately as Android scored high on market penetration and number of app downloads, leading to heated discussions on websites.
The various beta releases hint that the recent update for iOS will be a big change over the previous versions. The UI change is the most noticeable aspect of the recent update. From the various screenshots all over the Internet we can see that the icons look sleek and fonts are clearer. It's reportedly smoother to use and has a bunch of new features. On the other hand, Android has an array of device makers to support it. Most of them have added new and unique features to their respective smartphones, in addition to built-in features, which are also impressive nonetheless. What is left to be seen now is what features the iOS 7 will bring forth this time. All will be revealed at the official release of the OS, few hours from now.
Will iOS7 live up to the expectations?
Following the official release, all previous apps on Apple  App Store will have to be upgraded for compatibility with the new version, as reportedly there's a huge difference in the way old apps look and behave alongside new iOS 7-ready apps, and not in a good way. When iOS 6 was announced at WWDC last year, there was a continuous increase in the number of apps in the App Store but after Apple announced the arrival of iOS 7 at WWDC this year, there have been some major changes in app counts in the App Store – iOS 6 development activity seemed to cease steadily.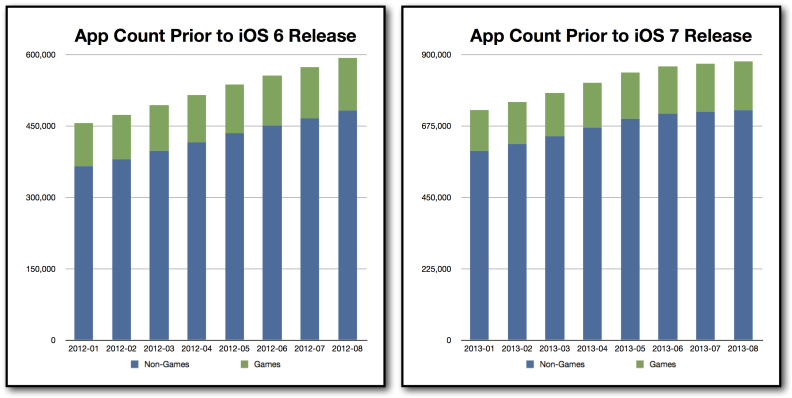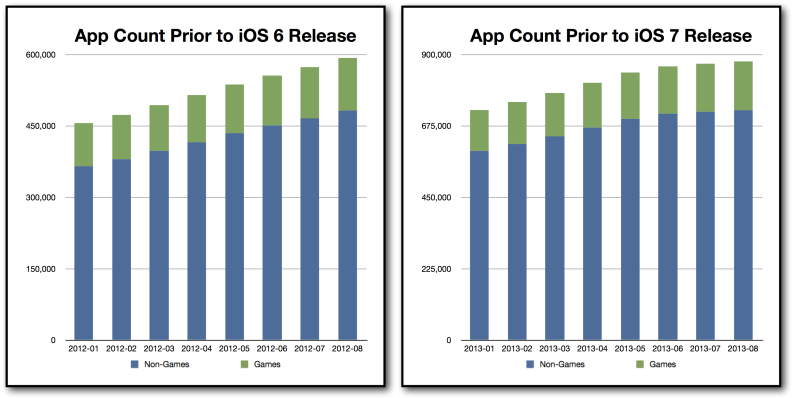 The growth rate of apps, which was steady at an average of 4% per month, has now slowed to less than 1% in August 2013. Moreover, the average number of app submissions for the 12-month period starting in June 2012 and ending in May 2013 was 28,404. That number fell significantly to just 7,322 submissions in August this year, since June 2013. This was again not the case prior to the release of iOS 6.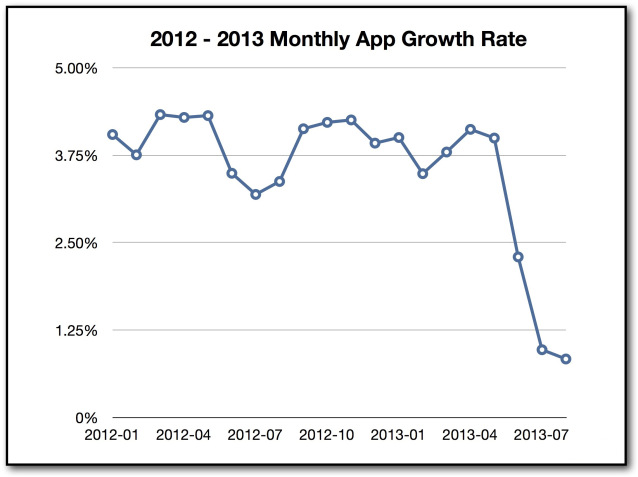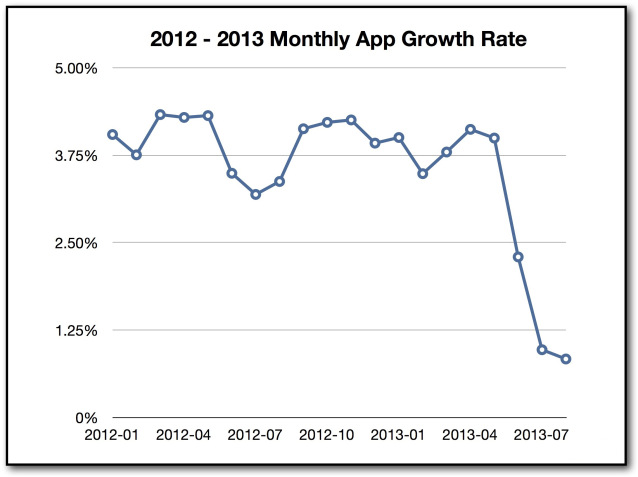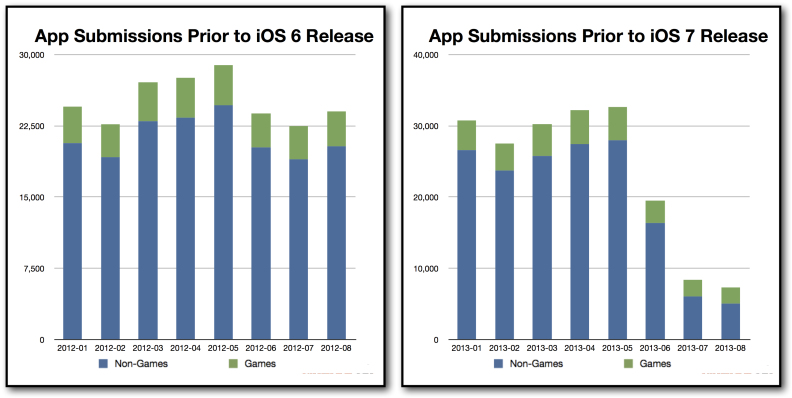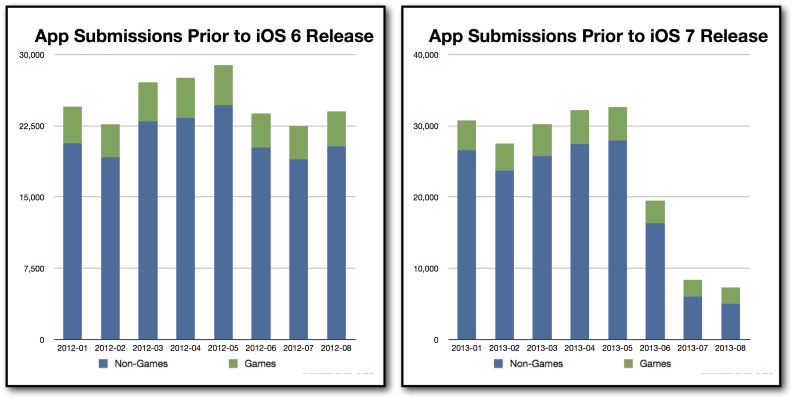 Developers may be targeting iOS 7 rather than releasing an app for iOS 6 and then having to update to iOS 7 shortly after the release, which may be a reason for the current decline in app counts and growth rate. The decline in app submissions after iOS 7 was announced may indicate that developers may have been spending a lot of time updating their apps in preparations for the launch and with such a decline in both app count and submission rate, there are obviously a lot of developers working on iOS 7 updates.
Whenever a new version of iOS is released, the adoption rate is generally very high. For instance, 61% of iOS users had already updated within a month of iOS 6's official release last year, and by June of this year, the number reached 90% of all iPhone users. Assuming the trend continues with the iOS 7, this year, the app submission rates are likely to return to normal the moment iOS 7 is released, but the total app count may still take a hit as more than 370,000 apps have so far been removed from the App Store since the first app was downloaded, for various reasons like change in direction for the developer, Apple pulling the apps for reasons of its own and complaints from customers about poor performance of an app. A sizable population of app owners is yet to find out which of their apps are able to run on iOS 7 and depending on how many outdated apps start having serious issues, the number of apps that get pulled down from the App Store could be significant, maybe large enough to slow down the overall growth rate of the number of apps for a few months.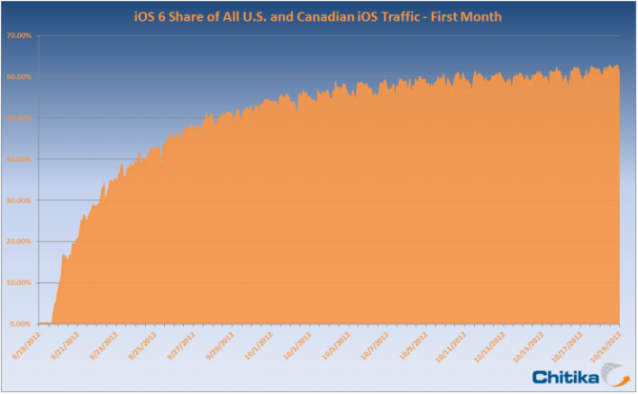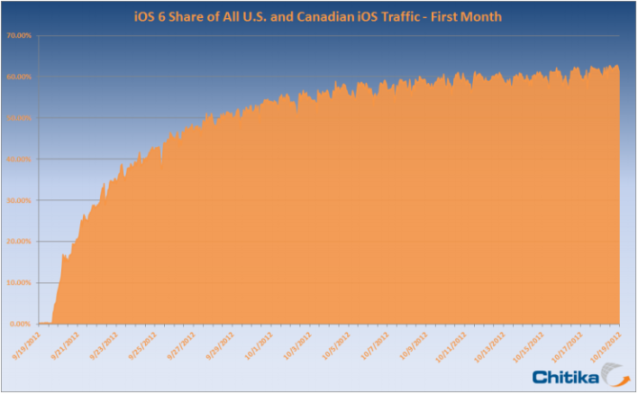 However, the large number of developers working on updating their respective apps for iOS 7 that has stirred things up so much indicate that much more is likely going on under the hood than in previous releases.
We'll find out a few hours later.
Source: iTune Store, 148apps
Via: GIGAOM