The trend of watching videos on mobile phones and tablets is not here to stay but to grow in leaps and bounds. Though connected TVs are the most favoured medium, smartphones and tablets are fast catching up. According to Ooyala Global Video Index Q1 2014, majority of videos delivered for mobile devices are watched on Apple Inc. (NASDAQ:AAPL) products, while video viewing on mobile devices has grown at a CAGR of 152% since 2012. Video analytics firm, Ooyala, measured the video viewing habits of consumers in 239 countries and bases its report on that.
Highlights Of The Report
In Q1 2014, video viewing on mobile and tablet has increased 133% year over year.
Despite its smaller market share, iOS outpaces Android in video viewing.
Size of device and quality of display are the major factors in watching videos, especially for longer duration.
Live videos are more favored than Videos-On-Demand (VOD).
 The Rise of Mobile+Tablet Video – 532% since 2012!
From 9.2% in Q1 2013, mobile video viewing has increased to 21.5% in the same quarter this year. The explosive growing consumption of mobile video is visible form the fact that in last two years, between the first quarter of 2012 and Q1 2014, the viewing has increased to 532%. The onslaught of large screen smartphones, tablets, other connected devices and the advent of high-speed 3G and 4G technology are the driving forces behind it.
In contrast to previous years, viewers are spending more time in watching longer videos of 30 minutes or more. Though users prefer viewing long-duration videos more on connected TV, on-the-go watching and live streaming is fast gaining importance. In fact, the combined share of viewing videos for half-hour or longer on mobiles and tablets has surpassed TVs.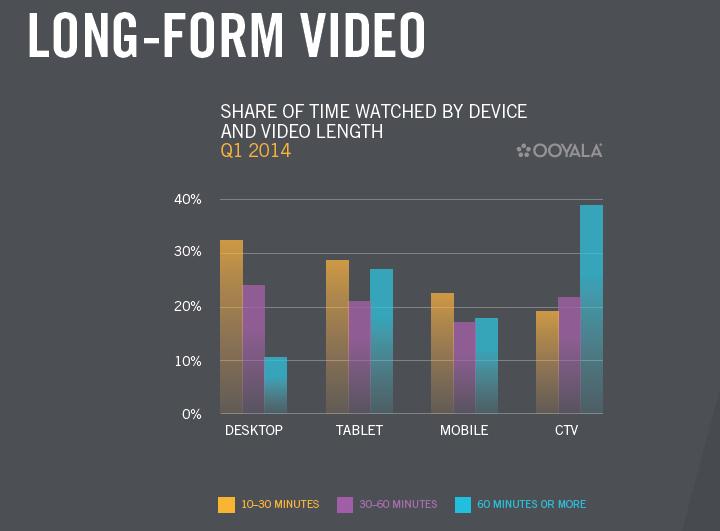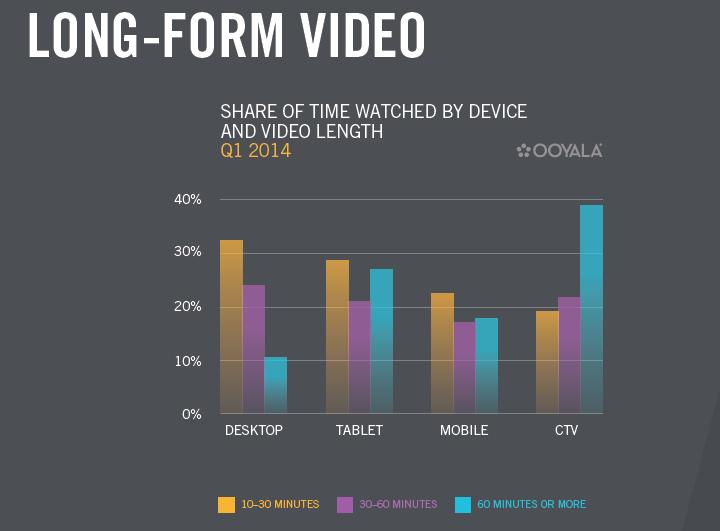 In the first quarter of 2014, almost half the video sessions on tablets consisted of videos longer than 30 minutes, whereas on mobile phones, only 35% of videos were of the same duration. The numbers were significantly higher for connected TVs where 61% of viewing time was spent on videos longer than 30 minutes. This includes the 39% of time that was spent on watching videos that were an hour or longer.
iOS Has a Lion's Share in Videos
The Android market share in APAC beats iOS with distinctive margin though, for video viewing APAC favours iOS over Android with 4:1 ratio. However, certain APAC countries like India, Pakistan, Malaysia, Japan and Australia chose Android over iOS. In all the major geographical regions, except Latin America, majority of viewers chose Apple products for watching videos. In contrast, only 6% more viewers chose Android over iOS in Latin America. Although that's a marginal difference, it may spell good news for vendors that deal in Android-powered devices.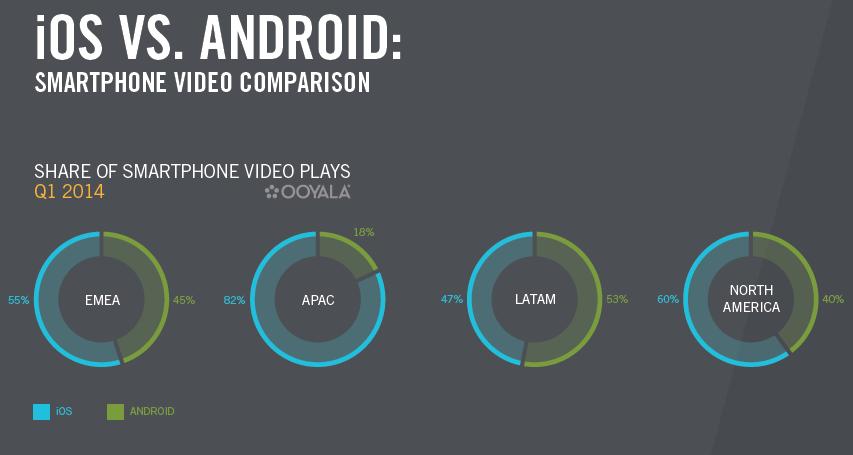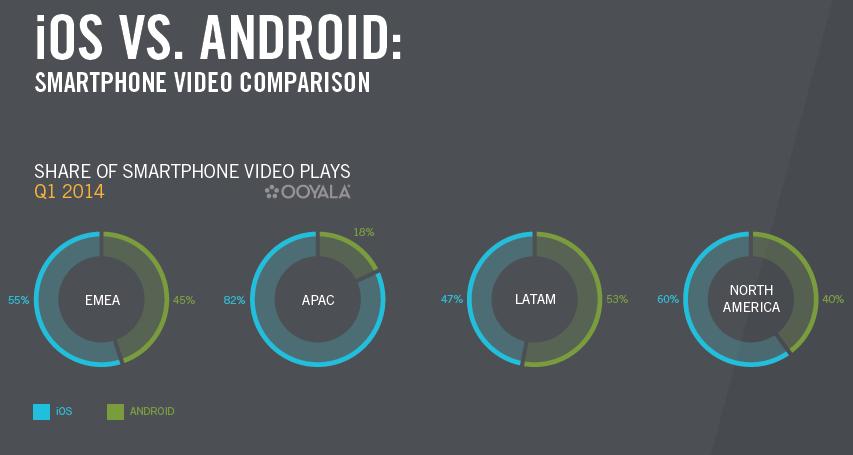 The iOS provides ostensibly easy viewing and publishing experience for videos. The Europe, Middle East and Africa (EMEA) chose iOS by a marginal difference. Surprisingly, the market share of Android powered devices is significantly higher than iOS powered but it was unable to capture a majority of video viewers. Overall, 64% of mobile videos were watched on iPads and iPhones in Q1 2014.
These mobile video viewing insights by mobile OS clearly portray the demographic of mobile users. iPhone and iPad users are high consumer of mobile video in most of the regions as compared to Android. The new findings also highlight the changing equations between Android smartphone and iPhone in last two days. In 2011, Android smartphone users were found more data-hungry than iPhone. In last two years however, Apple iPhone and iPad users have emerged as the greatest consumer of mobile data in developing and developed countries both.
Viewers More Attracted Towards Live Video
Mobile phones are the least preferred devices when it comes to watching videos live. Viewers chose to watch live videos on connected devices for almost an hour followed by little over 30 minutes on desktops. The low preference for watching live videos on mobiles can also be credited to the fact that majority of regions are still using 2G or 3G technology, which involves a lot of vide buffering. Globally the viewing time of live video on connected TVs was 11x time of video on demand time.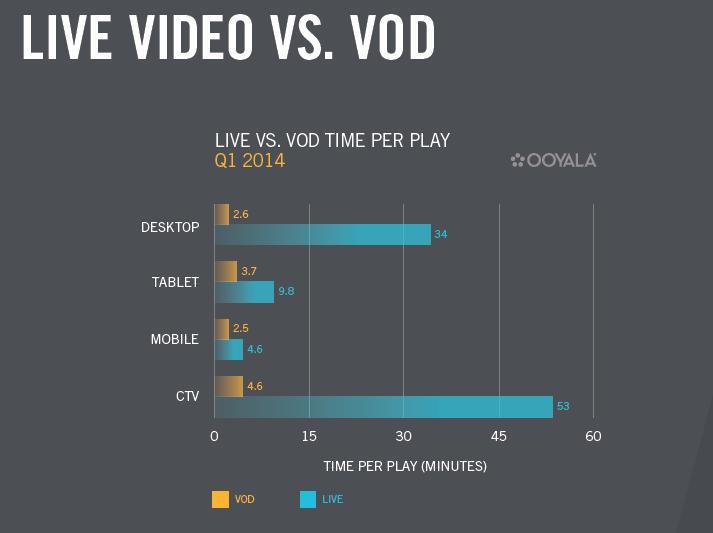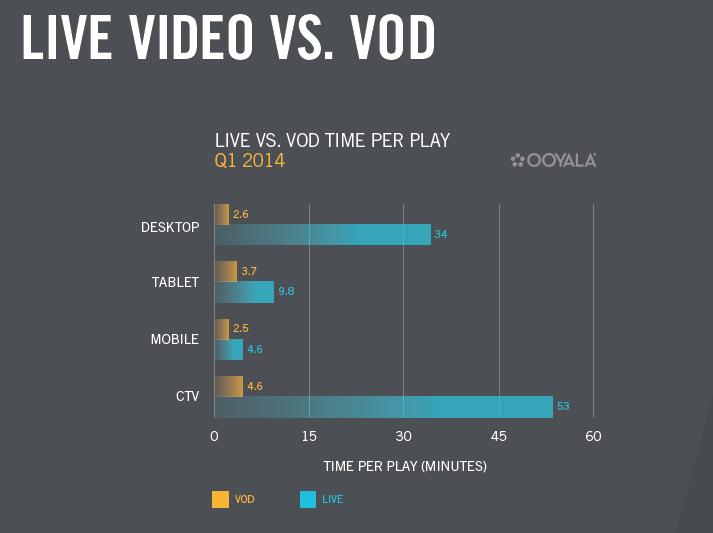 Mobile Devices are Preferred For Short-form Videos
While watching videos, longer the better is the mantra! However, videos that are short, well below 10 minutes, are preferable to watch on mobile phones and tablets. But for videos lasting for more than 10 minutes, 80% of viewers tune to connected TVs. Interestingly, for viewing videos, tablets are more used, like connected TVs, due to larger screen size. A whopping 77% of the time, videos longer than 10 minutes were watched on tablets. Users are increasingly consuming entertainment content irrespective of the time duration.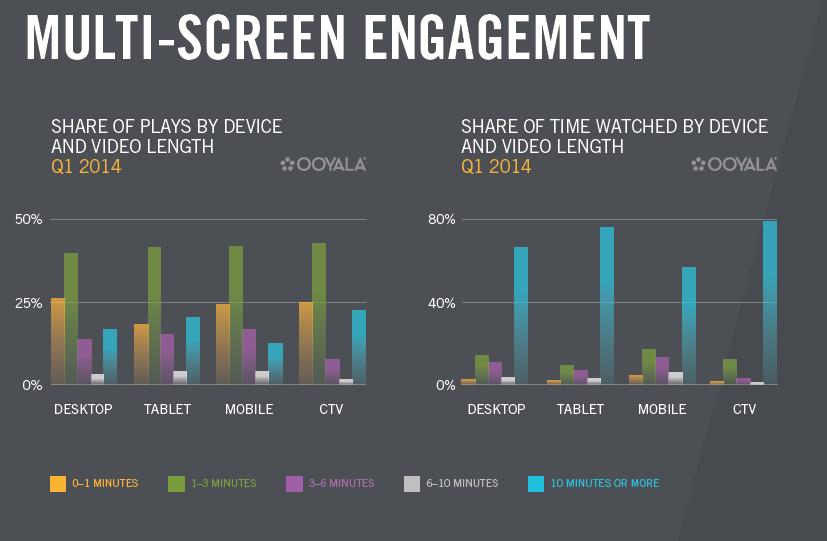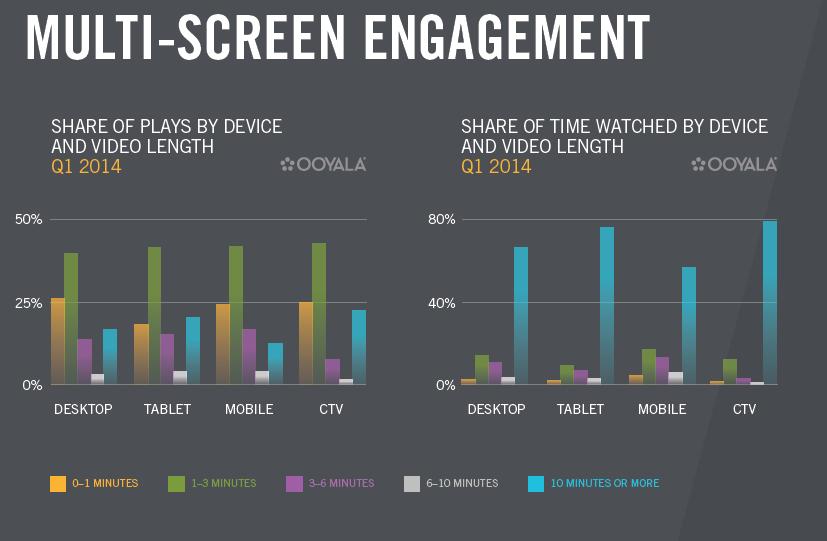 The Ooyala figures clearly point out that the big screen has maintained its dominance but the smartphones and tablets are moving up fast. Video viewers are more inclined to be device, platform and performance conscious. With the better broadband technology and speed, video viewing is becoming an essential routine to the rich entertainment experience. In the upcoming times, the economic conditions are will favor Android powered devices more. To rope in more Android customers, video publishers need to work on strategies that address the woes of all platforms. Looking at viewers demographically, more ads can be made available which in turn will generate more revenue.
Take Aways:
Mobile marketers must create and market short-durtaion videos. Videos with duration between 10 minutes and 30 minutes are viewed the most on mobile.
On Tablet, video viewing habit is a bit different among users. Videos with duration between 10 minutes and 30 minutes, and 60 minutes and more gain maximum attention from tablet users.
Mobile video marketers must focus on creating videos with focus on iPad and iPhone.
Videos with length between 1-minute and 3-minute are the most favourite among mobile and tablet users. Overall 10 – 30 minutes videos are more preferred among mobile users.