Microsoft Corporation (NASDAQ:MSFT) may have entered the smartphone race far too late as Android continues to defy the odds with its booming market share. ABI Research calculated the global mobile market shipments, which includes both smartphones and basic mobiles collectively. Google Inc. (NASDAQ:GOOG) owned Android had a massive 44% of the mobile OS market in Q1 2014, with Y-O-Y growth of 24%. Android Open Search Project (AOSP) or forked Android versions had 13% market share in Q1 2014, bringing Android's entire total to 57%. The complete collapse of  BlackBerry Ltd. (NASDAQ:BBRY) OS in 2013 is turning the global smartphone market race into a three-way horse-race, between Android, iOS and Windows Phone OS. Totally 427 million mobile mobile devices were shipped in Q1 2014, a 10% decline from Q4 2013. Device shipments are usually far less in Q1 2014, due to the closure of the holiday season and lack of new products.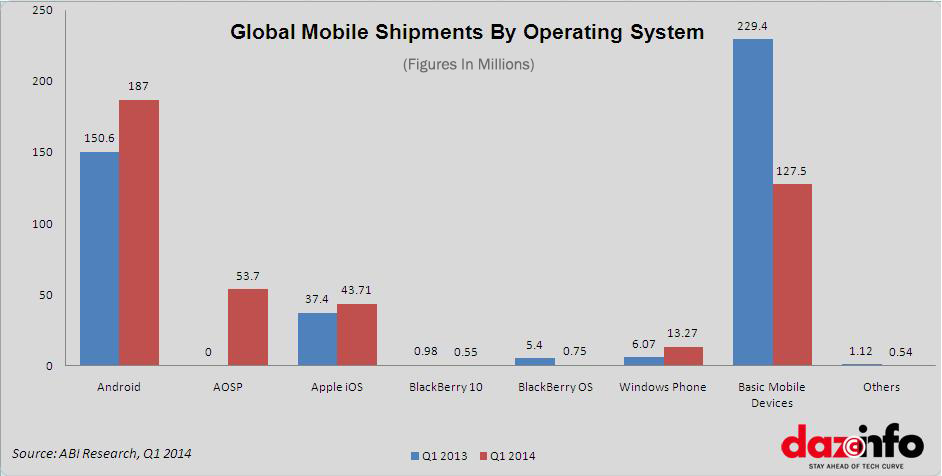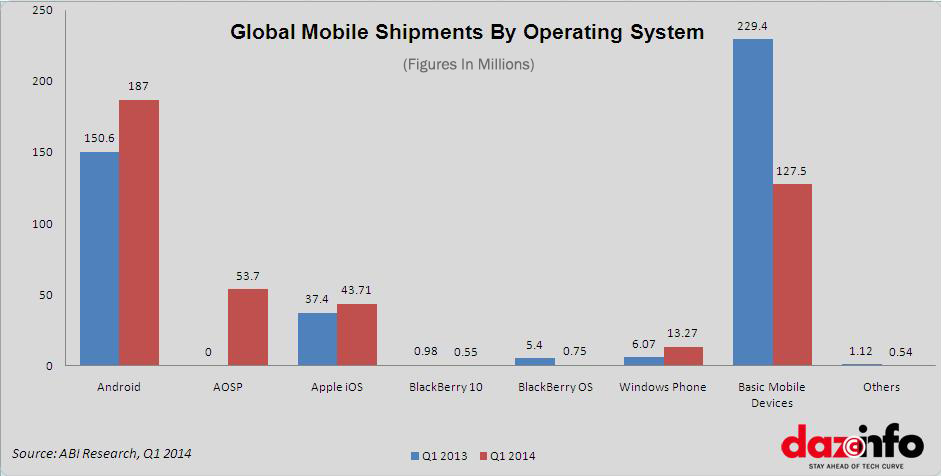 Android's Popularity With OEMs And Users Showing No Signs Of Fading
187 million Android powered devices were shipped in Q1 2014, an impressive increase from 150.62 million devices shipped during the same quarter a year ago. Sequential growth dropped by 1% in Q1 2014, but Y-O-Y growth is a whopping 24%. Android will continue to dominate from increased smartphone penetration in developing markets and increase its massive market share even further. Already it powers 80% of all smartphones and 65% of tablets worldwide. Google is making the biggest gains, as billions of users all over the world are upgrading to smartphones from basic mobile phones. It is estimated that in 2014, almost 1 billion Android powered devices will be shipped worldwide.
The rise of AOSP presents a challenge to Google. Amazon.com Inc. (NASDAQ:AMZN) uses a version of forked Android named Fire OS for its range of Kindle tablets and Nokia Corporation (ADR) (NYSE:NOK) uses a forked Android for its X range of smartphones. In Q1 2014, 53.7 million AOSP products were shipped. The OS market share of AOSP was 13% in Q1 2014, a 2% increase from Q4 2013, due to the introduction of Nokia X smartphone range. ASOP will continue to grow marginally as OEMs try to configure the OS to suit their preferences. Because of AOSP, Google loses out on revenue obtained through the Play Store and search advertisements.
Microsoft Recorded Stronger Y-O-Y Growth Than Apple
Apple sold 43.7 million iPhones in Q1 2014, an 11% decline from Q4 2013, where 51.04 million iPhones were shipped. However, Apple recorded a strong Y-O-Y growth of 17%, owing to impressive performance of the iPhone 5S. According to ABI, growth of iOS is undoubtedly flattening, as it fails to gain from the increased smartphone penetration in emerging smartphone markets. Apple launched the low priced iPhone 5C last year to attract more customers from emerging markets, but the device did little to boost sales volumes. The next few years could see the market share of iOS falling further, despite its popularity in U.S, Japan and Australia.
The market share of Windows OS gained a good growth of 16% in Q1 2014 through shipments of 13.27 million devices. It also recorded a massive Y-O-Y growth of 119%. Shipments of Windows Phone OS powered devices doubled throughout 2013, yet its OS market share stands at  just 3% globally. The 1% growth since last quarter shows the steadily gaining acceptance of Windows Phones. Nokia, which is now the property of Microsoft, has launched several low-end and high-end Lumia models to attract all segments of customers. Microsoft has even allowed all OEMs to use the WindowsPhone 8 OS free of cost for manufacturing tablets and smartphones having screen size 9 inch or small, to increase the market share. The upgraded Windows Phone OS 8.1 has received a good response, thanks to several modifications and improvements.
BlackBerry OS Market Share Collapsed By 86% In 2013
Blackberry OS has officially been wiped out from the consumer market, with its OS market share now at 0%. Only 750,000 Blackberry OS powered devices were shipped in Q1 2014 from 5.4 million shipments a year earlier. The market share also dropped by a tremendous 86% Y-O-Y, and 79% from last quarter. The new version of BlackBerry OS named BlackBerry 10 was also a colossal failure, declining by 44% in OS market share Y-O-Y. The company has reportedly considered exiting the handset business, and focus on delivering software to defense and other applications. Two smartphones are slated for launch this year but from now on, Blackberry is officially a dead OS, placed in the other category, since sales of Blackberry OS powered devices were not even at 1% between Q4 2013 and Q1 2014.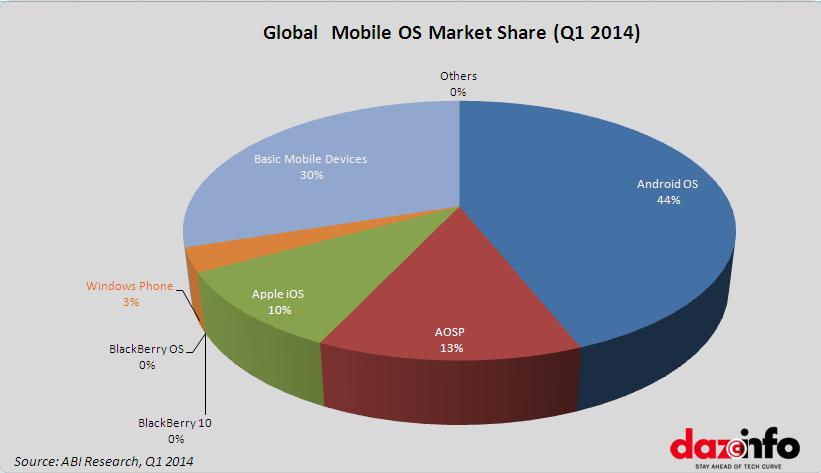 Firefox is Targeting the Emerging Markets With Dirt Cheap Smartphones
The market share of other operating systems such as Symbian, Tizen and various others, has shrunk to 0%. Sequential growth increased by 27% in Q1 2014, but fell Y-O-Y by 52%. In Q1 2013, 1.1 million devices were shipped, which fell to 545,000 a year later. This group includes feature phones, such as the Nokia Asha series, which have basic internet connectivity. In 2013,  sales of smartphones outsold feature phones for the first time. These phones use other operating systems such as Firefox OS and are available for extremely low prices in emerging countries. Firefox plans to aggressively enter the emerging smartphone market by producing a low-cost smartphone for US$25. It remains to be seen if this will increase the market share of Firefox OS.
Microsoft Windows Phone OS May Never Catch Up To Android OS
The shipments of basic mobile devices has fallen by 44% in one year and 24% since last quarter. Basic mobile phones lost their market share by 5% in the past one year but are still at 30%. During the same period last year, shipments of basic mobile phones were far higher than shipments of Android OS powered devices. In Q4 2013, shipments of basic mobile phones stood at 167.3 million and were exceeded by shipments of Android OS powered devices for the first time. These figures prove that Android is the biggest gainer from the declining basic mobile market.
The popularity of Android OS will not be surpassed for a long time. First-time smartphone users all over the world are using Android powered devices for the wide range of applications and simple user interface. Meanwhile, the Windows Phone powered OS is an attractive option for OEMs to make gains in countries where the Android market is saturated. However, the timing of the entry is far too late as Android's market share is simply too vast. Users also remain wary of the restrictions of the UI and the lack of applications. At the current pace, the best Microsoft can hope for is to gain 12% market share by 2017 and compete with Apple for second place.