The average global penetration of mobile subscription has reached to 93% by the end of Q1 2014. As the number of smartphone subscriptions has increased explosively, the consumption of mobile data traffic is surging up with each passing quarter. In most of the developing nations 2G service has high penetration though, the growth is definitely moving towards 3G and 4G services. The traditional usage, such as making voice calls and SMSs, are no longer the dominant services of a mobile phone as users are increasingly relying on data-based services. Therefore, it is not surprising when mobile data traffic is projected to grow 10x between 2013 and 2019, as reported by Ericsson in its Ericcson Mobilty Report. Asia-Pacific region is expected to originate the maximum regional traffic while video viewing would constitute the maximum traffic.
Mobile Data Traffic To Grow By 10x Between 2013 and 2019
The mobile data traffic is expected to grow gradually between 2013 and 2019 but the growth will remain faster than fixed data traffic. The mobile data traffic recorded a growth of 65% in Q1 2014, exceeding the traffic in whole of 2011, when compared to a year ago quarter. The mobile data traffic, though, represented only 5% of total mobile data and fixed traffic but that figure is expected to double by 2019.
Although there is a difference among the traffic levels corresponding to market, regions and operators, mobile phones, especially the smart phones, are functionally enabled to perform almost all those functions that a computer does. The total mobile traffic generated by mobile phones has surpassed the traffic of PCs, tablets and mobile routers but fixed data traffic will remain overriding in absolute volume. The monthly smartphone traffic is likely to grow to 12 ExaBytes by 2019 at a CAGR of 45%. However, it is worth noting that the significant contribution to the mobile data traffic is done only by few users and the data capping, tariff plans and screen size are the major factors behind it.
By 2019, APAC to be the Major Contributor In Mobile Data Traffic
The mobile subscriptions in India and China are growing by leaps and bounds. With the growing penetration of smartphones, the consumption of mobile traffic is bound to increase in these regions. In 2013, North America and Western Europe boasted of a larger share in mobile data traffic, but by 2019 APAC would emerge as  the major contributor. Apparently, the saturating smartphone penetration in North America is the main factor for its declining contribution to the mobile traffic market. It is expected that the mobile data traffic will grow to twelve folds by 2019 as compared to 2013.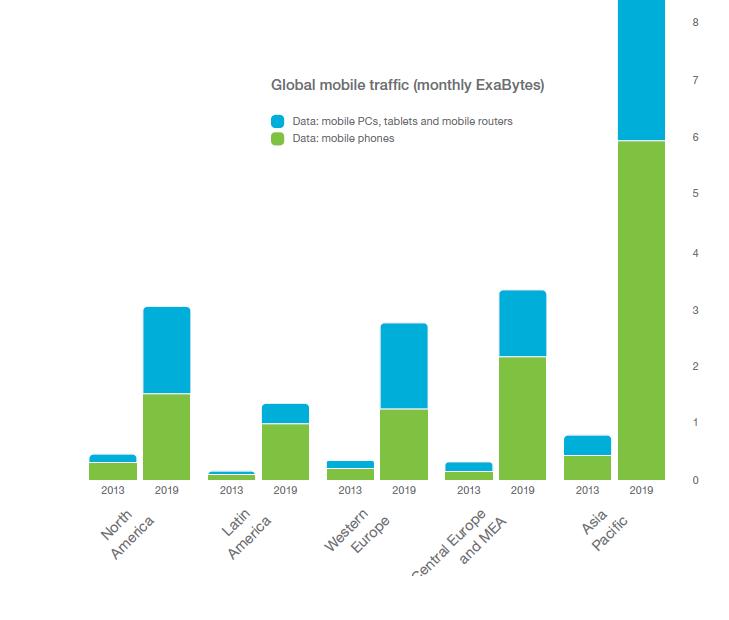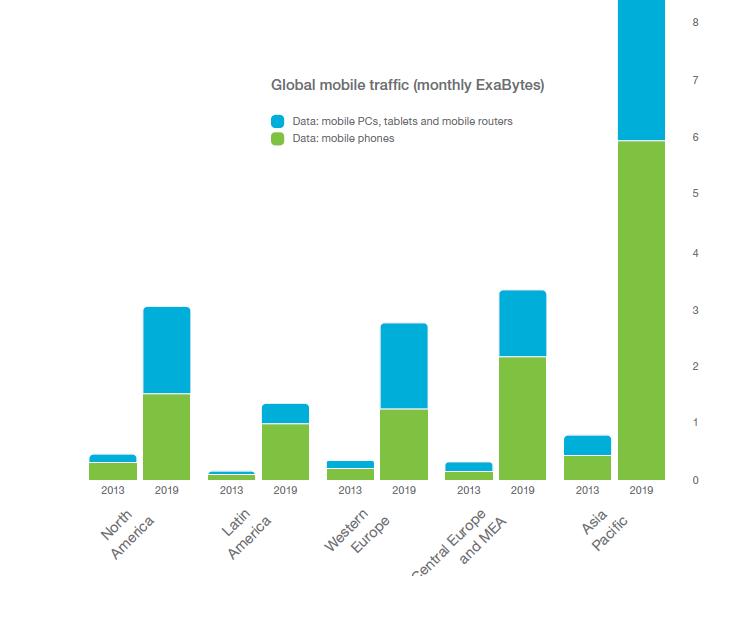 South Korean and Japan are clearly the forerunners in the field of 4G technology, while Australia has already achieved the first LTE Advanced and LTE Broadcast calls. The growth of 3G and 4G networks in Europe and MEA region will cause an upsurge in the mobile data traffic consumption. The growth in mobile data traffic will be led by APAC region as monthly mobile phone data traffic is expected to increase from less than 1 ExaByte in 2013 to almost 6 ExaByte in 2019.
As more and more phone users are migrating to Smartphone, the consumption of mobile data is poised to increase. The mobile traffic per active subscription for a month is likely to increase four times from 650 MB to a whooping 2.5 GB by 2019. Smartphones are going to play a vital role in this growth as total monthly smartphone traffic will reach to 12 Exabyte – almost 12 folds higher than 2013. The number of active subscription does not include multiple-sims or inactive devices.
65% and 80% People in France and South Korea Respectively Consume Videos on a Weekly Basis
The advent of 3G and 4G technology has made video streaming and viewing easier and more enjoyable. Although online music streaming industry is catching up fast, the options of offline playlists limit its growth. Audio traffic is likely to increase by 8x, while video traffic will remain the fastest growing segment recording a 13 folds growth from 2013 to 2019. The relative slow growth of web browsing and decline in its mobile data share from 2013 is a consequence of stronger growth of other categories. Social networking is expected to remain second largest mobile data traffic provider but, surprisingly, its share will not improve any further.
By 2019, videos will account for almost half the global mobile data traffic. The increasing number of video-capable devices with larger screen-size, fast connectivity, improved picture quality and availability of TV services via streaming are the major driving forces behind increasing mobile video traffic growth. A study conducted in France and South Korea has shown that watching TV on fixed screens has declined and people prefer to watch TV outside home or while commuting using their mobile devices.
The mobile data traffic growth is mainly driven by increasing number of smartphones, 3G/4G technologies and lucrative tariff plans. With less time to spare, people are moving from conventional things like watching TV on fixed screens to watching it on mobile devices with a faster connectivity. Although user patterns differ from region to region, the basic contributors to mobile data traffic remain same.