Smartphone industry is on boom and growth is clearly visible in various reports, projecting demographic of the market. According to the latest Ericsson Mobility Report, the total mobile subscriptions are likely to reach 9.2 billion by 2019 and Asia-Pacific region is expected to capture almost half the market. Globally, 35% of all mobile subscriptions are associated with smartphones, while the mobile penetration has reached 93% in Q1, 2014.
The Key-findings
Mobile subscriptions have continued growing with 7% Y-o-Y and 2% Q-o-Q.
LTE and HSPA are expected to dominate mobile networks by 2019 with the developing nations shifting towards the WCDMA/HSPA network.
Smartphone subscriptions will exceed basic phone penetration by 2016.
Mobile broadband will boast of more mobile subscriptions by 2019.
India, China, Indonesia, Thailand and Bangladesh emerged as the top 5 countries by net addition in mobile subscriptions in Q1 2014.
APAC Captures Half The Market
The total number of mobile subscriptions has reached to 6.8 billion globally by end of Q1 2014. This includes 120 million new subscriptions added in Q1 2014. Not much of surprise, India and China have emerged as the biggest players in this market. China has captured almost one-fifth of the global mobile market with 1.25 billion mobile subscriptions, while India boasted of 790 million. APAC (excluding China and India) captured almost one-fourth of the market with 1.35 billion mobile subscriptions. North America and Middle East, each, boast of 365 million mobile subscriptions, capturing 10.6% of the total market together.
The growth in India is apparently faster than China. India witnessed a strong upsurge in the market with the addition of 28 million new mobile subscriptions in Q1 2014, adding more mobile subscriptions than Europe, America and Middle East combined. On the other hand, world's largest mobile market China managed to add only 19 million mobile subscription during the same period. The low-cost – but with improved features – smartphones, active accession of social media, mobile gaming are some of the driving forces behind this growth in APAC region.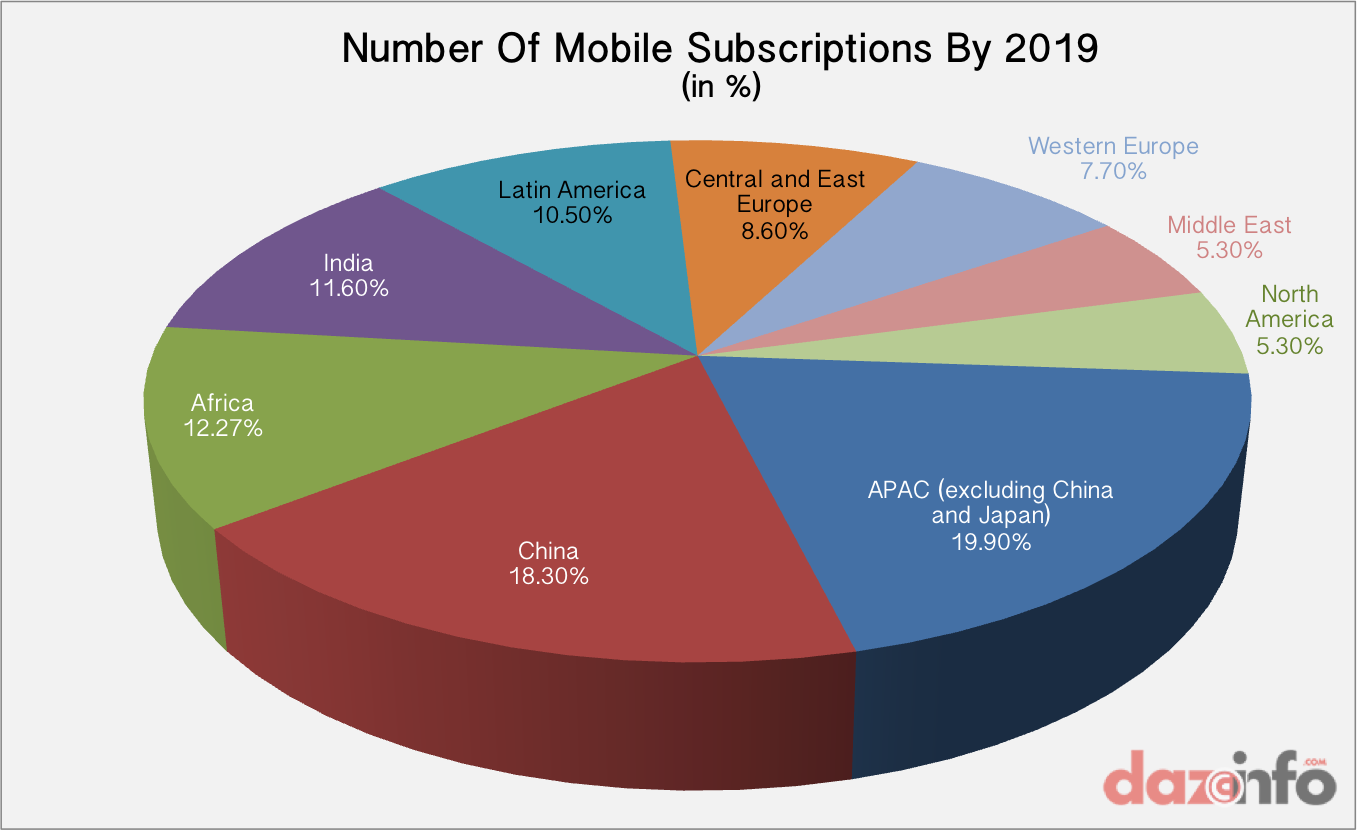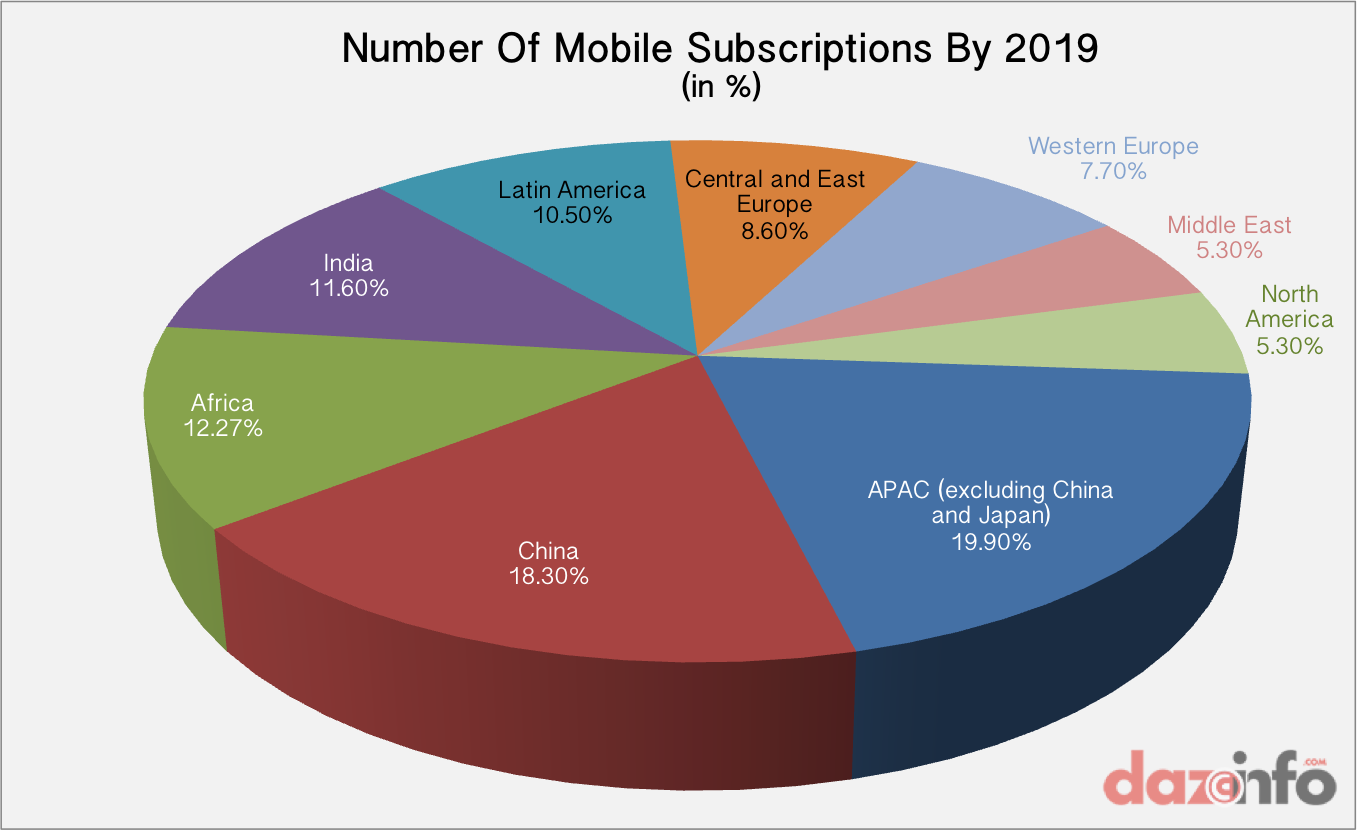 As the global penetration of mobile subscriptions reached to 93% by the end of first quarter of 2014, there are regions, such as Europe, America, Middle East and APAC (excluding India and China), where mobile phone penetration has surpassingly crossed 100% mark. Use of multi-sim phones, possession of more than one mobile phone and availability of connected-tablets are the reason of lofty penetration in these regions.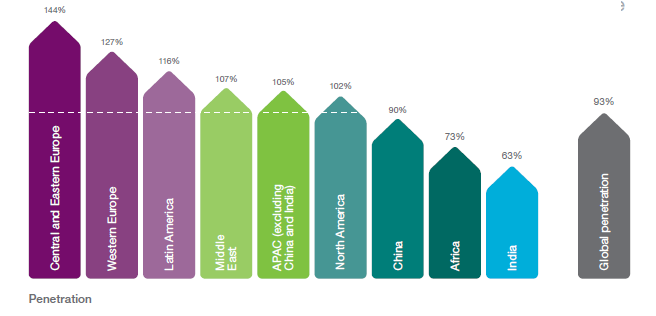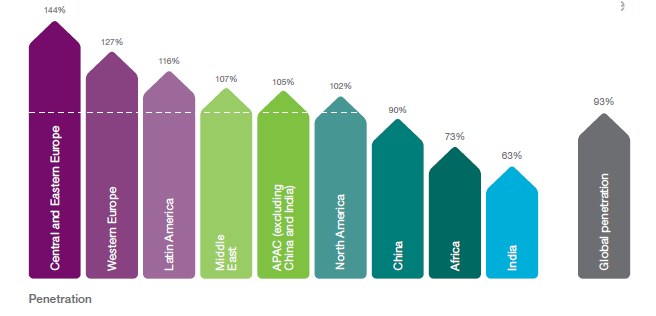 Opportunity Window For Smartphone Vendors
Although Smartphone penetration is gaining momentum, only 35% of mobile subscriptions are linked with the smartphones. This leads to a big opportunity windows for all smartphone vendors worldwide. 65% of all mobile devices sold in Q1 2014 were smartphones as compared to 50% of those sold in a year ago quarter. The number of mobile subscriptions, though, running on basic-phone is 4.5 billion, Smartphone subscriptions are estimated to reach 5.6 billion by 2019, capturing 82.3% of the total mobile subscription market. Interestingly, by 2016, the number of smartphone subscriptions in Europe will exceed its population and nearly 50% of all the mobile devices in Middle East and Africa will be smartphones.
The share of mobile broadband subscription is expected to triple by 2019, accounting for almost 80% of all mobile subscriptions. Due to the invasion of cheap smartphones the majority of mobile broadband subscription will continue to grow exponentially. Currently, there are enough number of PCs and tablets without a mobile subscription, this could be attributed to the price difference between Wi-Fi enabled devices and mobile network capable devices. Besides, there are many few who still prefer connecting their tablet only through Wi-Fi despite of having mobile network capabilities. But this trend is likely to change by 2019 when mobile subscription for PCs and Tablet will grow to 700 million.
WCDMA/HSPA and LTE – The Dominant Technologies by 2019
North America and Western Europe have the highest penetration of 3G/4G network while Middle East, Africa, Latin America, Central and Eastern Europe and APAC are still relying on 2G technology by and large. But this is likely to undergo a change by 2019 when LTE and WCDMA/HSPA will be the dominant technologies. North America will boast of 85% LTE subscriptions while 50% of mobile subscriptions in Western Europe will be 4G. In Europe, all countries have 3G access while half of the countries are rapidly adopting 4G. Latin America, Central and Easter Europe and Middle East and Africa are likely to have 65% subscriptions with 3G. In APAC, 3G/4G will outgrow 2G network by 2019. Countries like Korea and Japan were the early adopters of 4G, consequently, by the end of 2013, LTE penetration had already reached 30% in Japan and 50% in South Korea.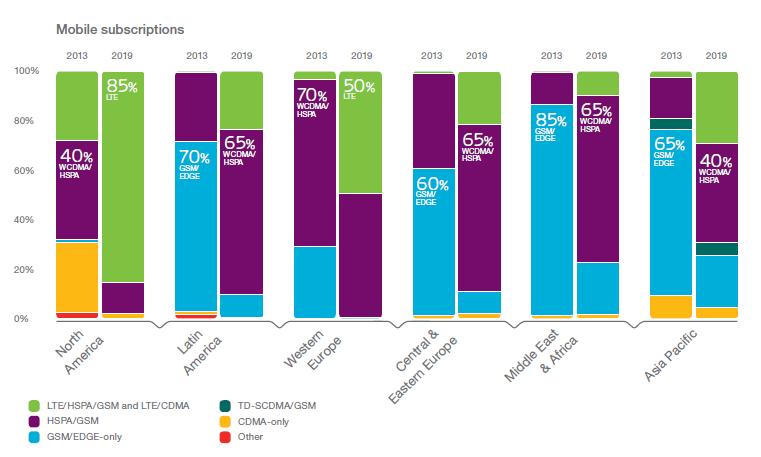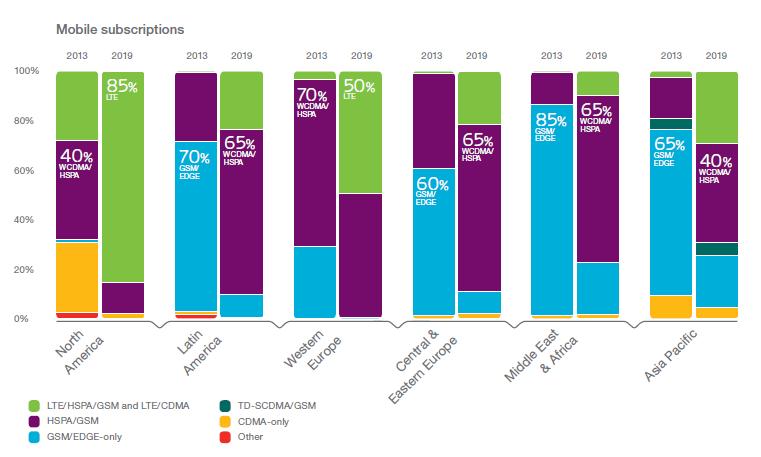 China, Japan and South Korea will account for almost 50% of LTE network in mobile subscription market. The growth of smartphones and as well as mobile subscriptions in developed countries can be credited to economic development and extensive consumer demand. However, in developing countries the low-priced smartphones and lucrative exchange-benefits offered in replacement have emerged as the mains drivers of the growth.
The forecast has been done on the basis of  figures collected since the infancy of mobile broadband. Future development is based upon the macroeconomic trends, user trends, market maturity and other such parameters. The data is collected from various sources and validated with Ericcson internal data.