Although smartphones are ubiquitous in the business world, tablets are an important and growing part of the business mobile device market. Though the sales of tablet slowing down – Apple Inc. (NASDAQ:AAPL) is also facing the heat with disappointing sales of iPad – tablet devices will be among the main driving forces behind growing BYOD culture. IDC projects that tablet sales, including 2-in-1 hybrid devices, will increase by 19.2 percent in 2014. Two-thirds of all tablets are used outside the home.
If the Bring Your Own Device (BYOD) trend remains strong, a lot of them are going to work with their owners.
The BYOD Trend and Tablets
BYOD became the "new normal" in 2013, CIO reports, spurring a flurry of activity to find out what devices employees were bringing to work and patching together security policies. Demand for IT professionals with BYOD knowledge became hot; a survey of IT positions by Janco Associates found IT hiring and salaries were flat with the exception of those who offered BYOD expertise. Janco also forecasts BYOD certification will surge.
Who wants to use mobile devices at work? CIO lists several:
Millenials, who don't want to be tied down to older technology and hope that mobile devices will bring more flexible hours.
IT types who love to play with and develop Android (but not Apple) apps.
CEOs who have been using mobile devices all along.
Salespeople who appreciate tablet displays and touch/swipe operation.
CIOs who, after all, now have new responsibilities that heightens their profile.
Businesses are Buying Laptops and Tablets
Perhaps out of concern for BYOD-related security concerns, businesses are stepping up and purchasing tablets for employees. While tablets aren't quite ready to replace PCs or laptops, The Wall Street Journal reports an increase in corporate investment for new hardware and upgraded software. "People are getting both," one marketing executive says.
The tablet market is strong enough that even Laptopmag.com offers a tablet buying guide with specific tips for business purchases, including:
Screens measuring nine inches or more
External keyboards
Enhanced multitasking capabilities
Pen input
The last item is interesting as Apple and other tablet makers have eschewed styluses in favor of touchscreens, although they will work on iPads and most tablets. Now called pens in current marketing literature, they are making a comeback and provided with tablets aimed at people whose work takes them outside an office as Computershopper.com notes. (Those who remember tablet prototypes will recall that the stylus was a distinguishing factor.) Although they are most often seen in the tablet-laptop market, pens are also showing up in the latest tablets, perhaps with an eye on students heading for the business world.
Regardless of who pays the bill for new mobile devices, ZDNet Editor-in-Chief Larry Dignan predicts the mobile workforce will double or even triple by 2018, so much so that mobile applications will essentially replace desktop software purchasing and updating.
Apple's Hold on the Tablet Market is Shrinking
No one is saying Apple is becoming obsolete, but a glance at IDC's statistics for the Q1 2013 and Q1 2014 market share is startling: Apple managed to sell 16.4 million units of iPad in Q1 2014, 15% less than from 19.5 million units sales in a year ago quarter. Samsung Electronics Co. Ltd. (KRX:005935), propelled by the well-received Galaxy Note, increased its sales from nearly 8.5 million units to 11.2 million during the same period, tallying the second-highest numbers in the market. Competitors stayed in the single-digits, although Lenovo's sales grew by nearly 350 percent. Overall, Android devices now represent more than 60 percent of the tablet market.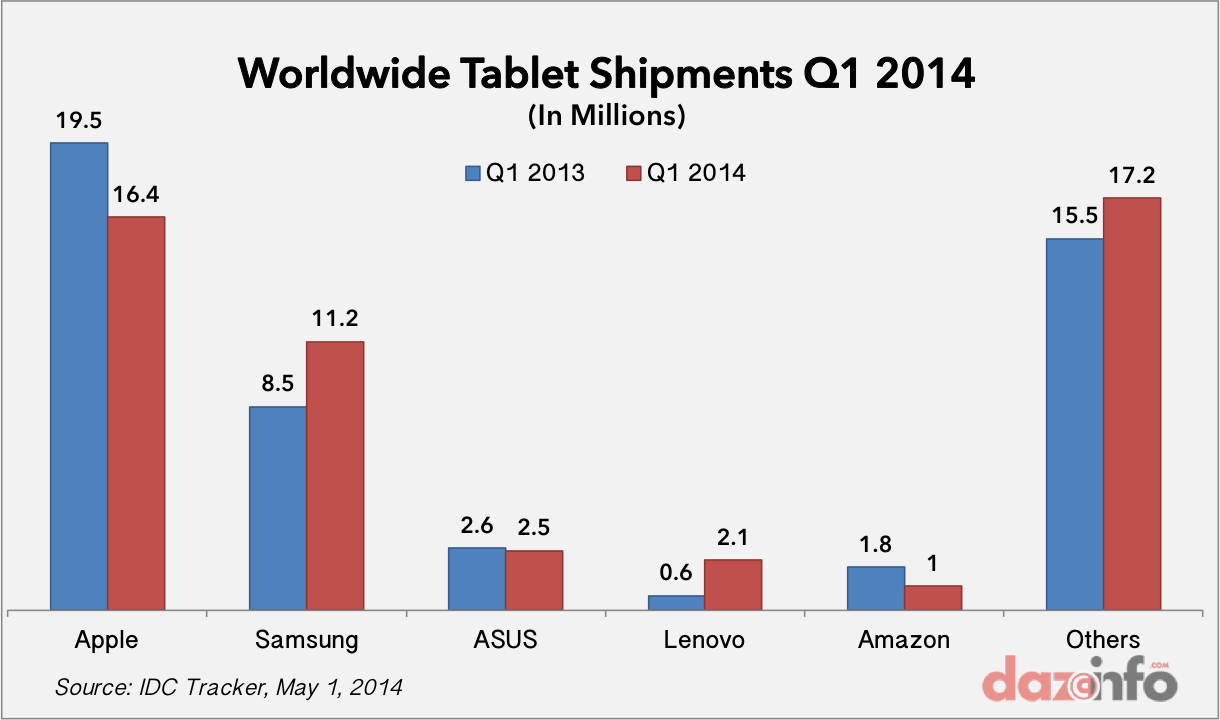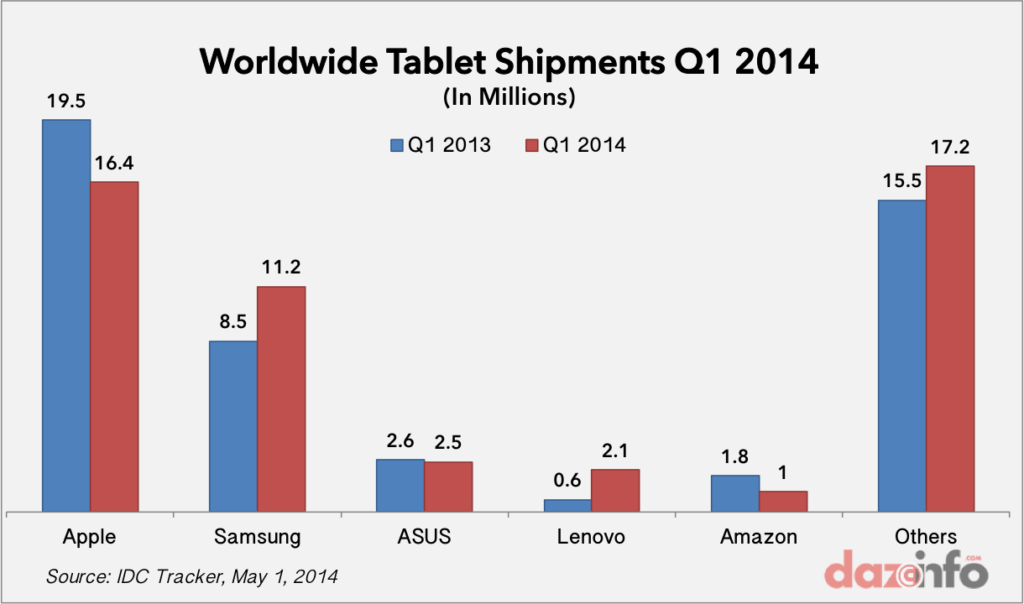 Businesses Find New Ways to Use Tablets
As tablets become more powerful and user-friendly, businesses have found ways to use them that can't be easily or conveniently duplicated on a smartphone or laptop. ZDNet lists several:
Interactive restaurant menus with additional information about wine selections, food sources, etc. — this function is also employed at sporting events and conferences with wait service.
Photo booths and albums used at trade shows and conferences
At point of sale; the health and beauty chain Sephora gives tablets to floor employees to assist customers with everything from offering a virtual portable mirror to makeup tutorials
Inventory management continues to be a popular use for tablets in the business world. You'll now find tablets in the hands of salespeople who can instantly research customer's' questions without ever leaving their side and risk losing a sale.