Apple Inc. (NASDAQ:AAPL) has been witnessing a sharp decline in its Tablet market share for last few quarters. Tim Cook, though, did his best to justify the declined sales of iPad in Q1 2014, but in contrast to positive Tablet market growth during Q1 2014 world's most admired company of 2014 is experiencing arduous time in the market. According to latest data on Worldwide Tablet Shipments Q1 2014, the industry had witnessed a negligible Y-O-Y growth of 3.9% to 50.4 million device shipments (tablet plus 2-in-one ) in Q1 2014. The growth was primarily driven by the strong shipments of Android powered tablets as Samsung Electronics Co. Ltd. (KRX:005930) improved its market share to 22.3% in Q1 2014, from 17.5% compared to the year ago quarter.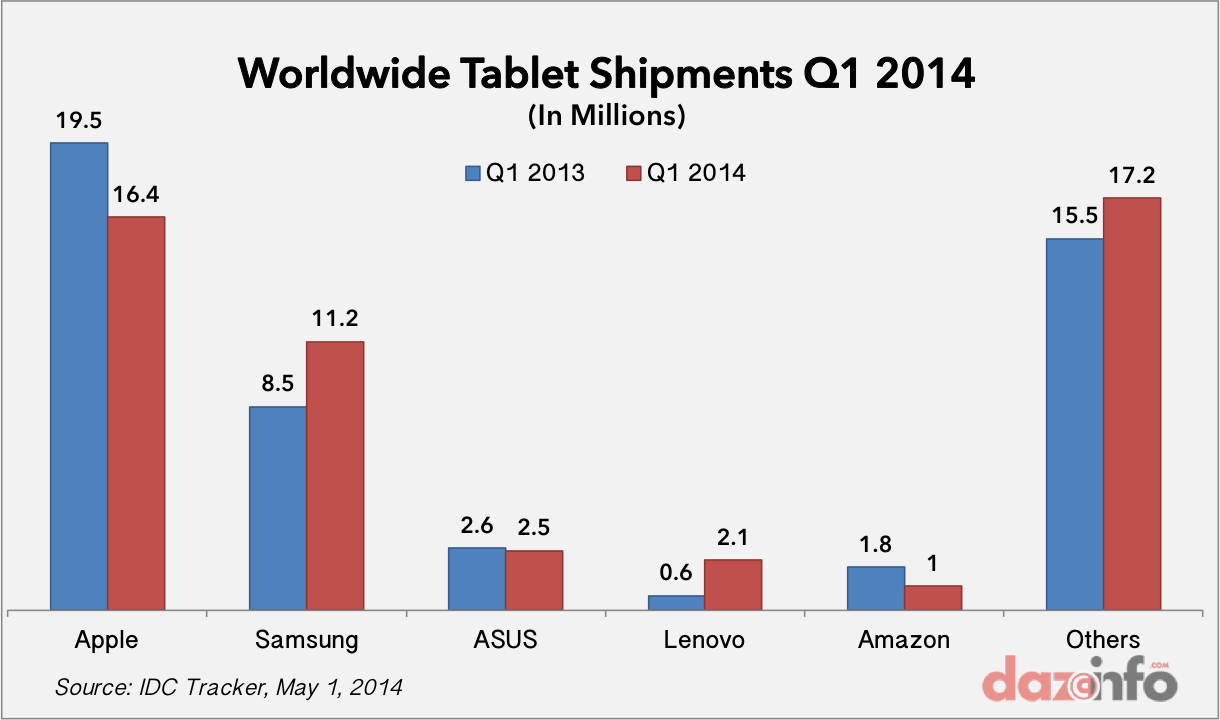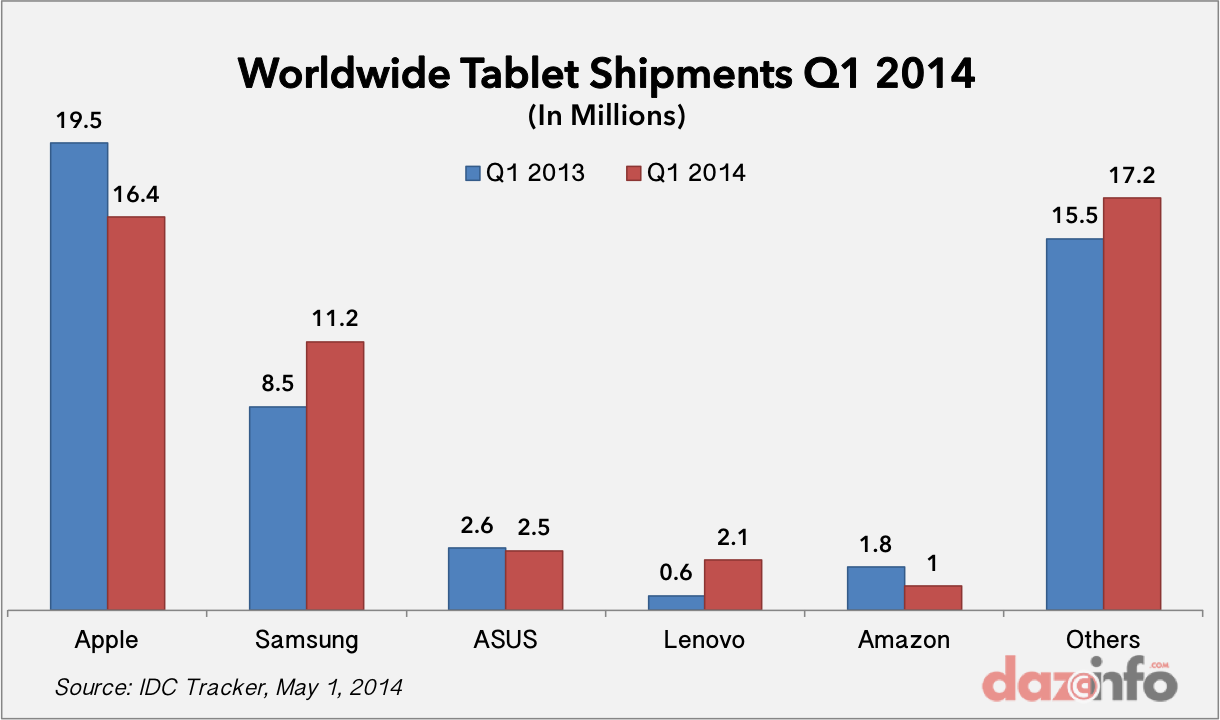 The report clearly shows that Apple failed to grab anything from the newly developed Tablet market, instead closed the quarter by losing nearly 8% of its Tablet market, largely to Samsung and Lenovo. Farther one shipped 11.2 million tablet devices in Q1 2014, up by 32% from Q1 2013, while Lenovo garnered the opportunity of introducing Windows OS powered 2-in-one tablets, which resulted in 4.1% of total tablet market share in Q1 2014.
The rise of large-screen phones and consumers who are holding on to their existing tablets for ever longer periods of time were both contributing factors to a weaker-than-anticipated quarter for tablets and 2-in-1s," said Tom Mainelli, IDC Program Vice President, Devices and Displays. "In addition, commercial growth has not been robust enough to offset the slowing of consumer shipments.
While other players, mostly local vendors, also recorded a positive growth in Tablet shipments during Q1 2014, Apple and Amazon.com disappointed. Both the companies, responsible for introducing tablet devices early in the market, had failed to reach the shipment figure equal to the year ago quarter. Despite, Apple maintained the lead in Tablet market but Samsung closing the gap with each passing quarter.
The weaker than expected performance of Tablet market in Q1 2014 also questions over the projected shipment figures for the year 2014. The estimated shipment of tablet devices is to reach 260 million during 2014, however, the poor performance in the first quarter creates an indirect pressure on tablet vendors for next three-quarters. Asia-Pacific is projected to be the largest market for tablet vendors in 2014, leapfrogging North America first time. The weak performance of global tablet device industry in Q1 2104, however, demands a further drill-down to understand the regional market shift and declining demand.