The global mobile industry is witnessing explosive growth for last couple of years. Improvisation of Network Infrastructure and Smartphone revolution has made mobile users to think beyond the traditional use of mobile handsets. This has resulted in massive success of VAS (value added services) and users' improved confidence in mobile applications. Indeed, Apple's iOS and Google's Android has played a vigorous role in this and made people to be more dependent and productive towards mobile apps.
Though, Android leads the smartphone industry with 37% of overall market share, its Apple's App Store which drives the smartphone users with 381,062 apps beating Android app market that has 294,738 apps only.
Interestingly, according to Nielson study, data usage by Android user is much higher compare to iPhone users' usage. An average Android user has 582 MBs of data consumption compare to 491 MBs by an iPhone user. Study also reveals that Windows Phone7 has received the massive attraction by doubling its data usage mainly due to improved number of applications in last few months.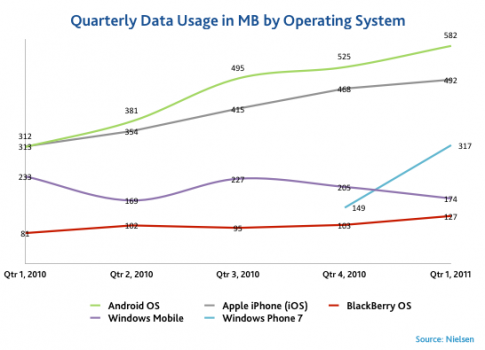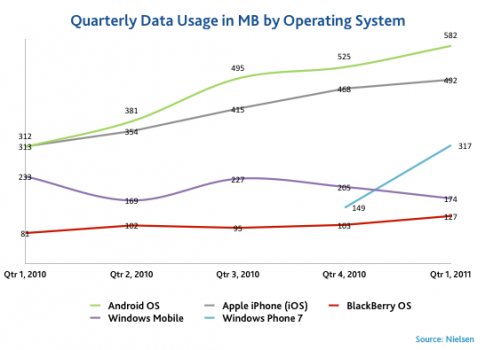 The data consumption by an average smartphone user per month has grown by 89 percent in last 12 months. Compare to 230 MBs in Q1 of 2010, now an average smartphone user has consumed 435 MBs in Q1 2011.
Another major factor behind surge in data usage is constant decline in the cost of mobile data every quarter. The cost of per megabyte has been lowered by 90% in last one year. In Q1 2010 when carriers used to charge $0.14 for each MB, it has reduced to $0.08 per MB in Q1 2011.
Neilson study is based on the monthly analysis of cellphone bills for 65,000+ lines, smartphone owners – especially those with iPhones and Android devices in US. Study also reveals that 37% of mobile subscribers in US are smartphone phone owners and many of them are extensive consumers of mobile data