The prior demand for Smartphone subscribers has been formidable and well-known in the industry specially with regards to data consumers. The introduction of new features in Smartphones has raised the expectations of the users to become more intense data consumers. According to a study, the latest trend observed in mobile data usage for more than 150 devices in developed and developing markets by JDSU (formerly Arieso) once again showed that iPhone users are the biggest data consumers.
It has been observed for three years now, that mobile data usage has grown explosively, which has instigated a great battle between mobile vendors and telecom carriers. Even the availability of 3G and 4G networks has contributed to the growth of mobile data usage, however 4G users are ten times more data hungry than 3G users with just 0.1% of 4G users. The latest trend shows that 4G users consume more than half of all downlink data measured. The study is based on the usage of the iPhone 3G, where it represents 100% data consumption.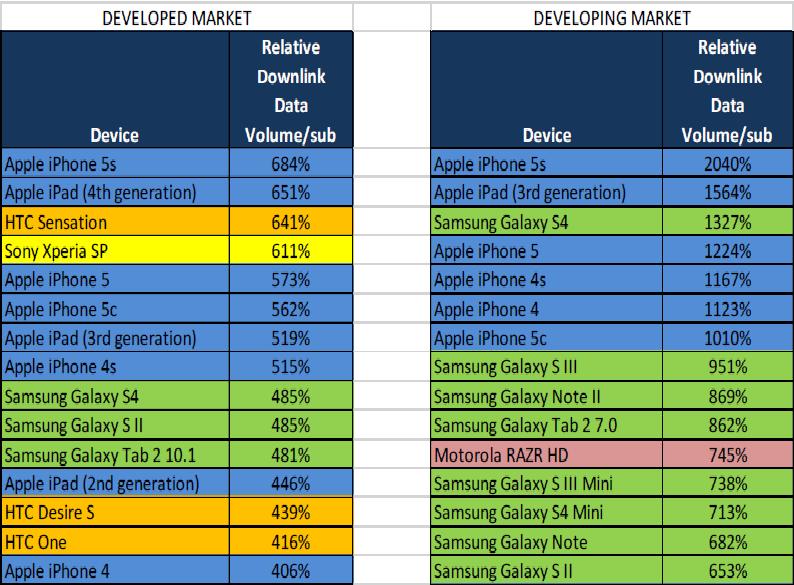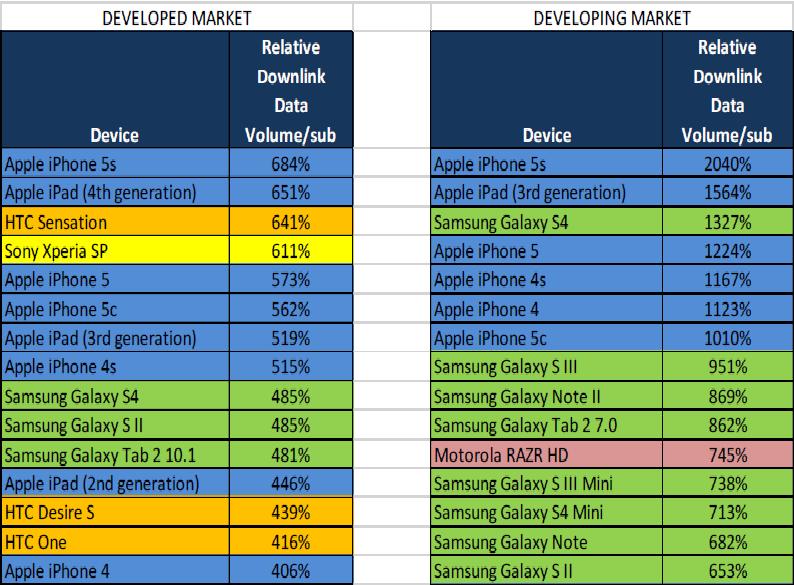 The top 15 Smartphones and tablets are now ranked by per-subscriber downlink demands in developed and developing markets, in fact the iPhone 3G is used as a reference (corresponding to 100%). According to the trend shown in this graph, Apple Inc. (NASDAQ:AAPL) products account for six of the top ten, Samsung Electronics Co., Ltd. (KRX:005930) has two products in the top ten and the rest of the places are covered by HTC Corp (TPE:2498) and Sony Corporation (ADR) (NYSE:SNE) accounting for one Smartphone each.
Apple iPhone 5s users consume more downlink data than any other Smartphone users in both the markets, consuming almost seven times more data than iPhone 3G in developed markets and twenty times more in developing markets, also data usage of iPhone 5s increased 20 percent from its predecessor iPhone 5 in developed markets and 50 percent in developing markets. It is well-known that the iPhone 5s is the first 64-bit Smartphone in the world which makes its processing quite faster than other Smartphones.
For the fourth consecutive year, Apple again topped the chart with 684 percent downlink data both in developed and developing market. Apple's iPhone users are most data hungry than other Smartphone users. A different study says that in the U.S., mobile data consumption increased from 5.5 GB to 6.6 GB where Apple is leading with a 42% share in Smartphone OEM. In retrospect, if we consider a similar study by JDSU, Apple users proved to be the hungriest consumers of mobile data for the last four years. Earlier when the iPhone 4 was launched in June, 2010, it showed an increment of 40 percent in downlink data volumes over the iPhone 3G and accounted for 141 percent downlink data per user. Results for the year 2011 and 2012 also favoured the iPhone 4s and its successor iPhone 5, the overall figures for downlink data rose up to 276 and 414 percent respectively.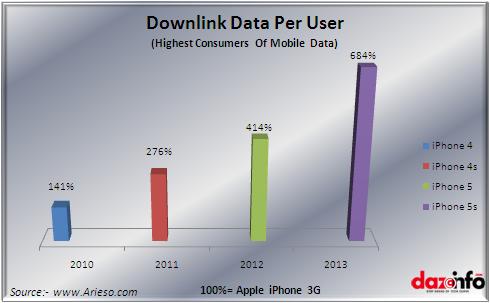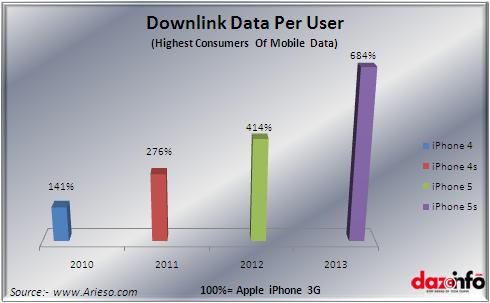 Apple is leading, not only with iPhones but the iPads are also contributing to the success of Apple in this segment. Another comparative study says that in early 2012, Samsung Galaxy Tab 2 was able to close the gap and accounted for 309 percent downlink data per user compared to Apple's iPad 2 with 259 percent. Similarly, this year it was expected that Galaxy Tab 2 would show some good figures but Apple launched the 4th generation iPad which leapfrogged Galaxy Tab 2 by a huge margin accounting for 651 percent, whereas Galaxy Tab 2 was left behind with just 481 percent downlink data.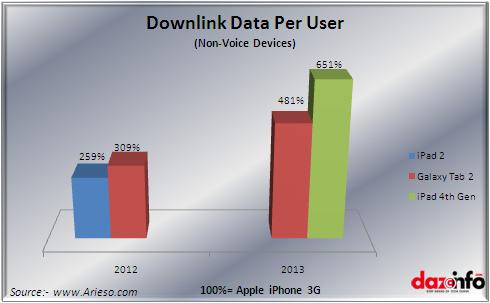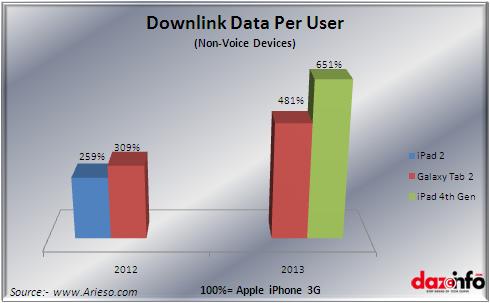 Do These Figures Point Towards A New Era Of Mobile Internet?
"The faster the speeds that mobile operators provide, the more consumers swallow it up and demand more," said Dr. Michael Flanagan, CTO of Mobility for the Network and Service Enablement business segment of JDSU and author of the study.
Interestingly Smartphone and tablet penetration has captured a large share of the global market. In the present scenario, most of the users are loaded with a Smartphone or a tablet and different telecom carriers are competing with each other to provide better internet connectivity. These days, user has become more voracious in nature when it comes to consuming data. Smart-devices offer a lot of features to the user, which ultimately provokes users to remain online. Earlier when Smartphones were not so easily accessible, the data consumption and mobile internet users were far less in numbers. Introducing 3G and 4G networks has surpassed the figures of mobile internet users and hence we can see these figures stating different usage for mobile internet.