Content is the czar for the companies!  But the ways in which it is being consumed and utilized has changed drastically in recent times. More and more business firms are now entrusting on content, but at the same time they are constrained with the amount of time they can dedicate to searching and reading all the documental data provided to them. As a consequence of which the professionals have become highly selective in spending their worthy time on a particular content. And with the dawn of the online social networks providing new ways to filter the enormous amount of data on the web, consumers are now passively browsing content that has been shared by their social network or directly ask their advice.
Following this trend aptly, a shift among LinkedIn Corp (NYSE:LNKD) members is also becoming prominent and its account holders are turning to this platform for gratifying their large and growing demand for professionally-relevant content. This year in June LinkedIn published their 2014 Professional Content Consumption Report which took into consideration on how 2,701 LinkedIn members in the U.S. consumed content. These content sharers primarily commuted their professional contents on this social pulpit to enhance upon their reputations and increase enterprise promulgation.
The advantages linked to sharing and consuming content on LinkedIn
The reach of LinkedIn as a sharing platform is significant because the trending posts can be shared innumerable times, which makes it more effective even than the biggest content providers like Forbes and Fortune. This directly enhances the visibility of professionals and their reputation.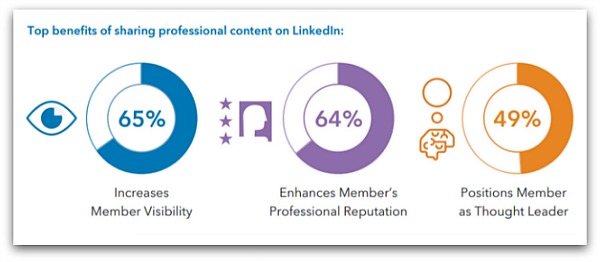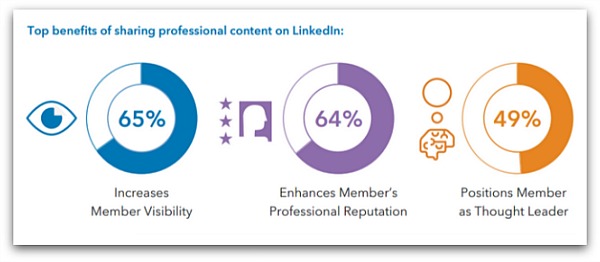 Also working on the grounds of promoting original contents LinkedIn has now launched the feature of the creation of long-form posts directly on its platform and has proposed to make this facility reach to 300 million folks.
The report also revealed that out of the total polled respondents, those who actively shared and consumed content on LinkedIn, on an average spent roughly one entire working day (about 8 hours) consuming professionally pertinent content to educate themselves on the latest industry analytic and trends. Conjointly, it also aggregated that the ratio of the number of people consuming professionally related content to those who absorbed news and entertainment data was 41:29.
The report also highlighted some more startling statistics about the custom of content usage by deducing that approximately 78% of the LinkedIn users utilized its content in order to be updated with the current scenario of the industry while 73% of them did so to explore new ideas. In addition to enhancing their industrial expertise a large chunk of the content consumers also used this platform to build up relationships with their clients and colleagues, improving their professional image and even initiating conversation and each of these user activity bases having a proportion of 62%, 55% and 51% respectively.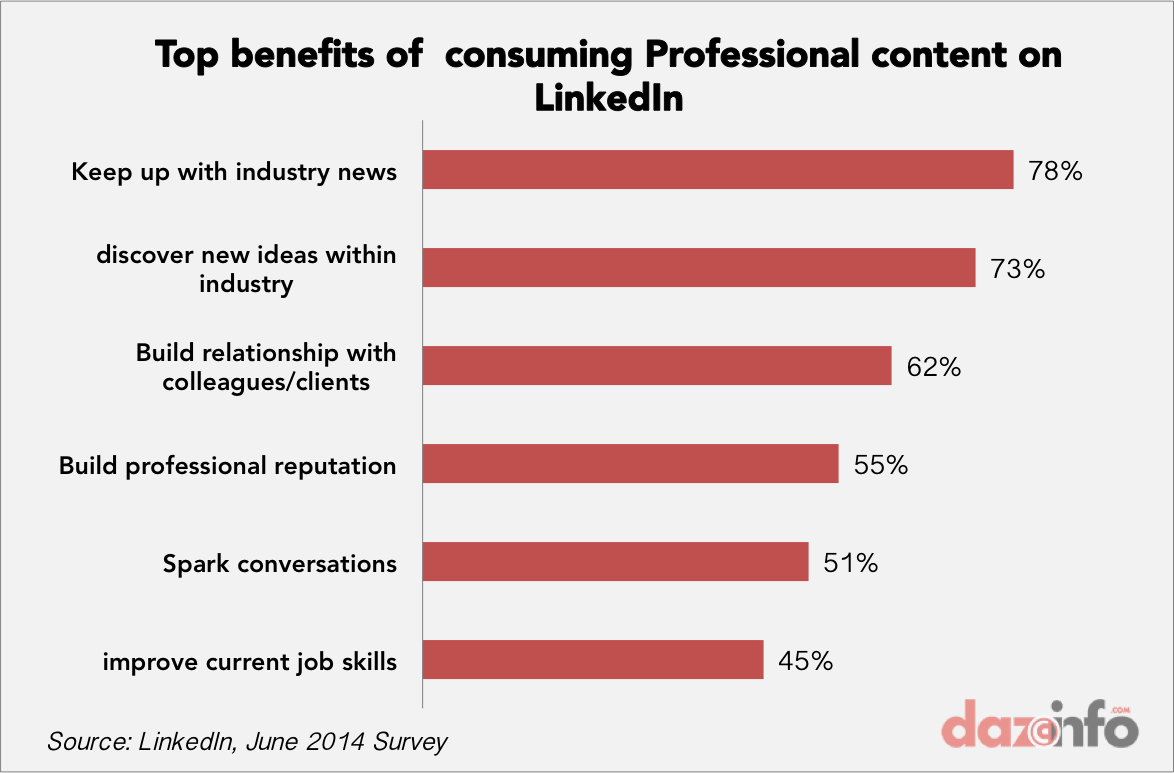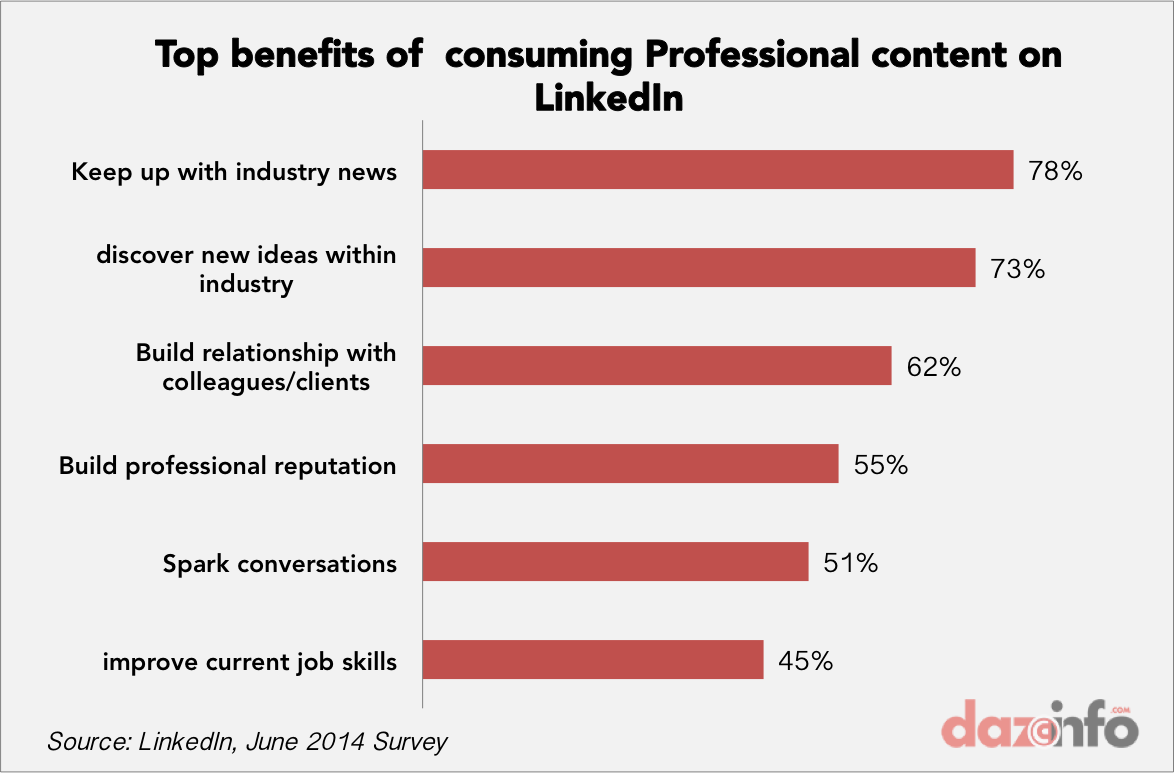 The driving factors for making a
content dynamic

on LinkedIn

The report also outlined that the most favored content breeds among the professionals for reaping industry knowledge and helping them in making decisions were new researches, breaking news and case studies arranged in the descending order of their popularity which was measured by the number of clicks and shares they got. Also, the articles with career advice were more likely to receive more clicks.

A direct link between the content length and its sharing was acknowledged too in the report with the longer posts getting more shares. This is basically due to the fact that LinkedIn being a social business platform attracts huge professional audience and if the content topics are found interesting by its users, then the long-form contents on it are generally preferred by them.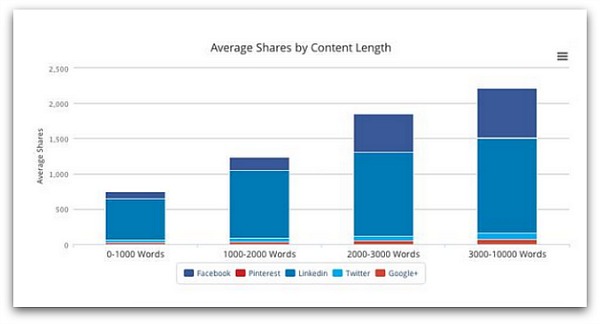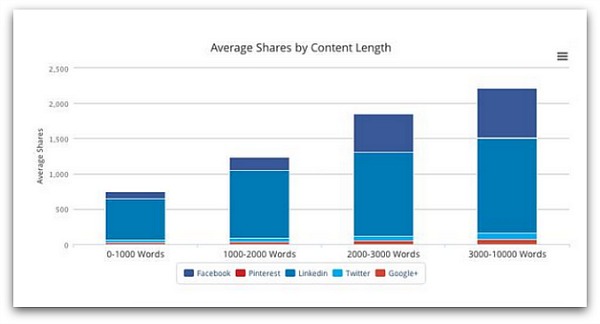 Also the posts which are published on weekdays got more shares (especially on Monday and Tuesday) as compared to those published over weekends which can further be attributed to its business-network class.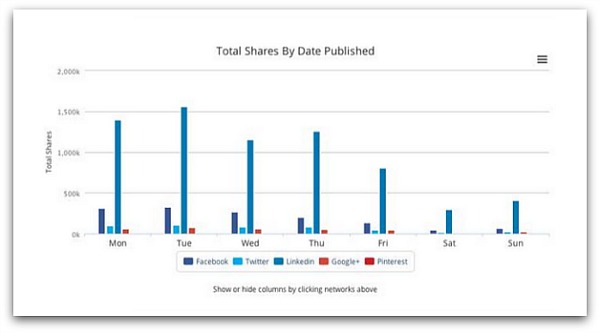 LinkedIn has certainly evolved as a prominent choice among the B2B marketers as well as for decision makers all around the globe as compared to Facebook and Twitter. It is providing multi-benefits to the content revolutionaries from sharing and consuming professional content on its platform and in the coming era continuing on the same lines, we can expect it to be the primary mode for tapping market behaviors for the professionals.