Six years after Apple Inc. (NASDAQ:AAPL) released the iPhone and ushered in the mobile revolution, apps have solidified their authority, leaving websites far behind. Flurry, a mobile analytic firm, tracked 450,000 apps on 1.3 billion devices between January and March 2014 in the U.S.. By comparing  the latest report with last year's findings, it seems quite clear that the mobile web will shift to web-based applications. In 2014, users spent 2 hours 19 minutes a day or 86% of their time browsing mobile apps, and have increased their mobile usage time to 2 hours and 42 minutes. Mobile browser usage consumed 14% of time spent on devices or just 22 minutes a day. During the same period last year, 20% of time spent was on mobile browsers. The report is an insight of  how data hungry users  are ushering in the app revolution. In the U.S. mobile data consumption increased from 5.5 GB to 6.6 GB, where Apple is leading with a 42% share in Smartphone OEM. The mobile browser, once central to mobile devices, has been reduced to a single application in a vast galaxy of apps.
How Do Users Spend Their Time?
The amount of time spent on apps has grown by 12 minutes or 9.5% from 2013. According to Flurry, this is a modest increase compared to the previous five years, signalling a leveling off in terms of time users spend on their apps. Gaming is the most favored application on both Android and iOS devices. In both this year and the last, 32% of time spent was on games. Handheld devices are preferred for gaming, due to a combination of good device features and high console costs.
Category-wise, Social and messaging apps are growing quickly. Facebook Inc (NASDAQ:FB) and social apps accounted for 24% of all time spent last year. In 2014, Facebook and Twitter Inc. (NYSE:TWTR), combined, took 18.5% of user time while social messaging grabbed 9.5% of the time. Facebook has the maximum share of time spent in the U.S. as the social media giant will be looking to dominate through its social media apps including Instagram and the recently acquired WhatsApp.
The graph also shows how usage of Apple's Safari browser has gone down in the past one year.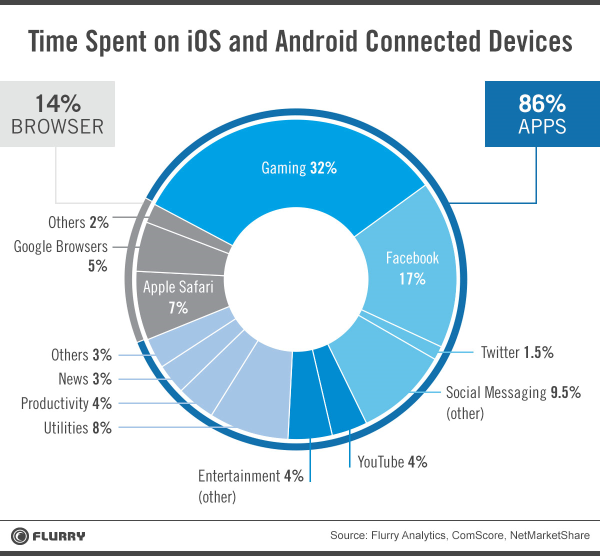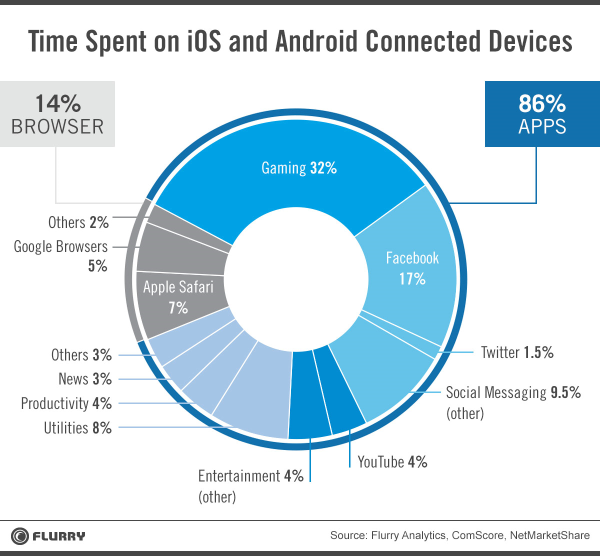 Entertainment and productivity apps remain steady at 8%. Browsing videos on YouTube took 4% of users time. Larger screen devices and increased 4G and 3G penetration will increase the number of users watching videos on their devices. You tube alone, accounts for 50% of the entertainment category.  Utility apps have also increased by 4% as users increasingly use their devices for more specific tasks. These apps are used for optimizing devices and to make full use of all hardware features.
Google And Facebook: The Mobile Franchise Giants
The two tech giants have expanded to the mobile domain through several acquisitions, but the market remains fragmented. Google and Facebook, combined, account for less than 25% of time spent on mobile devices. According to ComScore, the top 10 franchises account for less than 40% of time usage. New franchises continue to emerge and disrupt the market. Apps like Pintrest, Snapchat, Whatsapp (acquired by Facebook), and Waze (acquired by Google) command 1% or 2% of user time. In almost every segment, new opportunities are emerging for all franchises. More acquisitions and new apps will disrupt the app market in coming years.
Google Is The King of Ad Revenue
Revenue brought in through advertising follows the time-spent distribution. Facebook fits squarely in this category, with equal time-spent and advertising revenue at 18%. Google is an advertising giant earning 50% of all mobile revenues. Contributing factors are: its mobile search (and search ad dominance), a solid mobile display ad position, and Android's dominant position in most international markets. The time spent on Google applications, including YouTube and browsers, stands at just 18%.
The other apps command 63% of time spent of time spent but only receive 32% of ad revenues. Gaming apps and applications have enormous potential to monetize through advertising. E-marketer estimates the mobile market will grow by 75% this year, a tremendous upsurge from previous years. It is also projected that in-app revenues will surpass web display ads by 2017.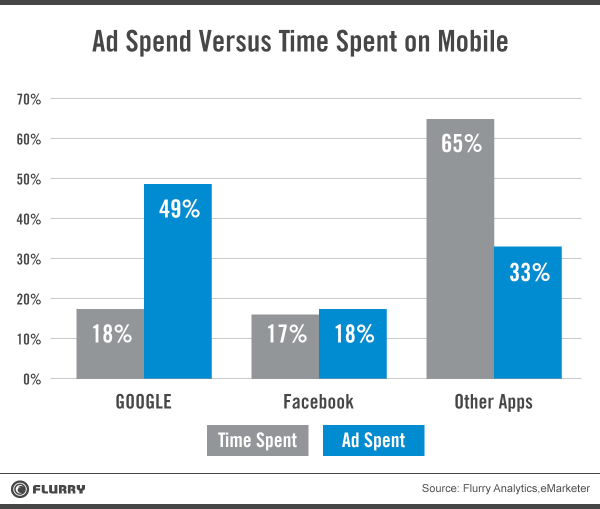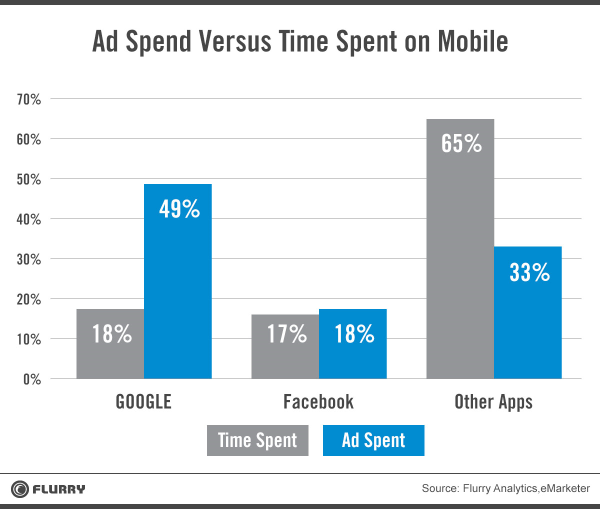 Future Of  The Web
Sales of smartphones and tablets are already exceeding desktop and netbook sales. The World Wide Web will evolve to face the shifting landscape of smartphones and tablets. Websites will resemble and behave more like apps. User experience will take center stage leaving SEO behind. The trend of mobile first and web second will bring both mobile app and user experience design to the mobile web. Every company in the world, including Google will need to  adjust to the latest disruption.