Apple Inc. (NASDAQ:AAPL) may be world's most admired company for 2014, its Google Inc. (NASDAQ:GOOG) which is giving sleepless nights to iPhone maker. For last couple of years, market share of Google owned Android has been increasing consistently, it has emerged an undisputed smartphone market leader by capturing nearly 79% of market share leaving Apple behind with only 15.6 % share. More than 700 smartphone vendors, including global leader Samsung, has largely influenced Android's dominance over global smartphone market.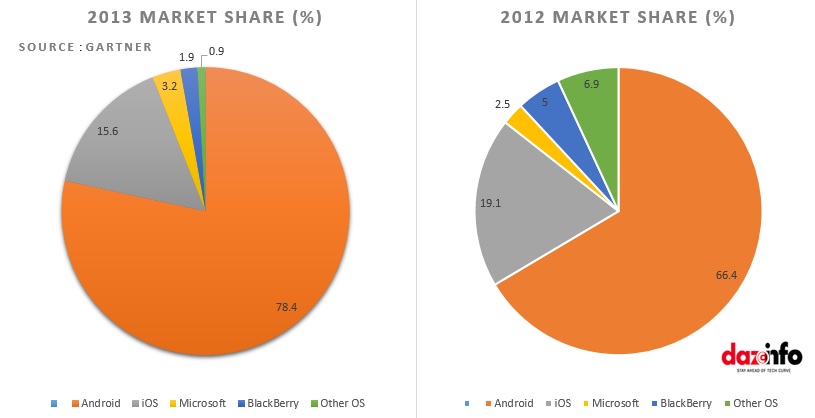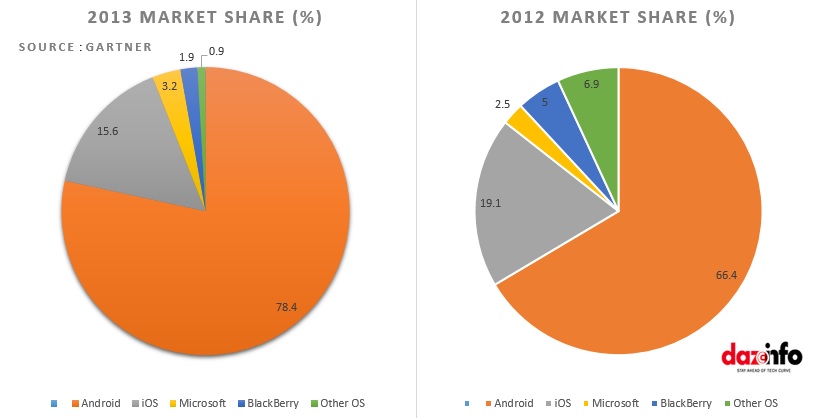 Android has Numbers
Android has been the first choice of numerous smartphone maker across the world, thanks to Google's policy of making it available for almost free. Android, as an operating system, is powering a large number of smartphones across the globe and having it available on entry-level to premium range smartphones makes it the most used OS in the smartphone market. Android has beaten Apple hands down in the developing countries, thanks to its availability on entry-level and mid-range smartphones, but in developed economies it is still a close fight between with Android having a slight edge but not a clear winner.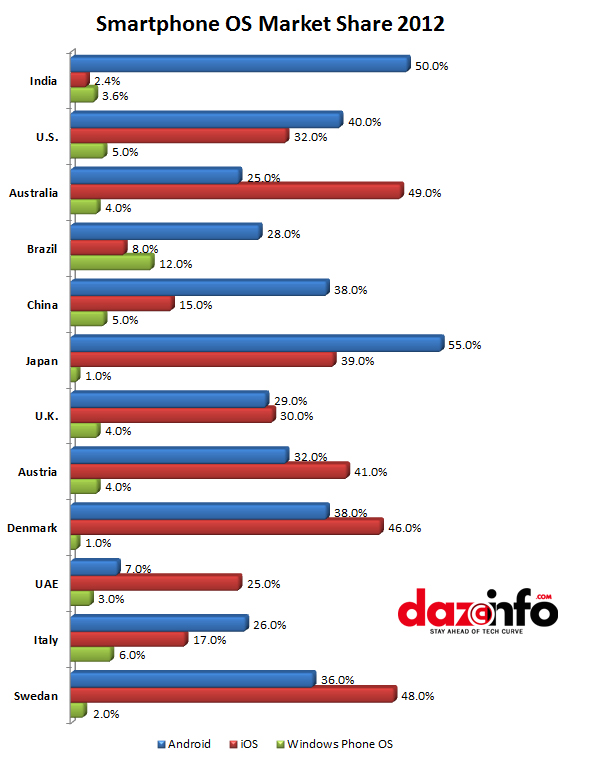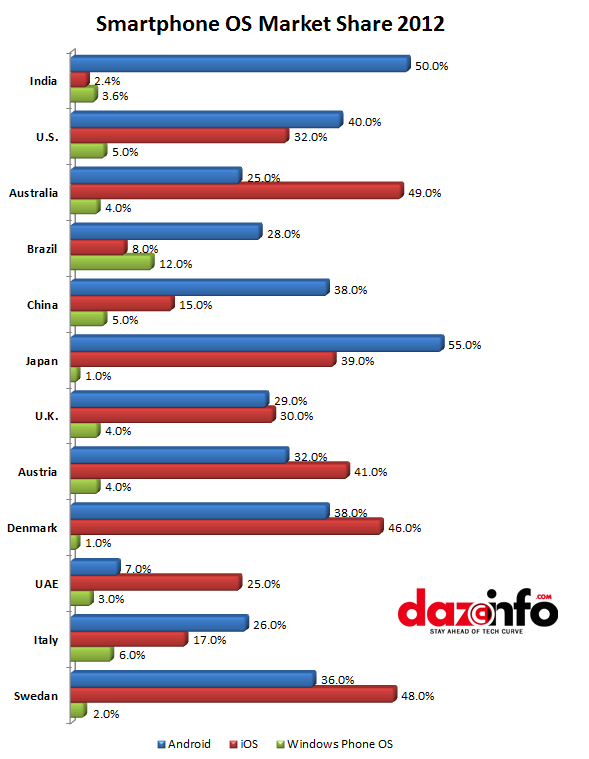 Apple has Money
While Android is riding high in global smartphone market, which is also expanding its base quarter over quarter, it is Apple which is laughing all the way to the bank. Apple iOS is still the leading OS in the developed countries contributing the largest to company's revenue. Apple is still the leading smartphone in the U.S., where it increased usage in Q4 2013 by 8% to 60% from 52% in Q4, 2012.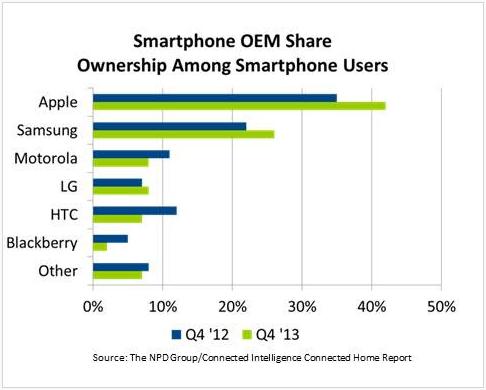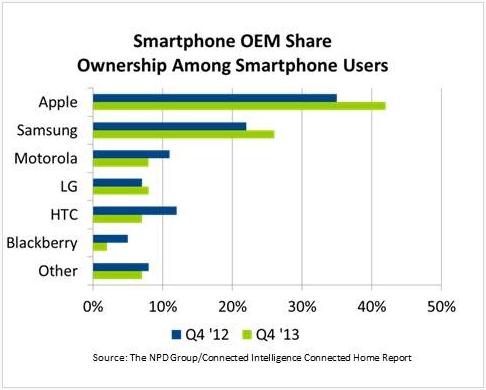 Apart from its leading presence in developed markets another major money spinner for Apple is its App Store that generated around two times the revenue generated by Android in 2013. This big gap is because of Apple's strong presence in developed economies.

Challenges being faced by Apple
The main challenge that Apple is facing currently, is its limited presence among users in the developing markets. Combined, China and India are the largest smartphone market with nearly 780 million smartphone users and more than 1.3 billion mobile phone users are yet to migrate to smartphone. In these two of the fastest growing Smartphone markets Apple has a very limited presence – still a single digit market penetration. Android based devices have established a strong foothold in both of these markets. Although Apple is aspired in both the markets, but iPhone are on the other side of price range that most people can afford. New country-specific price strategy, real subsidised iPhones through carriers could be the effective strategies Apple would have to try to mark a footprint and would result in a sizeable smartphone market share of these markets. For last one year Apple has been trying very hard in both the markets. In China, the iPhone maker has recently signed a deal with China Mobile, so in India with Reliance Communications to gain some market foothold. In 2014, Apple is expected to record nearly 230 million iPhone sales, out of which 20 million sales is expected to come from the deal with China mobile alone. Besides, Foxconn, the biggest manufacturer of iPhone, has announced to produce 90 million units of iPhone 6 during 2014.
Challenges being faced by Android
Although Android leads the global Smartphone market with 78% share still it cannot rest comfortably. Consistence attempts by Apple to gain strong market share and rise of new rivals, like Microsoft's Windows Phone OS and Nokia's venture into the market with forked Android version, could put the numero-uno position of Android in jeopardy. Despite of enjoying the supreme position in Smartphone market, Android is still the second most adopted OS in the developed economies, like the U.S. and European Market. With market stagnating in these economies and growth getting reduced to single digit year over year, it is becoming more and more tough for Android based devices to get or maintain lead in the developed world. On the other hand Apple and Microsoft are trying to corner market share in the emerging market's from Android. On one side Apple is trying to align with new carriers, Microsoft is trying to beat Android in its own Game by offering free licences to smartphone makers in these countries. Another area where Android lags behind is the revenue from its Google Play store. With its most consumer base is from low-end devices market in emerging countries,  desire of recording high numbers of Android app downloads, the paid-app market share remains a concern. 

Who is the Winner ?
While one is a clear winner in terms of smartphone numbers and other one emerges as an greatest gainer in terms of revenue dollars. Therefore it becomes real hard to decide who, Android or iOS, is dominating the Smartphone market technically. As both trying hard to turn their weakness into strengths, picture could be clearer in next three to four years or it could become worse for both of it with the entry of Microsoft, who is trying to play from both sides. Only the future will tell.