With the shopping season approaching closer, consumers are enthusiastic and are planning their holiday shopping schedule, at the same time the U.S companies are gearing up for some epic shopping deals and offering various incentives to attract shopaholics. A majority of retailers are placing offers based on requirements or interest of consumers – discount offers, free gifts, loyalty programs, an increased warranty and service period are among the few. As social media, internet and Smartphone penetration is increasing day-by-day, most of the shoppers are spending more time-consuming digital media to plan for their holiday shopping season. Accordingly, brand owners and retailers are pacing out various attractive advertisements, mobile apps and mobile strategies to grab a major share of total online shopping sales.
As Cyber Monday is just a week away, marketing analyst have started predicting various figures about this year's total shopping sales to provide better insights to retailers for planning their advertising and marketing budgets. According to the market research company Forrester, a record $78.7 billion, an up surge by 15% compared to 2012, will be spent in U.S. online shopping this holiday season. Approximately 167 million shoppers are expected to sit back at home and shop online through their Smartphone and tablets, on an average, an individual shopper will shop for around $472. The above figures are predicted by taking into account Black Friday, Cyber Monday, Thanksgiving day, Christmas and Post-Christmas period, including sales through Smartphones and tablets.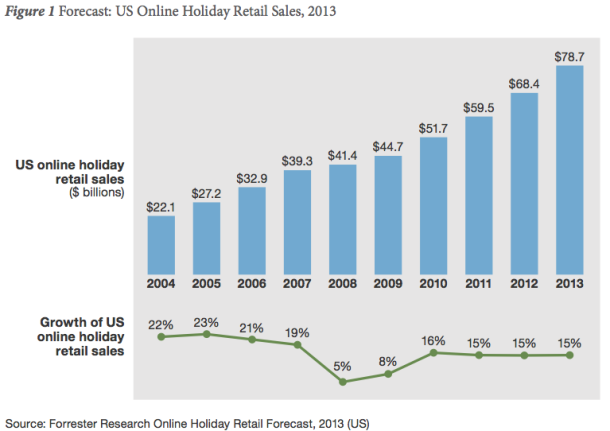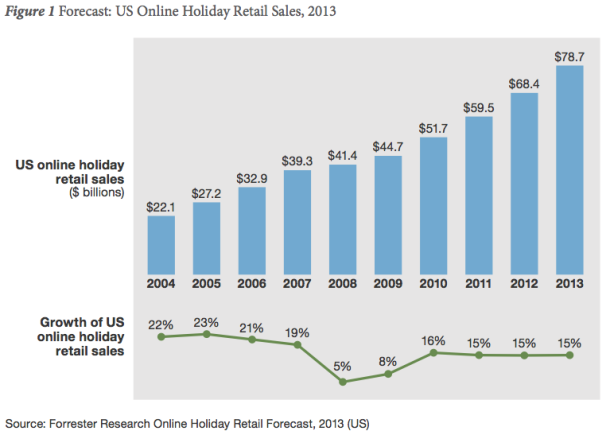 A majority of marketers are busy using various channels to reach their customers and be the first one to provide them with the most exclusive and best offers. More than 48% of shopaholics prefer social media for planning their holiday shopping schedule. Facebook Inc. (NASDAQ:FB) recently in its blog entitled 'Tis the season to go mobile' listed numerous options for marketers to use the platform and address its massive crowd of 1.189 billion.
"Strong economic growth and low unemployment rates project a healthy playing field for online holiday sales and outweigh any lingering dampening effect of the government shutdown. This strength is even more evident online than it is offline, as consumers continue to shift their spending to multiple digital devices from stores." Forrester analyst Sucharita Mulpuru wrote in the report.
Optimized News Feed And Devised Mobile App Ads To Target Customers!
Facebook saw a spike of a whopping 253% in driving mobile referral traffic to retail sites, which is why a majority of brands advertising on Facebook should adopt the mobile first strategy. Their websites should be optimized well for customers to shop comfortably on Smartphones or tablet devices. Marketers should try to optimize the news feed to grab the customer's attention, as the posts on mobile Facebook generally have a higher level of engagement, inclusion of rich media content like images, videos and infographic are likely to be engaging for users. Users generally love to browse through video content, hence a video ad of 30-60 secs in the mobile news feed can be effective in engaging users and persuading them to buy products online.
Marketers should understand the requirements or needs of consumers and devise a strategy accordingly. More than 76% of North Americans prefer retailers providing the loyalty program. Brands must focus on framing attractive deals and offers like free shipping, discounted rates, free products as gifts or extended warranty periods as part of the loyalty program. Servicing of products during the post-purchase period must be availed for longer periods to attract smart shoppers who often go around showrooming.
In 2013, thousands of businesses have devised Facebook mobile app ads to drive more than 145 million installs from Apple's App Store and Google Play. Mobile app ads are vital in driving user engagement as loyal brand fans prefer browsing for the required products on their favorite brand through personalized brand apps. It is important for retail brands to promote various exciting deliverables to customers through exciting apps.
Retail brands can notify their existing loyal fan base about their holiday sales or promotion through the mobile app. They can avail special discounts or shopping hours for consumers shopping through the mobile app. Gamification and a music app (with new holiday-themed playlists) can boost the engagement rate and attract more consumers to buy products through online shopping. Incentives like free shipping, special discounts , extended service periods must be provided for existing customers to promote a long-term association.
Re-targeting The existing Customer Base Through The Custom Audience feature And Attracting New Ones Through Facebook Advertising!
Facebook had recently introduced 'Custom audience' , using which brands and marketers can target their existing customer base using their contact details like their Facebook identities, email identities or phone numbers. Thousands of advertisers, including more than 50% of the AdAge 100, use Custom Audiences in their campaigns as existing customers are most likely to re-engage with the brand when a product is launched (provided their past experience was positive). Between Q2 and Q3 2013, there's been an almost 75% increase in the number of marketers using Custom Audiences in their ad campaigns, especially brands with niche audience groups favor the Custom Audience feature the most. Retail brands can promote sales or offers of holiday season through this feature, as existing customers who have had a good experience with the brand are likely to be loyal and welcome a good deal or gift idea promoted by the brand.
Retailers can also acquire new customers by excluding existing customers (if they have their contact database) from their Ad campaigns. Features like location-based Ad-targeting, gender based Ad-campaigns or advertising based on Age-group are a few other options which can be used well by marketers to grab attention this holiday shopping season.