Market is now flourished with Smartphones, and the number of devices are still following an increasing trend. According to a recent report from Deloitte, 1 billion Smartphones are expected to be shipped this year, taking the total device data base (Smartphones) to 2 billion. Interestingly, some of the Smartphones are expected to cost $700 this year, while about half a billion handsets will cost less than $100. In addition to these, even many Smartphones will be priced under $50.
As the price of devices are dwindling, the user experiences on Smartphone will also suffer. The firm has said that many Smartphones will be used as "dumbphones". At the time, Samsung is also offering Bada-powered Smartphones, which offer poor Smartphone experiences. Furthermore, Nokia's recent endeavor to acquire some companies in order to provide low-priced Smartphones is contradicting the actual meaning of Smartphone.
In many countries, Smartphones have surpassed feature phones in terms of shipments. For many users, those are having Smartphone, the device is still like a feature phone. It's expected that one in every five Smartphone owners (nearly 400 million users) might rarely or never connect their device to the web at least once in the week through cellular or Wi-Fi in 2013.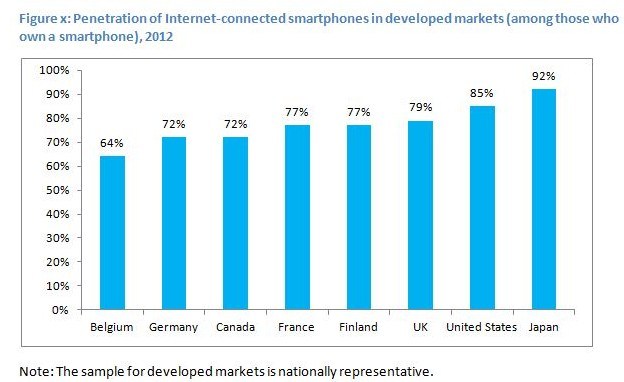 Among developed countries, Japan topped the list in terms of mobile internet usages by 92% as of June 2012, followed by the U.S. and U.K. with 85% and 79% respectively. In emerging markets, the Smartphone has now become an alternative (or replacement) for a PC due to price-effectiveness and lack of fixed broadband networks.
However, there are still some glitches that force users to keep themselves away from internet access on their Smartphone. Some factors such as lack of interest among users to get connected, lack of infrastructure and unaffordable data tariffs are responsible to create distraction among users to get connected with internet.
In emerging countries, Turkey was at the top with 91% of internet-connected Smartphone penetration as of June 2012, followed by Croatia and South Africa at 85% and 81% respectively. On the other side, Mexico and Russia had just 76% and 67% internet-connected Smartphones respectively as of June last year.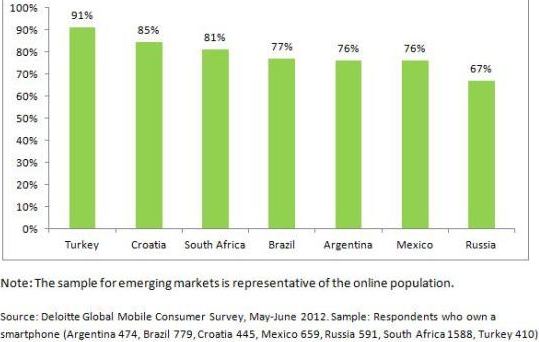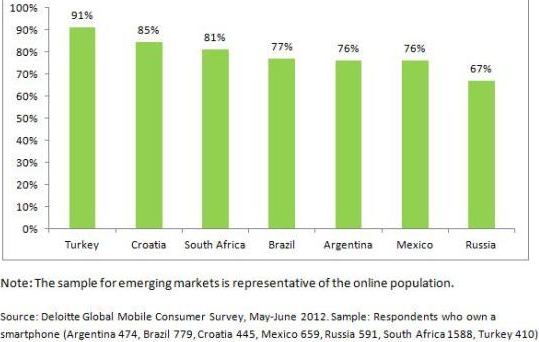 It's pretty much known that China is now the world's biggest Smartphone market in terms of subscriber base, despite the country is not even in the list (above) of  top seven countries in terms of internet-connected Smartphone penetration. It has also been noticed that a significant number of Smartphone owners are not willing to use mobile apps. It has been found that 16% of Smartphone owners have never downloaded a single app.
What do you expect from $50 smartphones? Really, many Smartphone manufacturers are focusing on unit sales rather than average selling price or profit margin on the device. Of course, the strategy (believe on unit sales rather than to produce high-end Smartphone) of manufacturers are going to kill the Smartphone experiences. And this is the reason why competition in the Smartphone segment is gradually mounting up.