Majority of advertisers are aware of the importance of Rich media content and its effects on brand visibility. Marketers of B2C firms, across the globe are emphasizing more on designing Rich media content to attract consumers and drive engagement through various mediums like Blogs, Videos, Infographics, Mobile Apps, digital magazines, microsites. According to data from a survey of marketing professionals in North America's B2C firms, gathered by Content Marketing Institute (CMI) and MarketingProfs,  nearly 90% of respondents had used content marketing in 2013. Usage Of Social Media, Blogs, Public Events, Mobile Content, Infographics Were On-Rise For Conveying Rich Content To Consumers.
According to the survey, nearly 88% of B2C marketers preferred using Social media compared to 84% in 2012 for conveying rich content to users. Social media has emerged as one of the fastest growing modes of providing engaging content to brand followers.
There was increment of about 2-6%  in Blogging, Videos, Public events, mobile content, Infographics and annual reports. Website articles, E-newsletter, print magazines, print newsletter, E-books saw a decrease of 3-7%.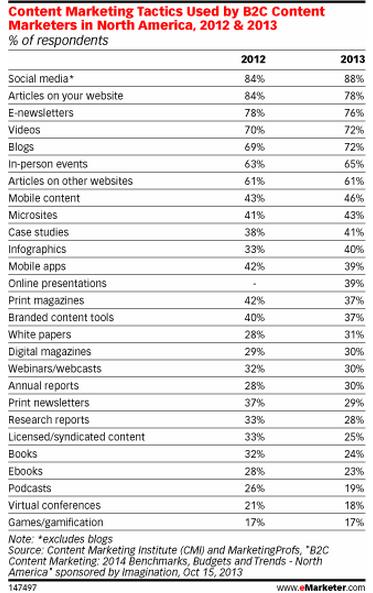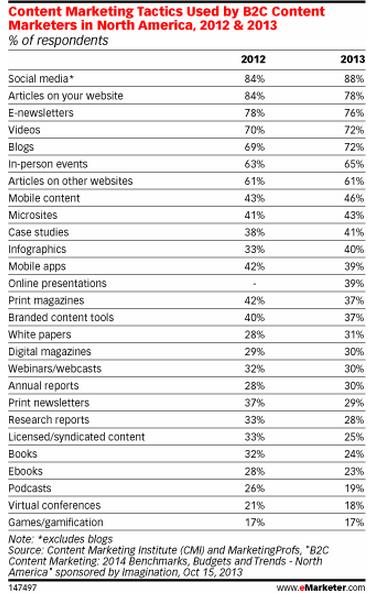 Above figures can be well attributed to the fact that the World is Going Mobile and advertisers are focusing on content which could be best viewed on small screens. Video content is gaining more importance as it is much more informative and entertaining to watch. People are more interested to read blogs which are enriched with a writer's creative thought process rather than lengthy website articles.
Public events held at crowded places like shopping centers, during festive season gained wide attention, as any person roaming around could participate and return home with a gift/freebies. E-books, print newsletters, print magazines lost their importance due to the emergence of other forms of rich and attractive modes of conveying content like Infographics, video, images. Podcasts and video conferences nearly joined the stream of outdated methods. B2C marketers saw significantly less value in games and gamification efforts.
Usage Share Of Social Media Websites Is Lead By Facebook Inc(FB)! Twitter, LinkedIn, YouTube Gaining Importance.
If we analyze only the social media sphere, Facebook Inc. (NASDAQ:FB) was used by about 89% of marketers (in 2013) compared to 90% in 2012. Micro-blogging site Twitter's usage zoomed up to 80% in 2013, from 69% in the penultimate year. About 10-20% increment took place in the usage of LinkedIn Corp (NYSE:LNKD), YouTube, Google Plus, Pinterest, Instagram. Marketers are trying to showcase their presence across a number of different channels, with an average of six social media platforms/marketer.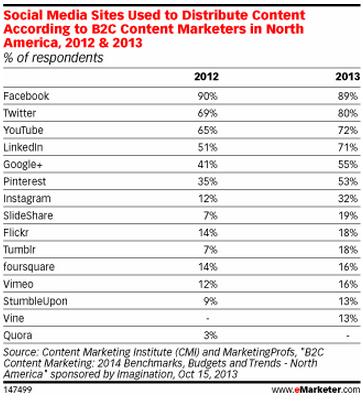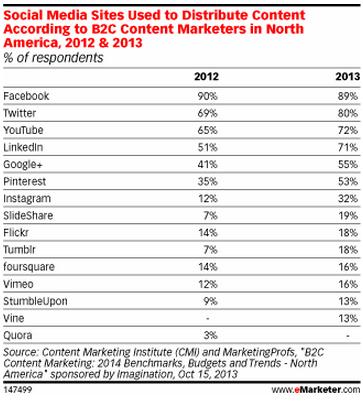 Facebook is no doubt a vital area for marketers to target. Due to its massive user base, the recent popularity of Twitter's viral nature and valuable engagement of brand followers on the micro-blogging site has driven attention of marketers to use the platform for showcasing their content. LinkedIn usage increased by a stunning 20% (currently 71%). This is mainly due to like-minded users who prefer reading informative information about companies and their growth prospects. A majority of E-commerce firms preferred Pinterest as its was more effective and drives a significant amount of referral rate to website traffic. Instagram's unique photo sharing and video editing feature attracted quite a lot of marketers, boosting its usage from 12% to 32%.
Usage of StumbleUpon, Flickr, Tumblr, FourSquare, Slideshare also increased significantly due to their popularity in certain parts of the world.
23% Of Marketers Are Clueless About Their Content Marketing Budget!
If we compare the budget allotment by marketers towards content marketing, about 23% of B2C marketers were unsure about their share of allotment towards content marketing out of the total budget. About 20% of respondents claimed to have spent 10-24% of the total budget for content marketing. Nearly 14% of marketers reported to have spent budgets in the range of 5-9% towards content marketing.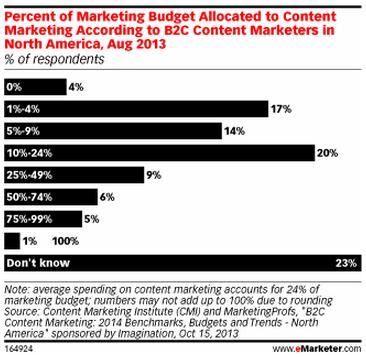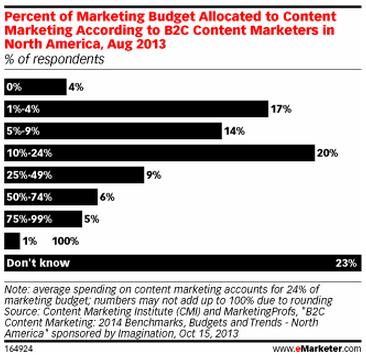 Despite the growing importance of content marketing, there are a few marketers who are yet to adopt the prevailing trend. It is important for marketers to set their strategy right and choose an effective mode of conveying the rich media content to its users.
Courtesy : eMarketer