LinkedIn Corp (NYSE:LNKD), Facebook Inc. (NASDAQ:FB) and Twitter are collectively responsible for 95% of visits to corporate websites from social media sites like LinkedIn, leading the pack. Corporate websites are boosting their presence on the world's largest professional network, LinkedIn, owing to its engaging user base and favourable features for professional purpose.
According to a research conducted by Investis IQ, which tracked an average of 2 Million monthly visitors to 60 corporate websites over a period of two years, LinkedIn dominated the social media referral rate for driving traffic to corporate websites.
LinkedIn Dominates With A 64% Share
According to the report, LinkedIn accounted for 64% of all visits to corporate websites from social media sites. LinkedIn users indulged in serious business related activities, to keep in touch with business associates, clients, and former colleagues. Nearly 87% of users find sources on LinkedIn trust-worthy and it affects their decision-making process.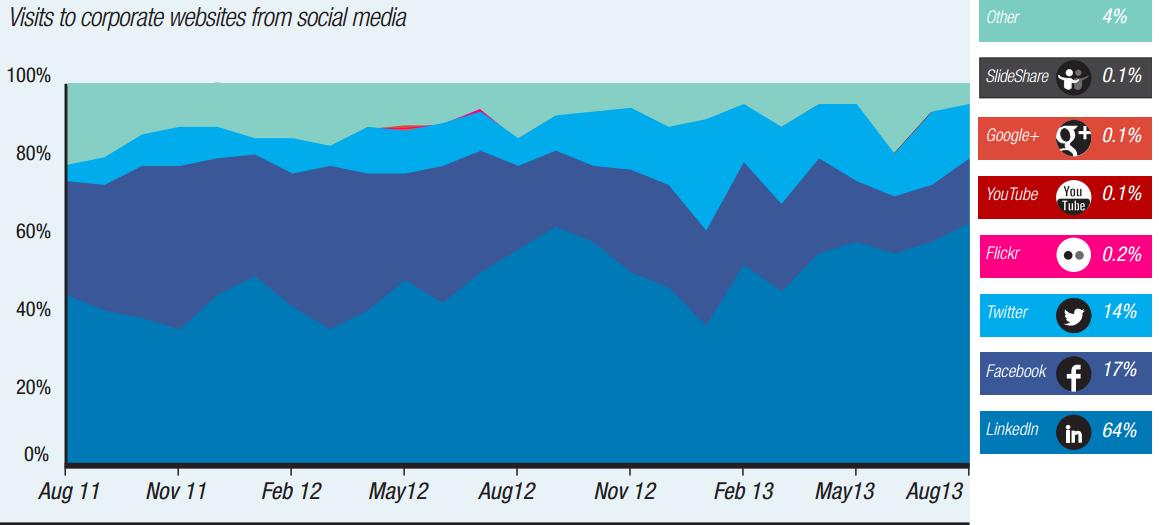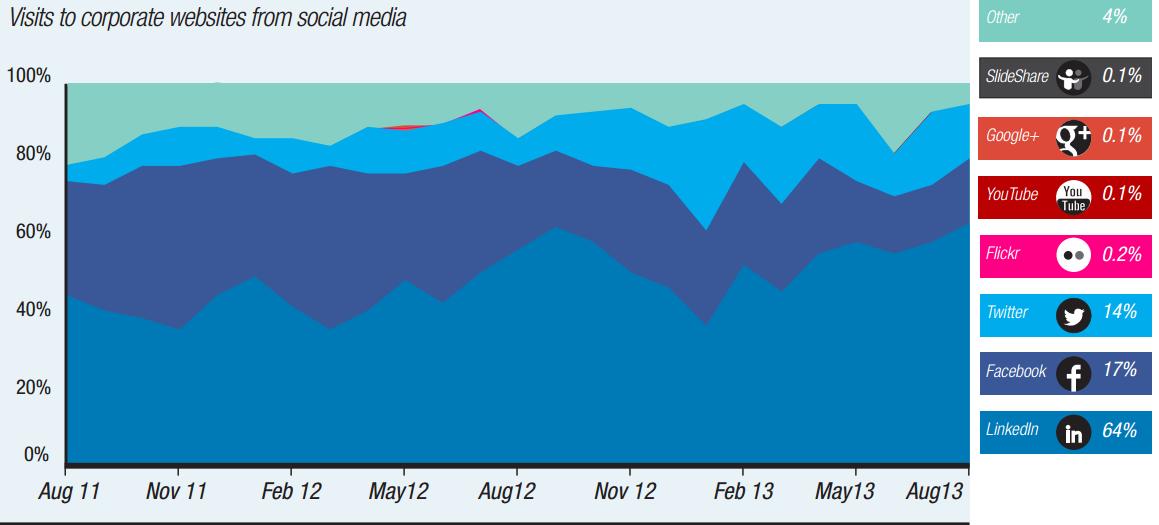 Job seekers generally spend time on LinkedIn, digging information about company's progress, information and statistics. Employers can also list their jobs on the site, and screen potential candidates. LinkedIn makes it easier for employers to view candidate's profiles and look for required criteria/skills rather than having to go through every single resume. Connections on this website are built through known channels and the focus is on building trust among users.
People like reading blogs/news about companies and participating in business related discussions on LinkedIn. If a company is actively updating their information on LinkedIn and provides readers with interesting blogs, sharing helpful articles with clear signposting back to the corporate website, then the chances of users clicking the company's website are high. Currently, more than 2.6 Million companies have LinkedIn Company Pages.
LinkedIn has remained remarkably stable when it comes down to services offered. It also offers premium services that allows users to access more information and the ability to directly contact people in their 2nd or 3rd degree contact list. Doing this ensures that only interested users subscribe to develop networks thereby enabling companies to build required interest groups. LinkedIn's API for commenting on news and articles is not available on third-party websites mainly to avoid random people spamming the website and ruining the healthy discussions on the website.
The Role Of Other Social Media Websites In Driving Corporate Website Traffic!
Micro-Blogging site Twitter, which known for its virality quotient pertaining to news discovery and delivery, is widely used by corporate firms as a news distribution media. Major changes that take place in corporate firms, breaking news and new deals  are spread through Twitter. But this hasn't helped corporate firms in driving traffic to their site and Twitter's share is just 14%, up from 4%  in 2011. Companies should definitely maintain their presence over the micro-blogging sites but news distribution is not the only thing companies need to pursue on social media.
Facebook's share has decreased by nearly 50% over 2 years, its share has taken a beating and stands at 17%, down from 30% which indicates that its performance will continue to effect B2B corporate marketing. Facebook is a fun social networking site and B2B corporates don't seem to find engaged users. Comparatively B2C firms have derived maximum benefits from its presence and Ad-campaigns on Facebook, due to direct interactions with their target customers.
Traffic derived from YouTube, Google Plus, Flickr are all negligible currently. YouTube continues to emerge as the benchmark for viral video marketing as video content is preferred by information seekers. B2C firms are bound to derive maximum benefits by designing informative video content about their product. Even B2B firms and corporates can attain consumer attention provided the content they offer is exciting enough.
Search giant Google's social media front is progressing and lot of changes are being implemented to attract companies towards Google Plus. A Google Plus powered search engine is a possibility in the future which might replace the current search capabilities of Google. This might compel entire industries to shift their bases to the Google Plus platform.