Facebook Q2 2013 performance report, claiming 1.15 billion monthly active users, is out now. This resulted in $1.81 billion as revenue brought in by social networking titan during the whole second quarter of 2013. While market is finding Facebook growth quite satisfactory in terms of growing numbers and revenue, investors and financial analysts foresee more challenges, which are quite perceptible in Q2 performance also.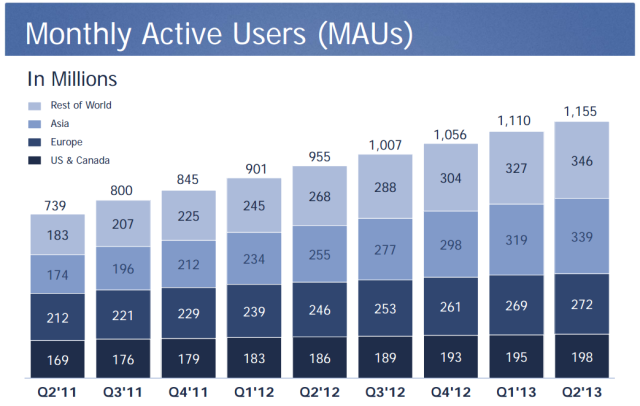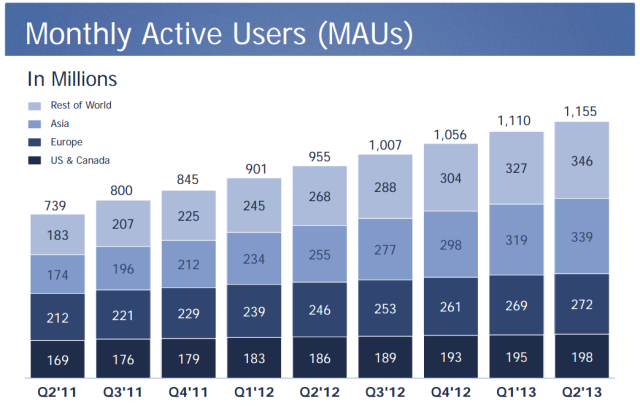 Facebook Q2 2013 Performance: Highlights
Facebook monthly active uses base grew to 1.15 billion in Q2 2013 from 1.11 billion in first quarter ended March 31, 2013.
The above resulted in marginal growth in daily active users to 669 million from 665 million in Q1 2013.
Social network titan witnessed significant growth in mobile monthly active user base that increased to 819 million from 751 million in Q1 2013.
Daily mobile active user base surged up to 469 million in June 2013.
Feature phone monthly active users surpassed 100 million figures recently.
In Q2 2013, Facebook accounted $1.81 billion as revenue, up by 20% from $1.46 billion in first quarter of the year.
Mobile revenue dollars contributed 41% of total revenue in Q2 2013; increased by 11% from 30% of total revenue dollars came in Q1 2013.
Facebook reported $333 million as net income in Q2 2013.
Demographics Of The Growth Creating Anxiety
Facebook Inc. (FB) is indeed heading towards a wall and will lose its cool, analysts claim. Breaking down the current growth of Facebook in Q2 2013, it's clearly visible that majority of this growth is driven by ASIA region – maintaining 339 million users – and Rest of the world that is having 346 million users; Interestingly, very regions are the worst contributors in Facebook's revenue – something investors are more concerned about. In ASIA, Facebook is able to grab $0.75 dollars from each user – as average revenue per user (ARPU) – Rest of the world is contributing even lesser $0.63 ARPU. And, the very fact is creating more uneasiness among investors and people concerned about Facebook's true potential.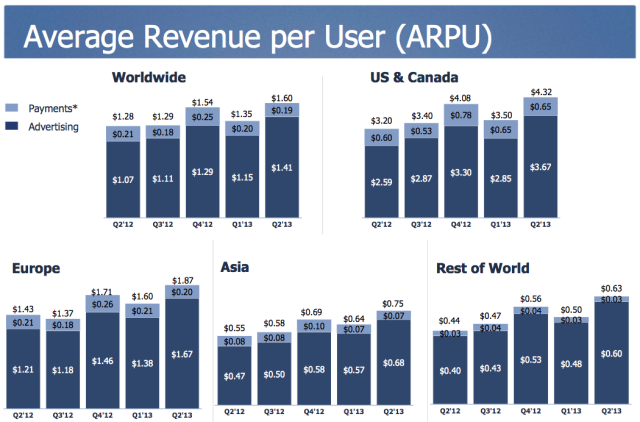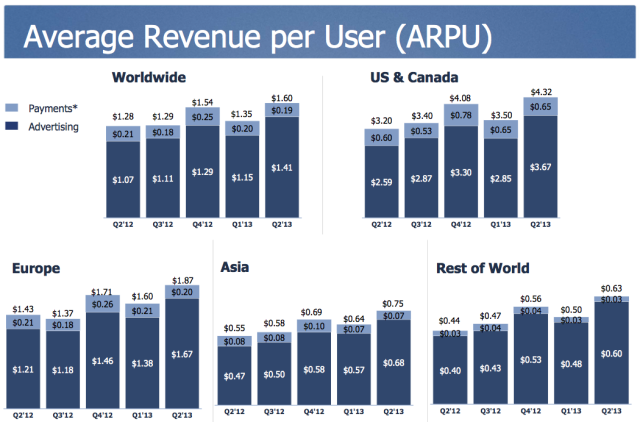 Nearly 777 million Internet users from APAC region would use online social networks in 2013. Ad spending on social networking websites in APAC region is projected to surpass $2 billion by end of 2013. Majority of this growth could be driven by India – the largest ASIAN country on Facebook with nearly 80 million users. Indian Internet users are more engaged with Facebook than Google. In India, around 25% of time spend over Internet, is being consumed by social networks. However, in spite of all such facts, social media accounted mere 3% of $518 million spend on online advertising in 2012.
As Facebook is gaining more traction (and revenue off course) in mobile space, Indian mobile handset market is largely penetrated by Android handsets – generates lesser CPC and CPM compare to Apple iOS devices. This has direct impact over constantly growing Facebook mobile revenue share.
Scenarios in Rest of The World are no different; slowing down economy, poor Smartphone penetration rate and conservative online advertisement market are enough to increase woes for Facebook in future while counting revenue dollars.
Overall, it was another steady quarter for Facebook but road-ahead doesn't look quite bumpy. While Facebook growth – in terms of number of users – is stagnating in developed countries, it is still moving towards positive direction with 8.3% growth as majority of new users are joining from Asian and Rest of the World. However, with numerous inbred revenue challenges, Facebook will have to explore and find new revenue streams to maintain the pace and keep it growing.