India – World's third largest country by Internet population – is still struggling to reach to any justifiable network infrastructure level. The country is ranked at 114th position globally with an average Internet connection speed of 1.3 Mbps. Interestingly, in spite of being the second largest country, by internet population, average internet connection speed in India is the lowest in the region, according to the latest report from Akamai.
The State of Internet Connectivity In APAC Q1 2013
Eventually, APAC dominated at the global level as three countries from the region topped the list with fastest average Internet connectivity. In Q1 2013, South Korea, Japan and Hong Kong all witnessed modest quarterly increase, growing to 14.2Mpbs, 11.7 Mbps and 10.9 Mbps Internet connectivity respectively. Further more, besides these three, Switzerland is the only country at global level that managed to surpass 10 Mpbs average Internet connectivity in Q1 2013.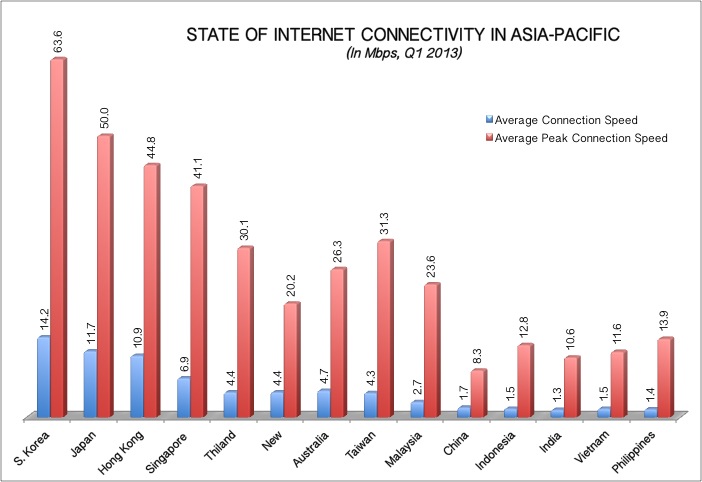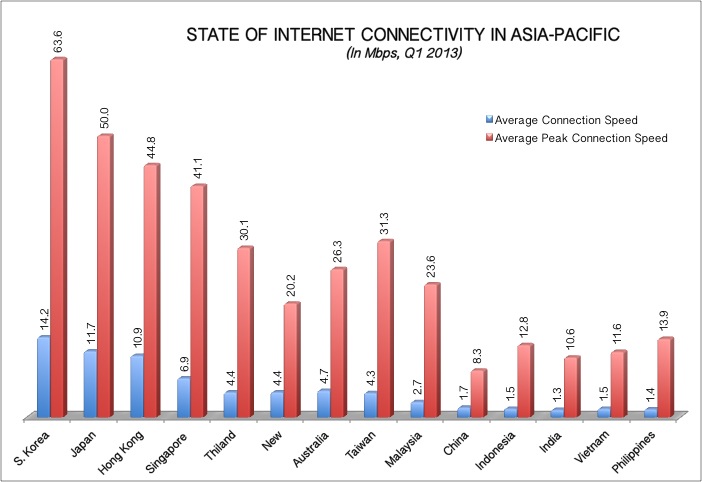 Though, avg. Internet speed in India remained lowest in APAC region, with 20% Q-O-Q change, India registered the fastest growth. The state of Internet in China – world's largest country by population and Internet population both – is equally deterring; Ranked at 98th position at global level, average internet connection speed remained 1.7 Mbps in China. To make it more worst, China witnessed negative 5.6% Q-O-Q growth in Internet connection speed.
While evaluating average peak internet connection speed in APAC region, research found India reaching 10.2 Mbps while Hong Kong topped the list with 63.6 Mbps. Besides Hong Kong, Japan was the only ASIAN country that had an average peak internet connection speed at/above 50 Mbps.
The report clearly highlights the bad state of Internet in India and China. Besides being at the bottom, yearly growth in both the countries is also not quite promising compared to other Asian countries. Majority of ASIAN countries, where average Internet connectivity speed remained in single digit, registered more than 30% year-over-year growth compared to 21% and 20% in India and China respectively.
State Of Broadband Connectivity in APAC
Top section of the list remains intact as South Korea, Japan, Hong Kong and Singapore are the only countries having more than 10% adoption level of High Broadband (> 10 Mbps) in APAC region. In India the adoption rate remains modest 0.3% though, the growth remains promising as the country recorded 102% Q-O-Q change – highest among all ASIAN countries.
Unfortunately, India presents poor show in normal Broadband connectivity (>4 Mbps) as most of the ASIAN countries had double-digit adoption level compared to India with 2.4% adoption level.