While mobile is taking the world with storm, advertisers and marketers are experimenting various strategies to win over mobile advertisement industry worth hundreds of billion dollars. Google Android and Apple iOS – two main drivers of the growth – have significantly influenced mobile advertisement industry, as most of the marketers are committed to carve the biggest pie of returns for their advertisers.
So, how do these both the giants, along with others, are penetrating mobile advertisement market? The latest report from MillenialMedia – a leading independent mobile advertising and data platform – on Mobile advertisement Q1 2013 highlights few startling facts and helps to understand how mobile users are responding to ads.
According to the report Apple Inc (AAPL) leads in mobile advertisement industry by dominating over its arch rival Samsung with a sizable margin. With 36.87% market share as device manufacture Apple topped the list ranked by mobile advertisement impressions generated in Q1 2013. However, Google Android still marked its presence as top mobile OS that generated 52% of total mobile advertisement impressions during the same time. Apple iOS managed to gain 39% of total mobile ad impressions. Both Android and iOS grew at the cost of BlackBerry OS that shrink to 7% compare to 14% in Q1 2012.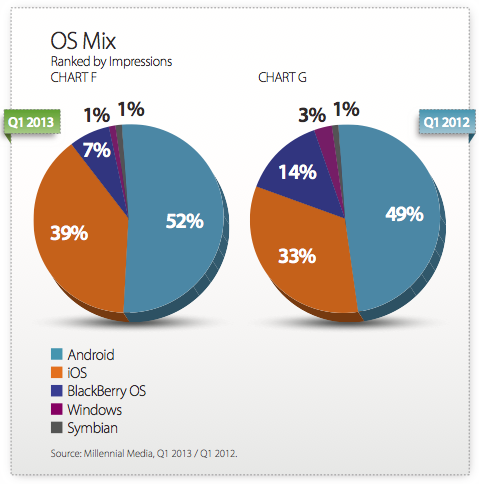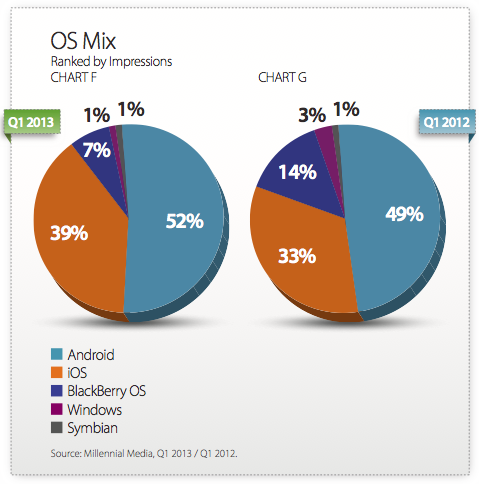 Top Mobile Phones That Generated Maximum Ad Impressions
Apple iPhone clearly dominated as a handset that generated 20.41% ad impressions beating second best handset Samsung Galaxy S with 60% margin. Samsung Galaxy S was followed by BlackBerry Curve , Samsung Galaxy % and LG Optimus. Interestingly, once a mobile leader, Nokia failed to make its presence as none of the Windows Phone OS powered phone made to the list.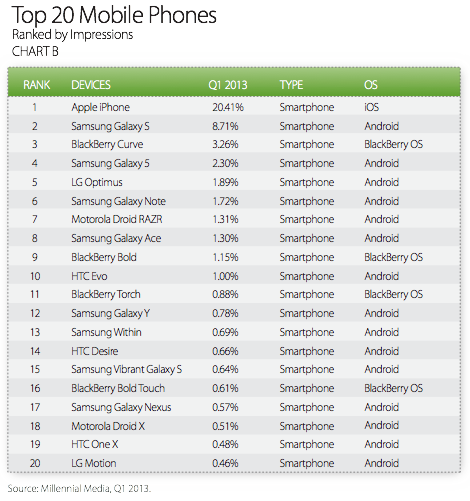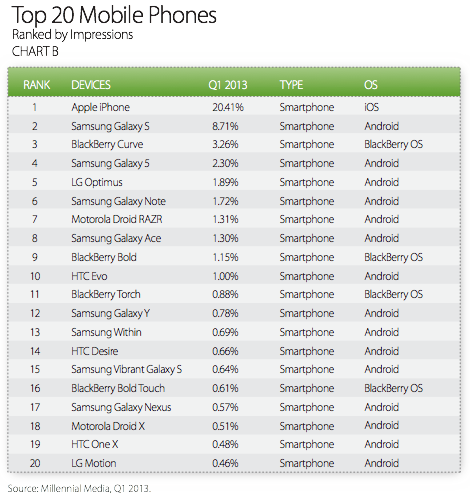 Apple iOS Leads in Tablet Segment
Apple iOS also dominates in mobile advertisement impressions on Tablet. While 54% impressions were originated from iPad, Android is slowly closing the gap as it reached to 45% impression share up by 39%, compare to 6% in 2010.

Games And Music Category: Best For Advertisers
Not much of shift has been recorded in Q1 2013 in terms of mobile advertisement impressions generated via various categories of app. Game and Entertainment managed their lead position but the biggest surprise came in the form of Mobile Social Media that slipped a point only to reach forth position from third in Q4 2012. It's really difficult to understand the disappointing show of mobile social media especially when Facebook is recording major shift of users from Desktop to Mobile and mobile internet is constantly improving its market presence.