Social networking sites have brought millions of users together. It has the power to unite people globally. Online social networks bleed information. Every post created on Facebook, Twitter, Pinterest, leaves a digital footprint. Every time someone else reads or watches it, they add to data trail. According to the last report from eMarketer in 2012, the number of users of social networks worldwide will increase from 1.47 billion in 2012 to 1.73 billion this year which will rise up to 2.55 billion by 2017.The worldwide social media audience is enormous.
It has been found out that more global internet usage will happen in the coming years. In 2012 there were 2.3 billion Internet users, about 32% of world's population (7.2 billion). By 2017 this count will grow up to about 3.6 billion internet users, more than 40% of world's projected population (7.6 billion).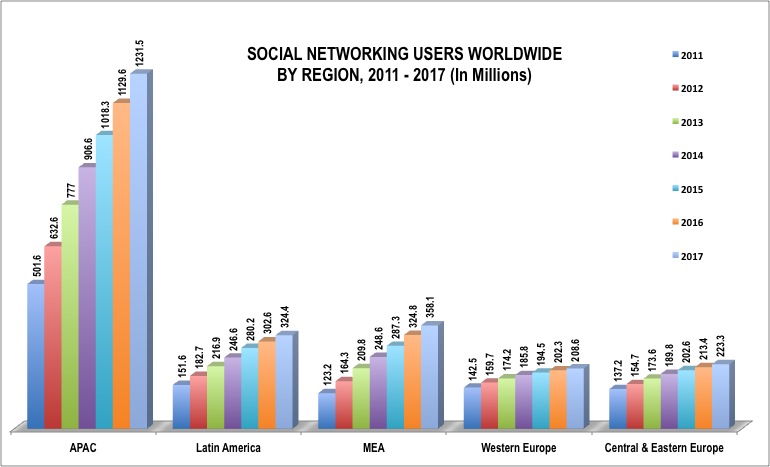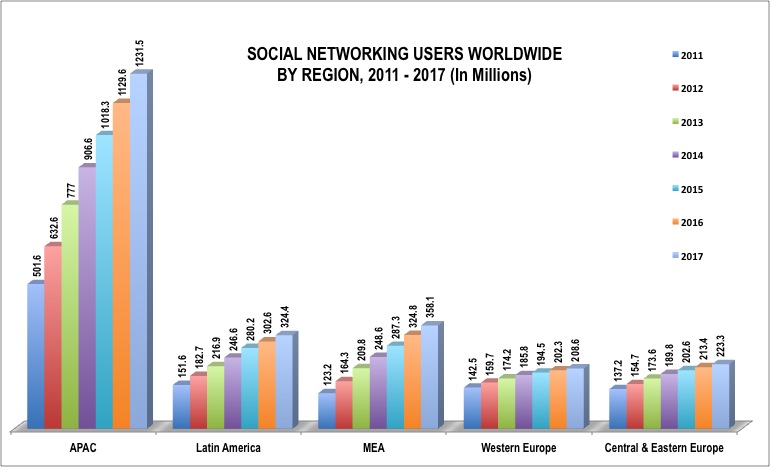 The explosive expansion of social media audience worldwide justifies the reason of rapid up gradation in the features of social media channels to improve the experience. It has been also known that this year 67.7% of internet users around the world will use social network at least one per month, this will rise by 2016. In the emerging markets of Asia-Pacific, Middle East and Africa will be huge drivers of social media growths.
A research has been conducted in detailed way to evaluate the growth of social media:
Asia-Pacific will have largest social network population worldwide through 2017.
Middle-East and Africa will have second largest audience starting next year, since their population penetration rates are among the lowest.
Asia-Pacific has the largest user base with 777 million people where 44.8% of social network users are expected at the end of the year.
The higher penetration of internet users in India, Japan, Australia, South Korea, Brazil, Mexico, Russia, Middle-East and Africa has helped to revise the estimated number of social media users in 2013 by 100 million.
By 2014, Middle East & Africa (MEA) region would emerge as the second largest social media hub with more than 248 million users surpassing Latin America in regions in next year.
By the beginning of 2015, India will surpass US as the second largest social media country after China.
This ranking will highly affect the regional shares of the global population by 2014. By 2015 markets of North America, Western, Central and Eastern Europe will have highest penetration rates worldwide.
In the beginning of 2016, Latin America will pass Western Europe in social network user penetration and Asia Pacific and the Middle-east and Africa's penetration rates will be lower than the global figure.
COMPARATIVE STUDY OF SOCIAL MEDIA
Social media includes various modes of media through which users are connected, updated and entertained via internet. This brings to the various tools of social media which are Facebook, Twitter, You-tube, Google+, Pin interest, Instagram and more. There are more than 1.11 billion users, more than 225 million users, 100 million active users in Facebook, Twitter and Instagram respectively.
Social media has been one of the active daily prospects of people as it meets the need of various interests. Providing better exposure and experience of internet where they can share photos, videos, have discussion and an entertaining way of interacting with people around the world. Social media has also benefitted various companies with marketing strategies and providing advertising segment to improve sales of the concerned companies.
Social media makes this world as one unit and can be called as a mode of global village satisfying various audiences.