While the social media activities in India have leapfrogged almost every other online activity in terms of usage and engagement, a new report reveals that Facebook has emerged as the most engaged platform for online users – beating arch rival Google. Every 4th minute of online activity in India is dedicated for social networking sites and more than 50 million unique Indian internet visitors were profoundly engaged with Facebook in June 2012. Indian online properties like Times Internet and Network18 managed to mark their presence with sizable share in Indian internet industry during the same period.
Reach Among Indian Internet Users
The study – conducted by ComScore in June 2012 – exposes the accessible and engagement habits of Indian Internet users. While the Google Sites leads the list of top online destination in India with 94.8% reach, Facebook stands quite close behind with 83.4%. More than 57 million unique visitors accessed Google sites in June 2012 compare to Facebook's 50.8 million. Among Indian brands, Times Internet sites took leads with 20.5 million reach beating its close competitors Network 18 and Rediff.com with significant margin.
Yahoo and Microsoft Sites are comparatively less attractive among Indian internet users. While Yahoo Sites gained attention from 39.9 million unique visitors in June, Microsoft Sites reduced to only 29.3 million unique visitors.
Facebook: The Most Engaged Platform
Though, Facebook failed to cross over Google Sites in terms of number of unique visitors, Indian Internet users are more connected and engaged with social media titan than Google Sites. Each Indian Internet user spent around 224 minutes in June compare to 155 minutes over Google Sites.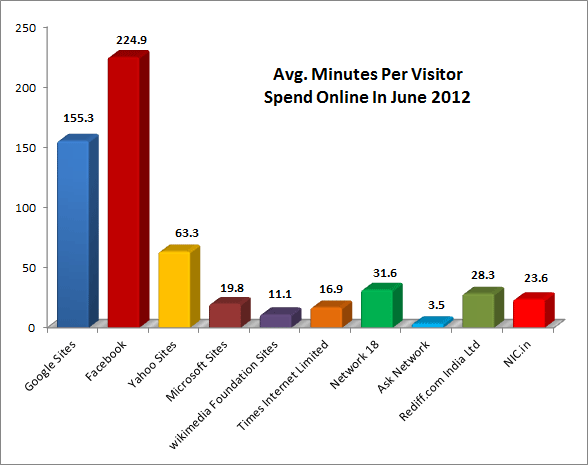 Similarly Network18 web properties managed to pull down Times Internet Sites in engagement comparison chart. While Indian internet users are closely connected with Network18 sites by investing 31.6 minutes (per user in June), Times Internet sites grabbed only half of the attention with 16.6 minutes.
Social Media: Entices Indian Internet Users The Most
The study also tried to find out Indian Internet users' behavior online by tracking various activities. Social Media has emerged as the most preferred among users as it consumes more than 25% of total internet time spent. Surprisingly, Search and Email grabbed only 8.1% and 3.2% of total internet time respectively – losing the attention among Indian Internet users.
Facebook (And Social Media) : Best Bet For Advertisers
In last few years, Google has been the most preferred and responsive destination for advertisers and marketers. However, the trend seems to shifting towards social networking sites, especially towards Facebook. For advertisers, the most valuable aspect in digital marketing the amount of time users stay engaged with any site and Social Media clearly leads here with 25% of online time consumption. Facebook has emerged as a clear winner over Google where Indian Internet users are spending more time than any other online property.
In fact, with many new advertisement options, Facebook is desperately and aggressively making itself more lucrative and effective for advertisers and marketers. I am sure you all must be remembering one of my last few analyses justifying How Facebook Is Silently Developing AdWords Killer !
In India, Google Android is the leading Smartphone OS and Facebook has serious take on it. While 93% of Android users in India are accessing social media from their phone, Facebook is equally recording high response from Google's Android than any other mobile device currently available in 3rd biggest Internet country in the world.