Previously, we have discussed that 93% Android Smartphone users in India access social networking sites on their mobile devices. Undoubtedly, the social networking sites have become one of the top activities for Smartphone users in India. It has been noticed that Facebook users are simultaneously increasing in India with galloping swift, thanks to cheap Android handsets fueled the social networking sites to influence on such market.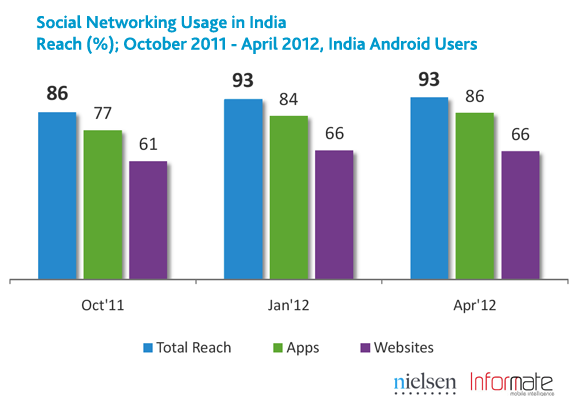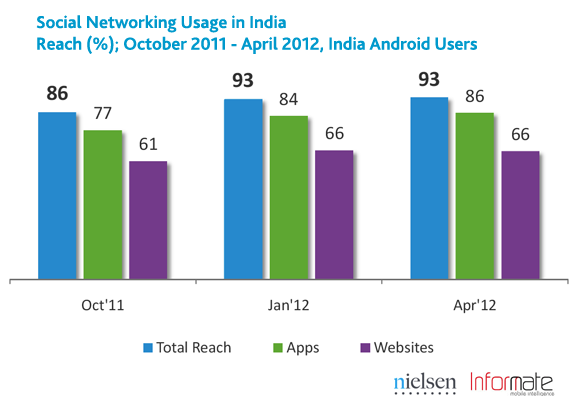 It's pretty clear form the above chart that how social networking sites are influencing to Android users in India since October last year. In April of this year, 93% Android users accessed social networking websites on their mobile device in India,  up 7% from October of the last year. However, the penetration of others apps have also been augmented since October of the last year.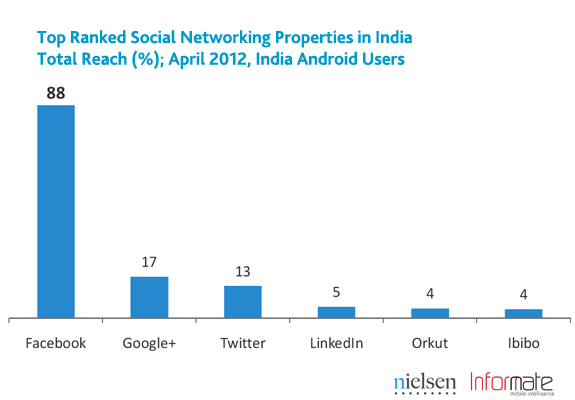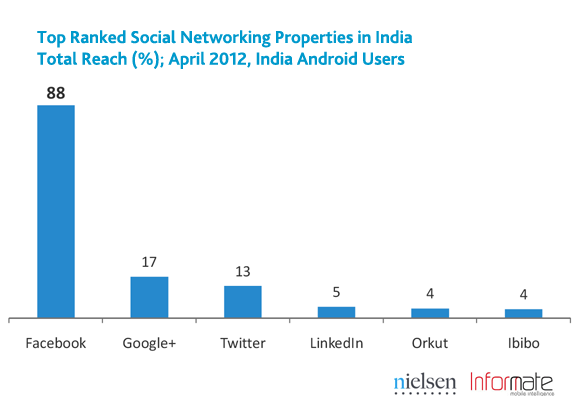 In terms of social media priority on Android Smartphone, Facebook is at the zenith with 88% of access, followed by Google+, Twitter, LinkedIn and Orkut with 17%, 13%, 5% and 4% respectively. Astoundingly, Android users are accessing Facebook 5 times higher than the second most popular social networking site, Google+.
In India, 67% Android users used only Facebook on their Android Smartphone in April of this year, while 33% used other sites or apps as well. A chart (below) has been provided in order to demonstrate how users are spending their time on the Facebook app.
Facebook access on the Android Smartphone is low at the morning time and it continuously increases throughout the day time and reaches to maximal level at the evening time. In the morning, only 53% Android users use to access Facebook (for just 1.9 minutes), but in the evening, it reaches to 64% and users use to spend more time on the app (almost 5 minutes).
Indeed, social networking sites are substantially making its penetration on Android Smartphone. Previously, I described, users are spending an average of daily time of 12 minute on the social networking app in April of this year. Despite of such strong penetration on the mobile devices, Facebook has failed to monetize its mobile apps. However, the social media networking site has planned to launch its mobile handset next year.
Image credit: Nielsen