The debate is undoubtedly not new but still worth to monitor time to time. The behavioural aspect of people towards Facebook and email engagement has always been a challenge, especially for social media and online marketers who want to get the maximum out for their clients. With the latest study it has been found out that Discounts and Promotional Offers are the key components which attract users the most to stay engaged with Facebook and Email.
A study from Chadwick Martin Bailey revels that people have split reasons behind being engaged with brands they follow or like. The study was majorly focusing on users' behaviour over 'Email Subscription' and 'Facebook Like'.
Interestingly, people are more fascinated towards receiving discounts, offers or any other promotional activities via Facebook Like or email subscription. 58% people mainly subscribe to e-newsletter for the discounts and offers compare to 41% who Like the brands on Facebook for identical motto.
In fact, the second most lucrative reason behind liking or subscribing is to participate in a promotional campaign. 39% people on email and 28% people via Facebook Like expect some sort of promotional campaign participation of the brand.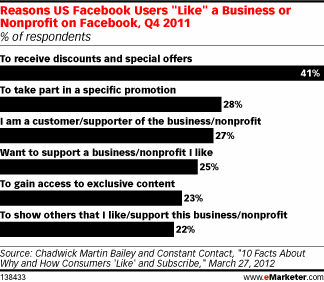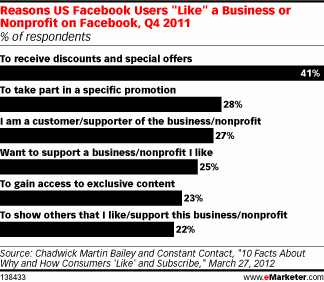 Shockingly, only 26% and 23% of people as email subscriber and Facebook like, respectively, stay engaged with brand for updated content or new products on an ongoing basis.
Though the study was primarily focused on US consumers and people, India is no different from above. Despite of being the second most populated country over Facebook, India lags behind than U.S. China, Brazil and few more countries in online brand engagement.
With 121 million internet users across the country, India is still having enough room of improvement in infrastructure space. Though the services like 4G has already started rolling out, it's equally important to stabilize the current internet related infra services which will help companies and brands to utilize it with extreme potential online and keep the interest level higher among users to stay engaged.
Graphs: eMarketer