In last few years India has resulted as the centre of attraction for many companies belong to various industries. It's already known as one of the strongest software development hub in the world and has leapfrogged many other renowned global companies in various arms of technology arenas like social media and mobile. In the latest development, India has surpassed Indonesia only to become the most populated country by Facebook after United States of America.
Surprisingly, in last six months the number of Facebook users from India has surged from 32 million to 43.497 million, registering an addition of 11.53 million new users. Indian users growth on Facebook is second best after Brazil which has added 14.45 million users during same period.
As we already predicted few months back that Facebook will surpass Indonesia by year-end or by starting of 2012 which, up to some extent, has proved correct. Apparently, India had surpassed Indonesia at the starting of this month, but later on it went down due to sudden rise in number of users from Indonesia on Facebook. But this time again, India has taken a significant lead from Indonesia.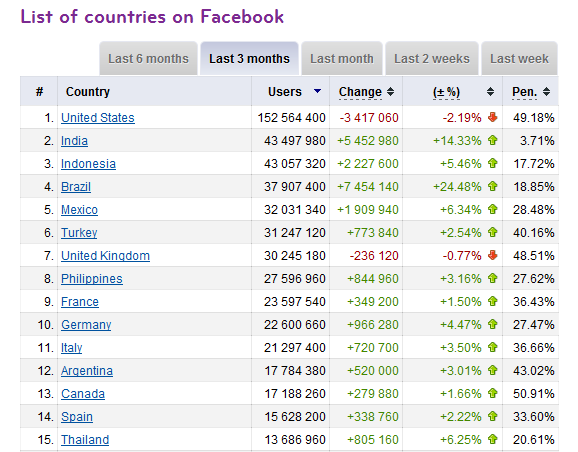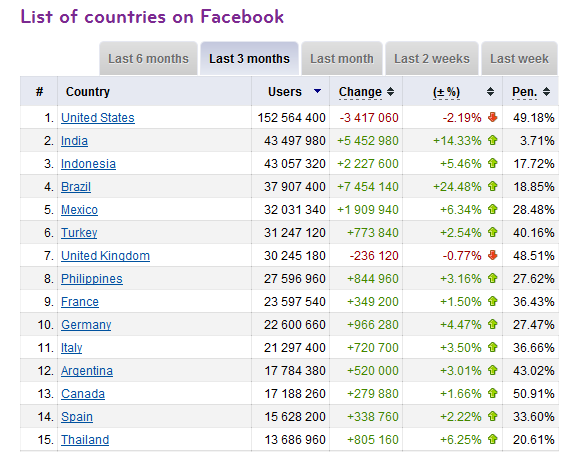 Taking the view of Facebook users' growth in Indian territory many other social networking sites like Twitter, Google+ are also planning to launch some enhanced features. Even Google+ has launched an offer under which Google+ users from India will get free Wi-Fi access for complete three months.
According to Socialbakers, each month near about 2,098,260 new Indian users are joining Facebook compared to Indonesia 1,280,080 users. However, the story is of US is different and interesting. The userbase of US is on downfall and if we see latest trends, its loosing 1,717,140 users every month.
India is the third largest country in terms of internet users all across the world. But, unfortunately out of 1.2 billion of the overall population only 121 million people are connected to internet – just 1% of overall population. This directly indicates that in spite of being one of the strongest software development countries,  it still need to educate people about internet and computerization like China and USA.
Currently, United States has maintain its legacy as the most populated country on Facebook, but due to higher penetration rate (50.19 percent) number of new users from U.S will decrease compare to India which has the penetration rate of just 3.71 percent. Eventually, the less is the penetration the more will be the increment. So, one should not get surprised if India surpass U.S. by 2013 end as the interaction towards Facebook is increasing at a dramatic speed in India. Also, users are getting benefited from Facebook in several ways like job search, making friends, chatting, making new contacts, getting in touch with loved ones.
I feel in coming year or by the end of 2013 we might see India on the top spot as users are getting much more attracted towards Facebook and the current generation of India is getting much more addicted towards internet.