We are currently witnessing a mobile revolution across the globe. Our dependency on Smartphone and Tablets is just being appreciating day-by-day. These connected devices free us from our office and home boundaries and are emerging as devices for digital media consumption. especially in Europe, the sales numbers of Smartphone and Tablet is growing constantly. A recent study over connected devices and mobile evolution in Germany, France, United Kingdom, Italy and Spain (known as EU5) reveals many startling facts about users' trends, market and evolution of smartphone and Tablet in European market.
Not too long ago the Europeans were primarily depended on desktops and laptops to surf the internet. Now, the same consumers are more fascinated towards accessing the net with mobile devices like Smartphones, Tablets etc.
The study reveals that Nokia, Google and Apple are the key players in the European market. Symbian and Android have the highest market share among Smartphone platform but Apple's iOS leads others in the connected device market with 30% share.
Europe leads US with 42% penetration in Smartphone segment; an increase of 13% over the previous year. In EU, Spain leads the penetrated market with 48.4% followed by UK with 48.1%. Italy and France have achieved 42.1% and 38.1% penetration respectively while Germany has the least penetration with 34.2%.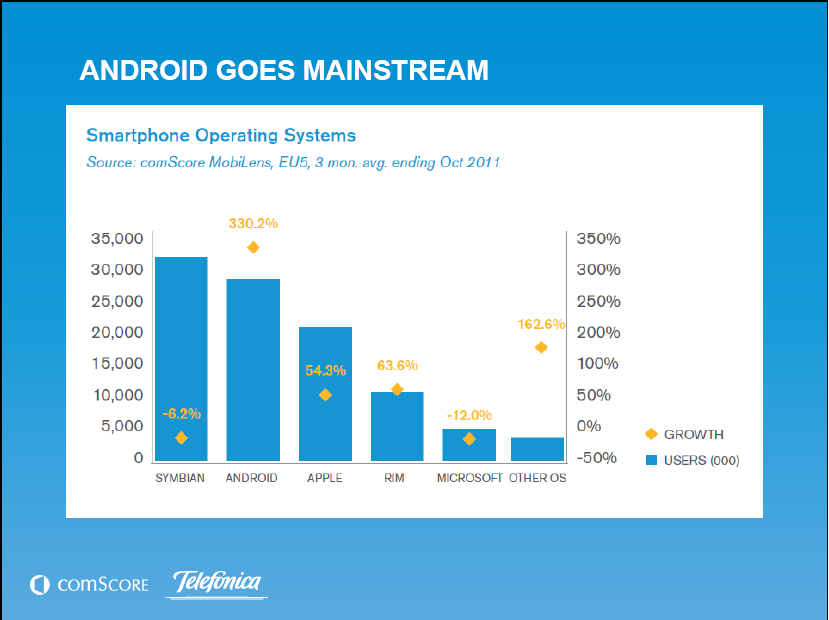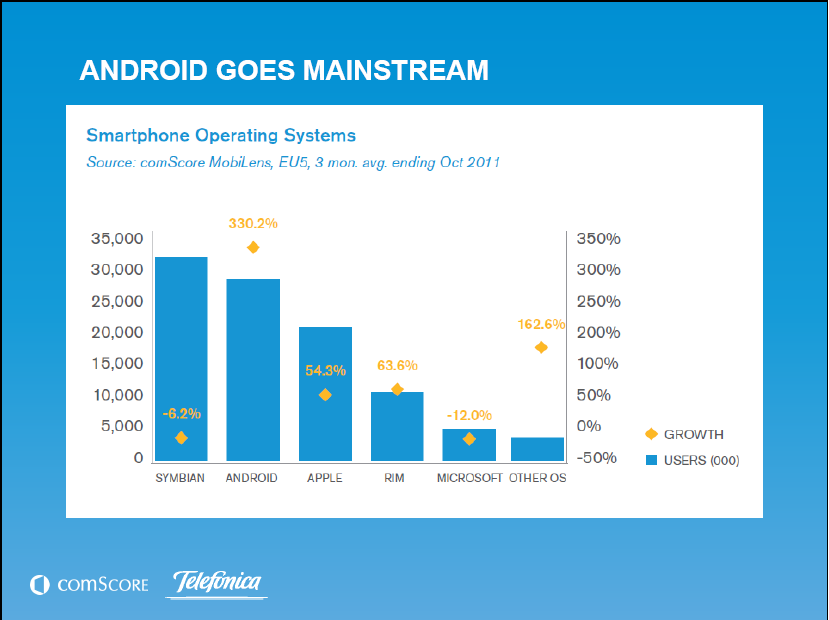 Symbian has lost hold of the European market in the recent years because of heavy competition from other platforms like Android and iOS. Virtually dumped by Nokia, Symbian's growth has declined by 6.2% while Android has increased by whopping 330.2%. Android – the 2nd largest platform – holds 28.1% of the market.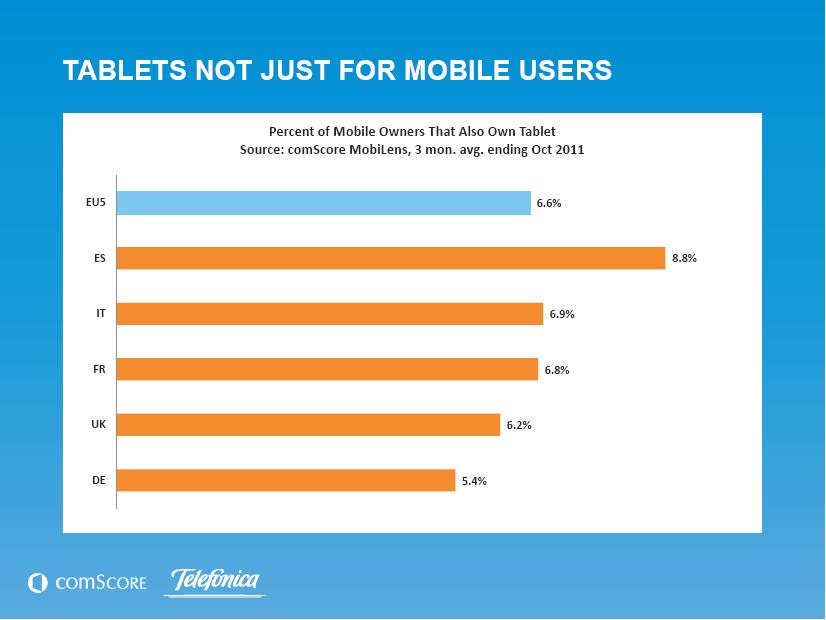 For some people a single device simply doesn't do the job anymore. In the EU5 region 6.6% of mobile phone users also owns a Tablet. Same as the Smartphone market, Spain is leading in Tablet market as well.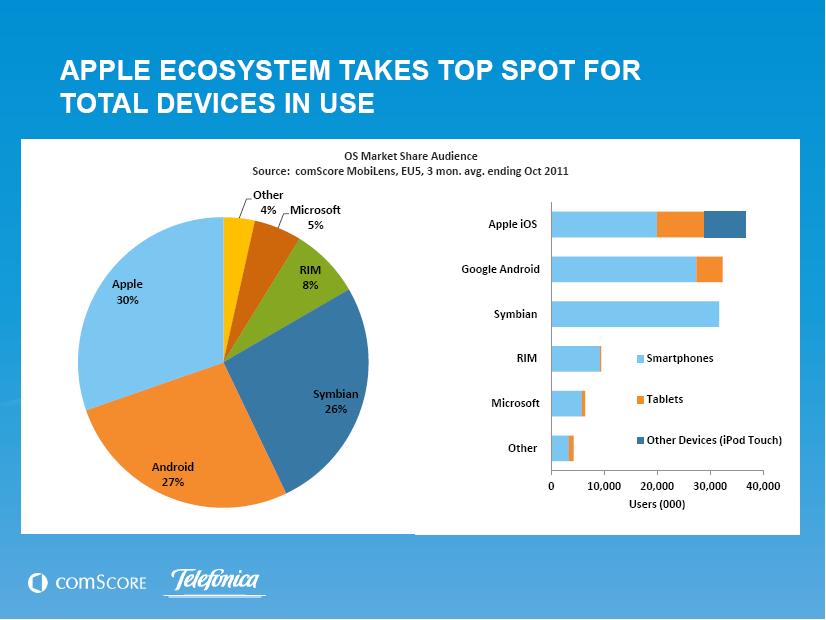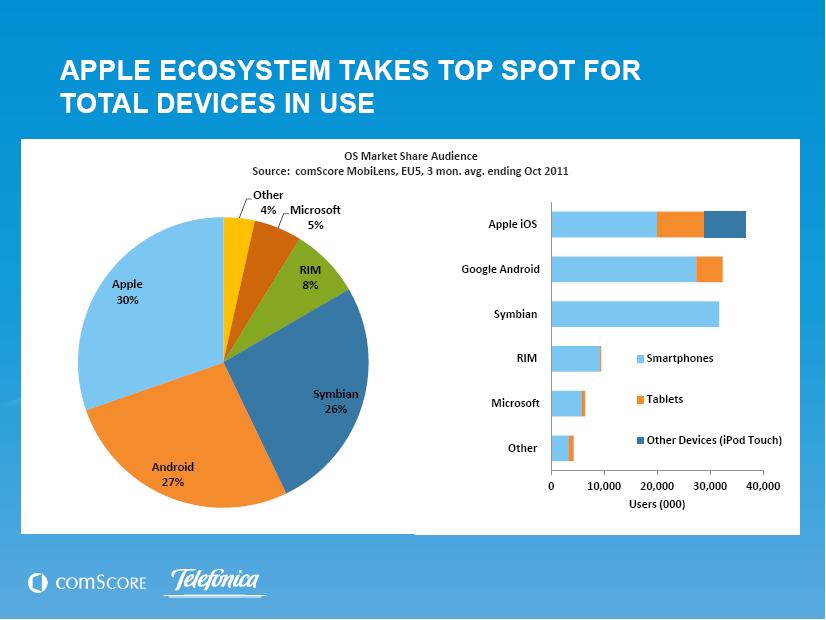 Though Android leads the Smartphone market followed by Symbian, Apple leads the overall digital market with a 30% share. The largest share of Apple's devices came from iPhone (20 million) followed by iPad (8.9 million) and iPod Touch (7.7 million). However, In EU5 region almost 5 million Tablets were found to be running on Android platform as of October 2011.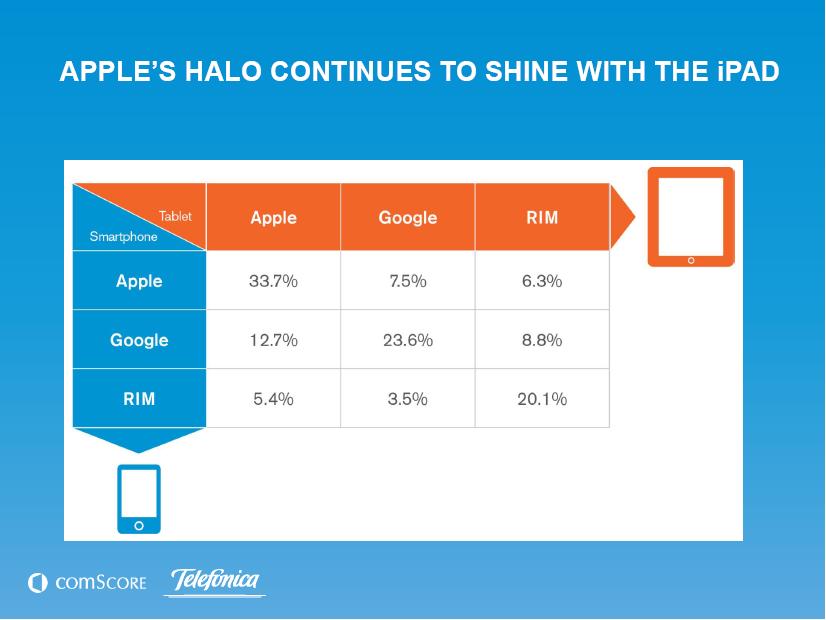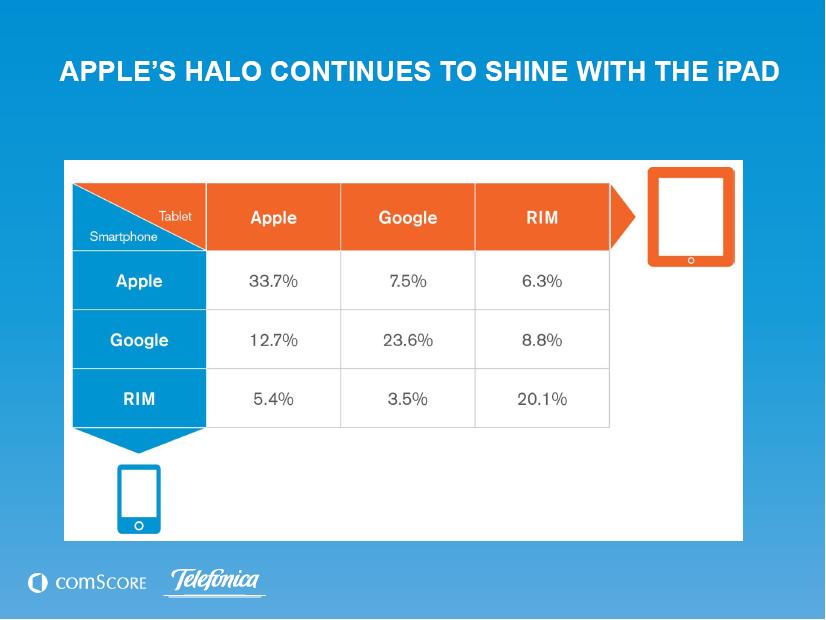 Almost 23.6% of the Android Tablet users owned a Smartphone on the Android platform as well. 20.1% of RIM users were found to be faithful to the company. And as expected Apple users were found to be the most loyal customers with 33.7% owning Smartphone and Tablet from Apple itself.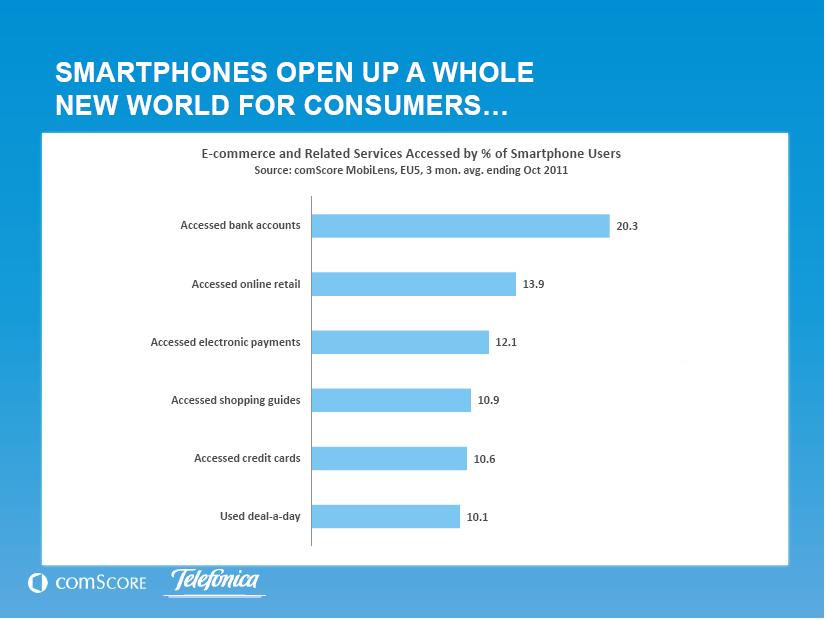 In the EU5 region people not only use their devices for Social Networking but 20.3% of the users managed their bank accounts from their devices. 10.9% of the users searched for the best product through shopping guides. These devices are helping them to make their daily life transactions easy.
Smartphone's and Tablets are gaining over desktops in the recent years. Nearly 5% of all browser traffic in EU5 is generated by mobile phone and other connected devices. Mobile banking has become popular these days and consumers soon will learn to accept mobile commerce as a fact of life in the days to come.
The impressive growth of 62% in the total number of mobile media users in the previous year is due to the Smartphone adoption in this region. With continuously increasing competition, network quality and cost of monthly services were found to be the factors driving consumers mobile purchase decision. With new devices entering the market, decrease in the monthly network cost the industry must prepare for overtake of digital data consumption over physical data consumption in the coming years.
Source: comscore