Despite of being the second most populated country on Facebook, Google+ and LinkedIn, Indian users still lag behind Brazil and China in terms of engagement ratio with brands online. A recently study, conducted over 750 companies, reveals that India stands on third place in brand engagement over social networking sites.
Near about 27 percent of the social media users from India prefer social networking sites to grab information – word-of-mouth – of brands. However, U.S. which is the most populated country on majority of the social networking sites,  performs poorly as only 18% of people get engaged with brands for word-of-moth experience.
Study also enlightens that only 20% of users from India like to follow brands on Facebook- which they care about or which they like the most – compare to 23 percent of U.S. users and 32 % of Brazil users. However, Indian users are still ahead of Chinese users as only 15% of them like the brands.
It has also been discovered that 21% of the Indian users share their experiences as well as the information about the brands on their Facebook pages compared to 11% of the U.S. users. This directly points out that Indian users are much more influential and committed than U.S. users.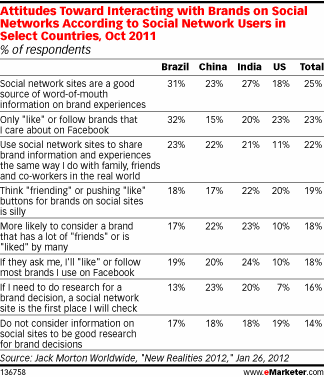 Interestingly, 24% of the Indian users prefer to "follow" or "like" the brand pages on Facebook only if someone insist them to "like", otherwise they don't care about it anymore. While, only 10% of U.S. users think in similar fashion.
The percentage of Indian users who consider or follow or like brands pages on the basis of friends or fans list is near about 23 percent compared to 10 % of the U.S. users and 17% of the Brazil users.
Apparently, it has been discovered that around 20% of the Indian users will refer social networking sites as the first place to research about brands, while 18 percent will not refer the information mentioned on social networking sites.
Social networking sites are continuously influencing internet users from India for last few years, but the Indian brands' pages on social media space doesn't prove much effective as they are unable to engage Indian users in terns of activeness and responsiveness. Even, 22 percent of the Indian users think that "friending" or pushing "like" button of brands pages on social media space is a silly work. Instead of that they will prefer to like the updates, videos and pics of their friends and loved ones.