Meta Platforms, Inc. (Nasdaq: META) has unveiled its financial results for the third quarter ended September 30, 2023, and the numbers portray a remarkable performance. Meta's global revenue in Q3 2023 increased 23.2% YoY to a record high of $34.15 billion. This trend of sustained double-digit revenue growth has persisted since Q2 2023, when the tech giant reported an 11% YoY increase in revenue.
To add some historical context, the last time Meta achieved such outstanding double-digit revenue growth was back in Q4 2021, where it wowed with a 19.95% YoY increase. The company's financial story has certainly had its share of twists and turns since then.
On a quarterly basis, Meta reported 6.71% growth in its global revenue during Q3 2023, down when compared to the previous quarter's 11.7% QoQ growth.
The most astounding revelation in Meta's Q3 2023 earnings report is the 163.55% YoY and 48.7% QoQ growth in its net profit. Meta's net profit surged to an all-time high of $11.58 billion during the third quarter of this year. This profit growth is mainly attributed to the decline in the company's overall expenses during the quarter. Meta's total operating expenses declined 7.49% YoY to $20.4 billion in Q3 2023, showcasing the company's adept cost management.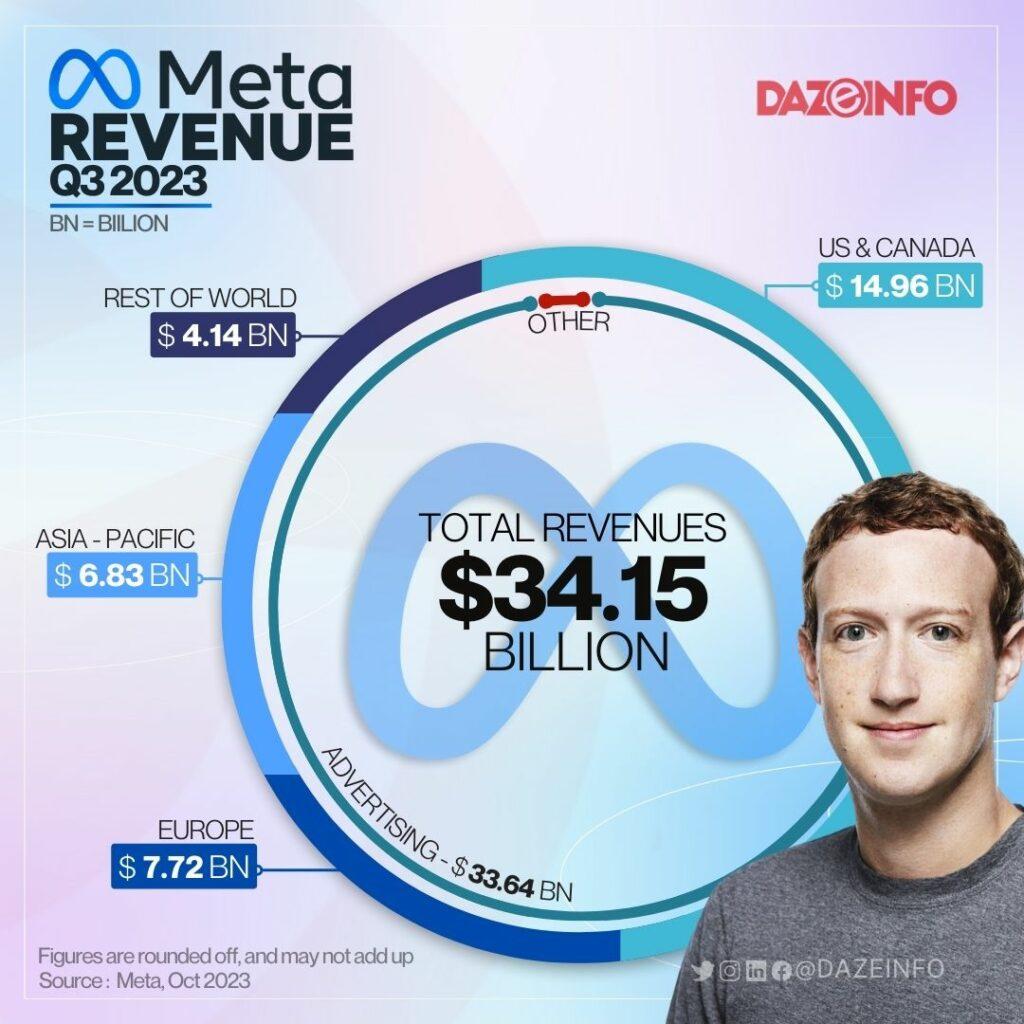 Meta Ads Revenue Q3 2023
Although the overall revenue and net income growth numbers are nothing short of spectacular, it's the advertising segment that truly steals the spotlight.
Meta generated a whopping 98.53% of its total revenue from advertising in Q3 2023. This is the highest share of advertising revenue for the social media giant since Q3 2020, when it stood at 98.84%. Meta advertising revenue reached a historic peak of $33.64 billion, increasing 23.5% YoY and 6.8% QoQ.
What's particularly striking is that Q3 2023 was the second consecutive quarter of double-digit yearly growth in Meta's ads revenue, after a period of either no growth or only single-digit increases between Q1 2022 and Q1 2023. This consistent surge in ad revenue is a clear and resounding signal that the advertising industry has finally revived. Google's advertising revenue serves as a testament to this incredible resurgence in the advertising world.
Alphabet generated a record-breaking revenue of $59.65 billion from Google ads in Q3 2023, with growth of 9.48% YoY and 2.59% QoQ.
Meta's ad impressions across the Family of Apps also increased a robust 31% YoY during the third quarter of 2023. This could be due to increased user engagement, increased content consumption, or a more extensive user base. However, the average price per ad has simultaneously decreased 6% YoY. This suggests that advertisers on Facebook and Instagram may have been able to reach more users but at a lower cost for each ad placement. This cost-effective trend was particularly pronounced in the APAC (Asia-Pacific) region, highlighting the region's growing significance in Meta's advertising ecosystem.
Meta Reality Labs
Meta's Reality Labs (RL) segment has been underperforming, with Q3 2023 marking the fifth consecutive quarter of a double-digit decline in revenue.
Meta reported a substantial decline of 26.3% YoY and a 23.9% QoQ decline in its Reality Labs revenue, reaching an all-time low of $210 million. The decline in RL revenue is primarily attributed to a decrease in the volume of sales for Meta Quest and related consumer hardware products. It suggests that the demand for augmented and virtual reality products the company offers has dwindled, directly impacting the segment's ability to generate revenue.
These losses of the Reality Labs segment had been increasing significantly every quarter, with growth rates of 34.86% in Q1 and 33.25% in Q2 of 2023, respectively. However, there was a slight improvement in Q3 2023, where Meta managed to reduce the losses to just 1.91% YoY. Despite this slight improvement in the growth rate, the absolute figure remains concerning, amounting to -$3.74 billion.
Other Main Highlights: Growing User Base
In the world of user statistics, Meta's family of apps has achieved some remarkable milestones.
Meta's Family Daily Active People (DAP) hit an all-time high, averaging 3.14 billion users during the quarter ended September 30, 2023, with an increase of 7% YoY.
Meta's Family Monthly Active People (MAP) also soared to a record high of 3.96 billion during Q3 2023, with a 7% YoY increase.
To put it simply, DAP and MAP represent registered and logged-in users of Meta's "Family" of products, which includes Facebook, Instagram, Messenger, and WhatsApp. These users interact with at least one of these platforms through mobile applications or web browsers within a 30-day period.
Despite modest growth in DAP and MAP, Meta's Family Average Revenue Per Person (ARPP) stood at an impressive $8.71 in Q3 2023, showing a slight increase from $7.53 in Q3 2022 and $8.32 in the previous quarter (Q2 2023).
Zooming in on Facebook, the daily active users (DAUs) reached an average of 2.09 billion by the end of September 2023, with a 5% YoY increase. Notably, a significant 43.1% of these users came from the Asia-Pacific (APAC) region.
On the monthly scale, Facebook Monthly Active Users (MAUs) reached an all-time high of 3.05 billion in Q3 2023, though with more modest growth at 3% YoY. Approximately 44.51% of these users were from the APAC region, followed by Europe at 13.38%, and the United States and Canada at 8.89%.
Facebook's global Average Revenue Per User (ARPU) hit an impressive $11.23 in Q3 2023, up from $10.63 in Q2 2023 and $9.41 in Q3 2022.
Meta's Q3 2023 earnings report showcases the company's ability to bounce back and its resilience in the face of challenges. The impressive growth in revenue and net profit, driven primarily by advertising, demonstrates that Meta is well on its way to reclaiming its position at the forefront of the tech industry. However, the struggling Reality Labs segment reminds us that even tech giants can face hurdles. Still, Meta's ability to adapt and manage costs effectively keeps it in the game. With a strong user base and growing ARPP, the future looks promising for Meta and its Family of Apps.