Alphabet Inc. (NASDAQ: GOOG, GOOGL) has just dropped a bombshell on Wall Street with its recent financial revelation. After a period of lacklustre growth that had many investors raising their eyebrows, the tech giant has emerged from the shadows, reporting record-breaking revenues and profit for the quarter ending on September 30, 2023.
Alphabet's global revenue increased an impressive 11% YoY and 2.8% QoQ in Q3 2023, amounting to $76.69 billion. Google's advertising business accounted for a whopping 77.77% of this revenue.
It's the 'jump' in the net profit that has made heads turned. Alphabet's net profit rose an eye-popping 41.55% YoY to $19.69 billion during the quarter. On a quarterly basis, the net income surged by a commendable 7.19% in Q3, demonstrating the company's resilience and market dominance.
The stellar surge in Alphabet's net income can be attributed to the company's impressive revenue growth, and it's a testament to its ability to keep expenses in check. Alphabet's total operating expenses increased a modest 6.53% YoY in Q3 2023, totalling $55.35 billion.
"We're continuing to focus on making AI more helpful for everyone; there's exciting progress and lots more to come," said Sundar Pichai.
Now, let's take a look at Alphabet's Q3 2023 earnings report to identify which segment spearheaded this incredible financial comeback, directly contributing to the double-digit growth in its global revenue.
Top Highlights
Google Advertising: The driving force behind Alphabet's global revenue surge can be traced back to the powerhouses of its operation – Google Search, Google Advertising, and Google Cloud segments. The standout performer was Google's advertising segment, which achieved an impressive record revenue of $59.65 billion during Q3 2023. With growth of 9.48% YoY and 2.59% QoQ, it's clear that Google's advertising business is a force to be reckoned with, solidifying its market domination.
Google Search dominance: A colossal 73.8% of Google's total ads revenue was generated from Google Search & other segment. Google Search revenue surged an impressive 11.35% YoY, reaching a historic high of $44.03 billion in Q3 2023.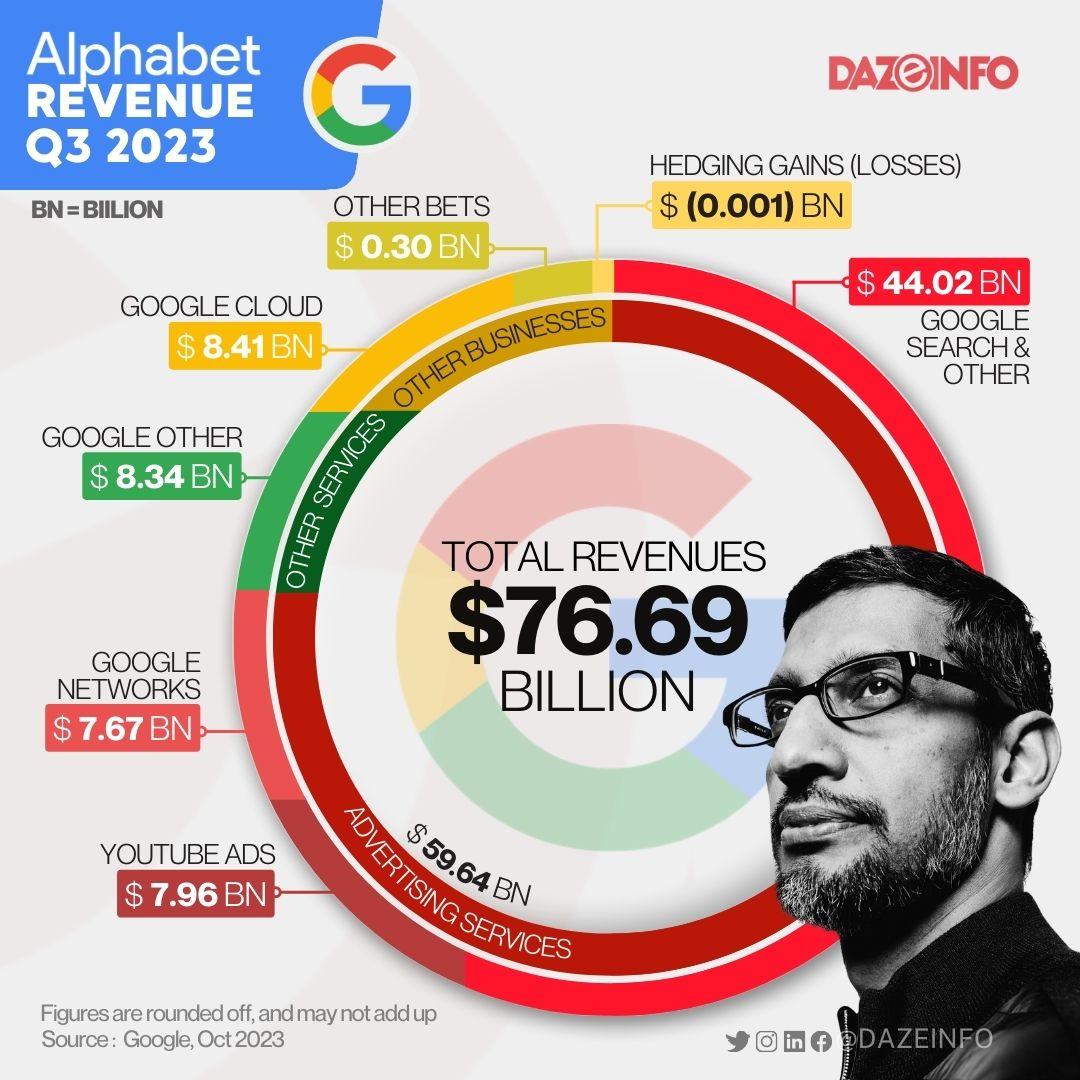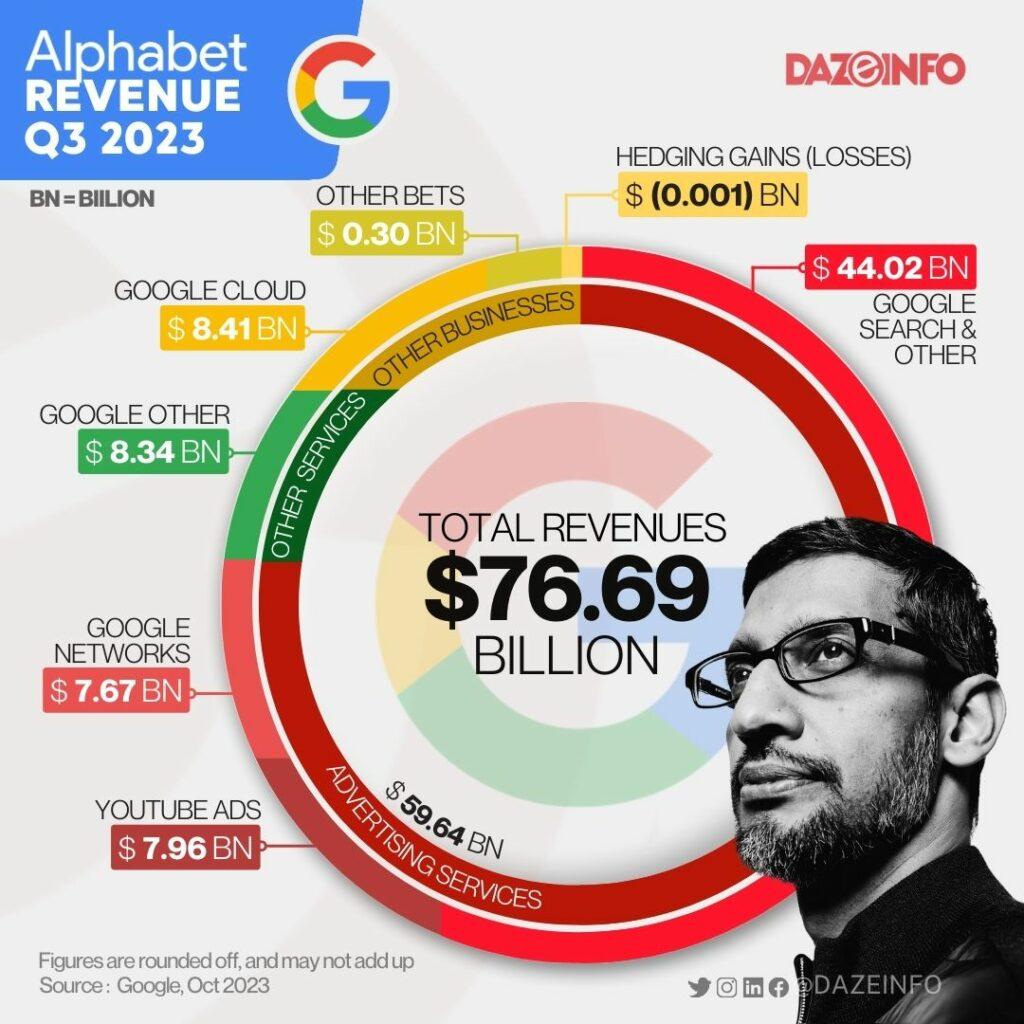 YouTube Ads: YouTube ads also played a substantial role in the advertising revenue surge, contributing 13.33% to the total. The platform demonstrated a robust 12.46% YoY growth in ad revenue, bringing in an impressive $7.95 billion.
Google Cloud soars: Google Cloud, the company's burgeoning cloud computing division, continued its stellar performance, achieving an all-time high revenue of $8.41 billion worldwide in Q3 2023. This segment witnessed a remarkable 22.47% YoY and 4.73% QoQ growth. However, there were heightened expectations from industry analysts, who had anticipated an even more outstanding performance. The division fell just short of those expectations by a margin of more than $20 million. This highlights the high bar set for Google Cloud and its continuous growth within the competitive cloud computing industry.
Diverse Portfolio: The Google Other segment, which encompasses Google Play, Hardware devices, and YouTube subscriptions, recorded a remarkable 20.94% YoY increase in revenue, amounting to $8.34 billion in Q3 2023.
Alphabet employee headcount stood at 182,381 as of September 2023, down from 186,779 compared to the year-ago period. Despite this minor reduction, the company's financial performance speaks volumes about its resilience and market dominance.
Alphabet's remarkable Q3 2023 results underscore its resurgence as a formidable tech giant, proving that it has not only weathered the storm but also emerged stronger than ever. With record-breaking revenues, an unassailable position in advertising, and a burgeoning cloud computing division, Alphabet has demonstrated its ability to adapt, innovate, and thrive in an increasingly competitive industry. As we look to the future, it's clear that Alphabet's focus on artificial intelligence (AI) and its diverse portfolio of services will continue to shape the digital world, leaving us eagerly anticipating what exciting developments lie on the horizon.