The most anticipated shopping season has nearly begun as a majority of retailers across the globe have started advertising in full swing and offering attractive deals and offers to customers. A combined 14-17% growth (for 2013) this holiday season, for the desktop e-commerce and mobile commerce compared to 2012, has been predicted by comScore. Promotional shopping days like Black Friday, Cyber Monday and Green Monday are expected to turn most of global retailers into instant millionaires or billionaires. The key trends likely to be observed for the 2013 shopping season are – an increasing usage of Smartphones & tablets along with Sit-Back Shopping, and Showrooming.
M-commerce Revolutionizes Shopping Trends In The U.S
Increasing usage of Smartphone and tablets has created a revolution in the shopping behavior of consumers and the trend is now shifting towards the m-commerce arena, significantly outpacing e-commerce. More than 50% of Internet users in the U.S are accessing the web using more than one device. Mobile referral traffic rate through Facebook Inc. (NASDAQ:FB), spiked up by a whopping 253% during September 2013. Nearly 1/3rd of the average retailer's monthly traffic is from mobile devices hence it is important to adopt a mobile first strategy for all retailers or brand owners.
If we consider the total time spent (in minutes) by consumers in browsing through retail websites, the traffic on Smartphone outplays desktop and tablets, as the shopping season is approaching closer. The percentage of mobile traffic rose up to 44% in September 2013 which is a 7% surge from the stats recorded in February 2013 (37%). Comparatively, desktop usage dropped from 49% in February 2013 to 41% in September 2013. Although, the tablet usage was significantly lower compared to Smartphone, the average amount spent by a tablet user per device was 20% more than the Smartphone user.
An effective mobile strategy is essential for growing retailers' market shares and reaching customers who are mobile addicts and love shopping from their home or their comfort places. Retail brands must focus on providing incentives which consumers are looking for like discount offers, free gift hampers or free shipping through attractive loyalty programs. Price is a decisive criteria which affect's consumer's buying decisions. Hence retailers must fix the optimum price after studying deals offered by various other competitors.
M-commerce Up Surge Accounts For 15.1% (On An Average) Of Shopping Across Different Categories!
About one-third of the average monthly traffic for top retailer's site now comes exclusively from mobile devices, such as Smartphones and tablets. The m-commerce arena which is expected to cross $31 billion mark by 2016, is booming and is affecting the shopping behavior of consumers. The latest screen size of mobile and tablet devices are now in the comfort range of users to shop or browse through any e-commerce or shopping site.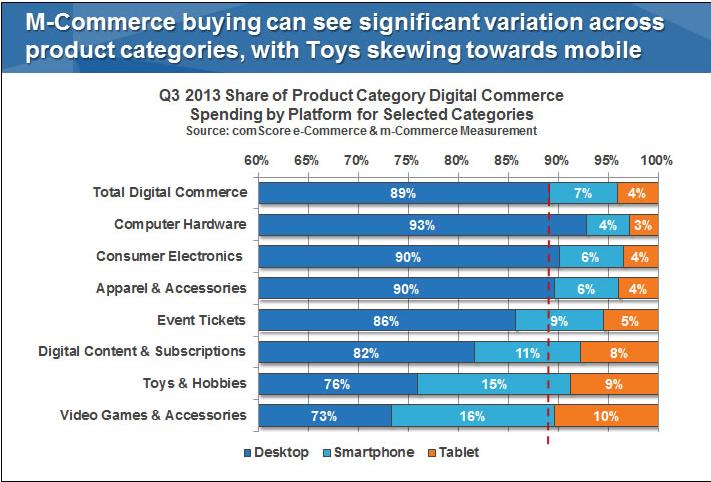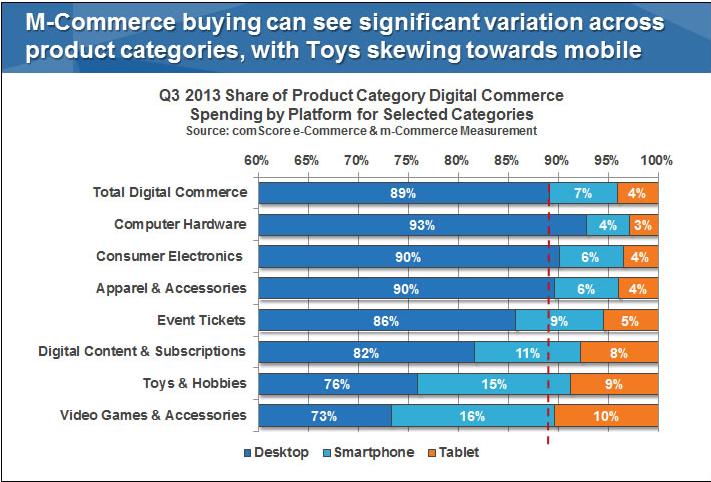 If we analyse the trend across different categories, in case of Video games and accessories, shopping through Smartphone and tablets accounted for a 26% share when compared to 24% (Smartphone and tablet) in case of toys and hobbies. Consumers who love to shop for computer hardware and consumer electronic goods, used desktop more with a share of 93% and 90% respectively. Similar trends were observed in rest of the categories although future trend is likely to sway totally in favor of mobile devices.
Showrooming, the latest trend followed by most of the price sensitive customers, is a practice of examining a merchandise or a product in a traditional brick and mortar retail store without purchasing it, but then shopping the same product online to find a lower price. Usually, the prices offered for consumers in retail stores are higher than online store as it involves a series of commissions for a chain of middle members, agents and various forms of mediators. Many retailers try to compete with online brands by slashing their own prices or by offering incentives like extra warranty periods or free service for a duration longer than the one offered by an online counterpart.
Nearly 76% of consumers indicate that they showroom "sometimes". Smartphone and tablet users who generally follow their brands on miniature devices are well aware of various prices and offers provided by online stores and such users need extra incentives or mouth watering deals to be offered by retail shop owners.