In the last few weeks Apple Inc. (NASDAQ: AAPL) has recorded an improvement in sales figures of the recently introduced iPhone 5S. Surprisingly, the adoption rate for the iPhone 5S is faster than its predecessor iPhone 5 in the first 66 days since launch.
According to the latest report from Fiksu that tracks its Software Development Kits (SDK) being used on an individual iPhone, the iPhone 5S has already captured 7.6% of the total iPhone market within a short span of 2 months since launch. Comparatively, the Apple iPhone 5 was enjoying 6.6% market share in the same duration since launch, last year. The growth has mainly been reported due to less number of manufacturing issues compare to the iPhone 5, claims the report.
Both the iPhone 5S and the iPhone 5C went on sales from September 18, 2013 and since then Fiksu has been tracking the growth of all variants of the iPhone.
Since the introduction of new iPhones, iPhone 4S has lost sizable market compare to other variants.; the markets share of iPhone 4S dived to 28.9% from 33.5% on the launch day of iPhone 5S. Similar trend is also recorded in the iPhone4 market share. However, iPhone 5 hasn't been affected much from the launch of its successor and recorded a negligible loss of 0.3% in its market share to iPhone 5S in last 66 days.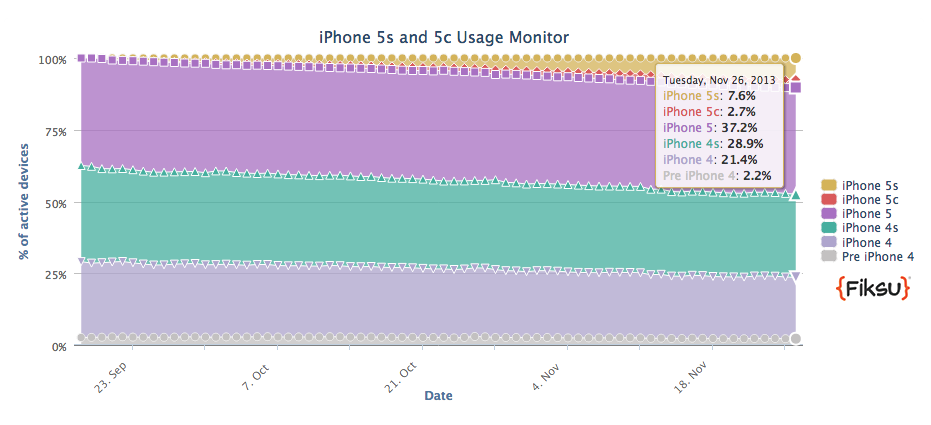 The report also highlights the disappointing show of the iPhone 5C that failed to lure users. While Apple was keeping high-hopes from its low-priced iPhone model, people are yet to show confidence in the iPhone 5C. Since launch, the iPhone 5C has managed to grab only 2.7% of the total iPhone market.
The declining trend in the market share of iPhone 4S and iPhone 4s is bound to grow after recent introduction of trade-in program that allows iPhone 4 and iPhone 4S users to grab minimum 13K discount to iPhone 5C and iPhone 5S.
It would be interesting to see what strategy Apple applies to boost the sales of iPhone 5S and iPhone 5C, especially when rumor mills have announced the launch of bigger screen iPhone 6 in April-May next year.
Source: Fiksu