Facebook Inc. (NASDAQ:FB), in its latest quarter report revealed on Wednesday posted a revenue growth up till $2.016 Billion, an increment by 60% from $1.26 billion in the year-earlier quarter. Its user-base story wasn't satisfactory in developed nations, whereas in developing countries Facebook seemed to be more attractive resulting in overall user-base tally of 1.189 Billion. Nearly 73.5% of Monthly active user (MAUs) accessed Facebook on mobile platform, giving an indication to social media giants that Mobile space is the area to be focused on. Revenue generated through mobile advertising accounted for nearly half of total advertising revenue. Few other interesting figures derived are enumerated below.
Mobile Advertising Accounts For 49% Of Total Advertising Revenue
According to the financial report, Facebook's Q3 revenue rose up to $2.016 Billion, an increase of 11.1% compared to Q2,2013. Revenue from Advertising accounted to $1.8 Billion, out of which 49% is through mobile advertising. If we compare Q3,2013 with a year early quarter (Q3,2012), revenue rose up by stupendous 66%.

Facebook's revenue is undoubtedly increasing on Q-O-Q basis due to introduction of many advertiser friendly features in last 1 year, but the growth is shifting more towards mobile platform. In future, revenue growth will be largely decided on its success in mobile space. It is important for social media titan to focus more on mobile section and introduce features suiting best on small/medium-sized screens.
If we compare Facebook's revenue across different geographical regions, majority of monetary inflow is from developed states like Canada and the United States. This could be attributed to the fact that awareness and marketing potential of Facebook is well-known to advertisers and marketers in developed countries compared to developing nations. Advertising Revenue from the U.S and Canada rose up by whooping $111 Million and rested at $832 Million combined. Revenue from Europe ($482 Million from $451 Million) and Asia pacific ($255 Million from $225 Million) nations too increased significantly.
The above trend is likely to change in future, Facebook's major share of revenue is bound to arise from advertisers of developing countries. The user-base growth from developed nations is very low and awareness of Facebook's marketing reach is increasing amongst advertisers in Asia pacific and rest of the developing world. Both these factors can boost Facebook's revenue growth in future. Facebook has already played a smart move by introduction of Internet.org to target developing markets. Internet.org is likely to help the social media front-runners in increasing their user-base as people won't mind creating a Facebook account to get access to free wi-fi in shopping malls. User-base growth will indirectly promote advertising revenue to the company. Initiatives to venture into local businesses is on full-force by Social media titan.
Monthly Active Users (MAUs) Increased By 2.9%
The social media giant reported 1.189 billion monthly active users as of Sept. 30, up by 2.9% compared to Q2,2013. Its daily active user-base crossed 728 Million mark, up by 29 Million compared to previous Q2,2013.
Emphatic increment took place in user-base of developing countries of Asia-Pacific (up by 12 million) whereas in developed states like the U.S, Canada, stunt growth (increased by 1 Million) was observed. This clearly signifies that Facebook needs to come up with some brain storming features to retract lost active user-base (teenage group) from developed countries.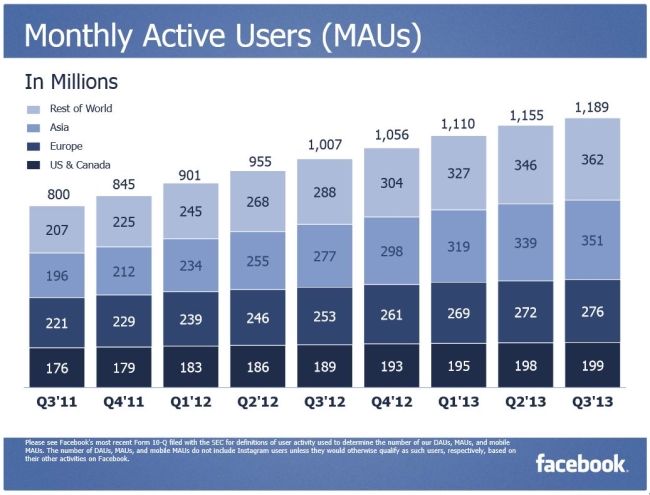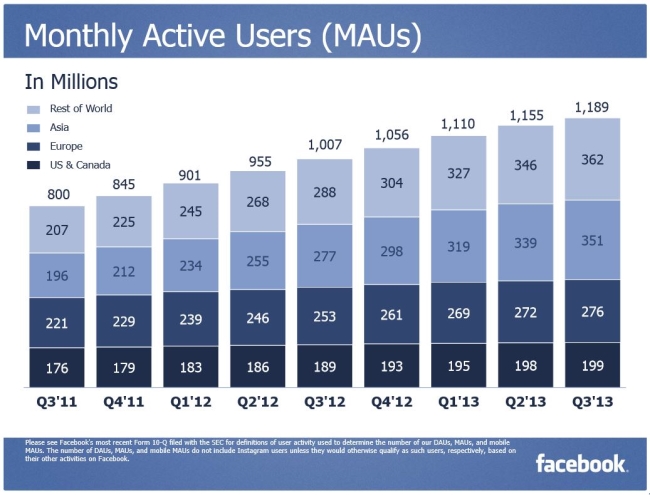 Significant growth took place in user-base of Europe (up by 6 Million) and rest of the world (13 Million). Due to tough competition from micro-blogging specialist Twitter , Tumblr; Facebook is struggling to make its mark amongst teens in developed countries. Privacy concern is yet another major issue for Facebook users (due to graph search).
Mobile Monthly Active Users Is On Rise And Accounts For 73% (874 Million) Of Total User-Base!
Facebook has considerably done well in translating its desktop success on to mobile platform. With advent of Go-mobile era, Facebook has revised its technology and is adjusting well to mobile space. Mobile Monthly active user-base increased up to 874 Million from 819 Million, which means 73.5% of MAUs of Facebook prefer mobile platform. Daily active users (DAUs) on mobile platform increased to 507 Million, an increment by whooping 38 Million compared to Q2,2013.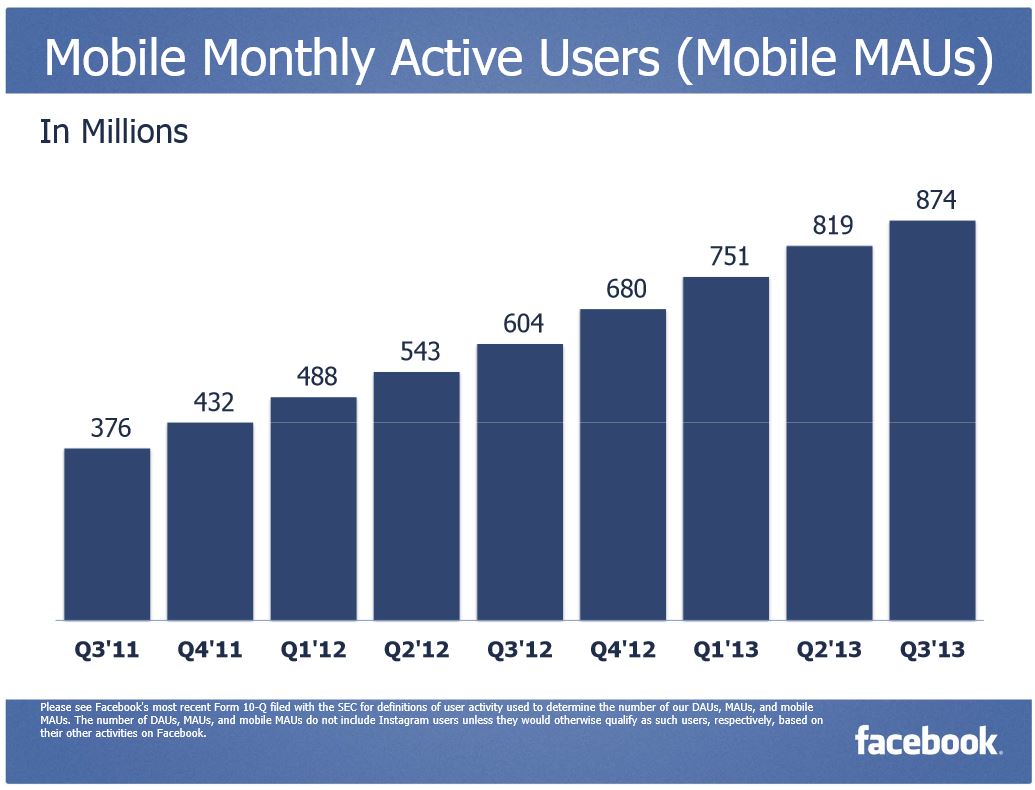 With increasing usage of Tablets and Smartphones, Facebook's active user base on mobile platform is likely to shoot up in future. It is important for Facebook to focus on innovation in mobile space and try attracting both users and advertisers. If we analyze Mobile-Only MAUs of Facebook, progressive increment was observed on Q-O-Q basis. Staggering 35 Million increment took place in Q3 and figure rested at 254 Million; in Q2 mobile-only MAUs count was 219 Million.
Co-Founder and CEO Mark Zuckerberg said in a press release announcing the company's earnings – "For nearly 10 years, Facebook has been on a mission to connect the world. The strong results we achieved this quarter show that we're prepared for the next phase of our company, as we work to bring the next 5 billion people online and into the knowledge economy".
If Facebook has to keep up its winning momentum and be strong in the race, focus on mobile platform is must. Both user-base and advertisers are all diverting towards mobile space. Facebook should work more on improving its features to keep the users(especially from developed nations) interesting. They should fasten their belts and capture more of developing markets in Asia pacific and other developing nations.
Source: Facebook
Images Credit: AllFacebook