With the emergence of an endless number of brands across products of various categories, consumers are effectively choosing /switching brands based on their requirements, buying capacity, additional incentives provided by retail stores and other criteria. Brands are innovating by using various ideas to attract consumers and the provide best possible customer service to inculcate a loyalty factor amongst them for long-term association. Retailer's Loyalty program is one such initiative widely adopted by various brands to provide consumers with incentives like discounts or gift hampers for future purchases.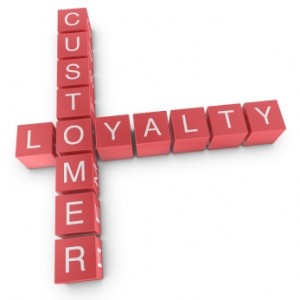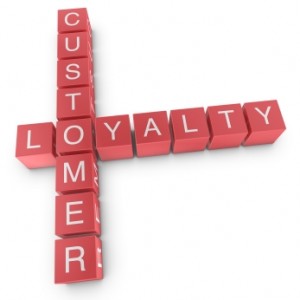 Loyalty program refers to providing purchasing incentives for future purchases to the consumer base of a particular brand. Thereby promoting long-term association. Consumers are given a loyalty card or a points card, which has a bar code or magstripe, which can be scanned easily. By presenting the card, the purchaser is typically entitled to either a discount on the current purchase, or an allotment of points that can be used to avail discounts or gift incentives on future purchases.
84% Of Respondents Prefer Shopping With Retailers Providing Loyalty Programs
The Nielsen Global Survey of Loyalty Sentiment polled more than 29,000 Internet respondents in 58 countries to evaluate consumer views on loyalty levels across 16 categories that range from a fast-moving consumer goods staple to technology products to retail establishments and found that, nearly 59% of all respondents claimed that loyalty programs were available for participation with the retailers where they had shopped. The demand for loyalty programs was exceedingly high for consumers, with about 84% of respondents stating that they were more likely to choose retailers that offered a loyalty program.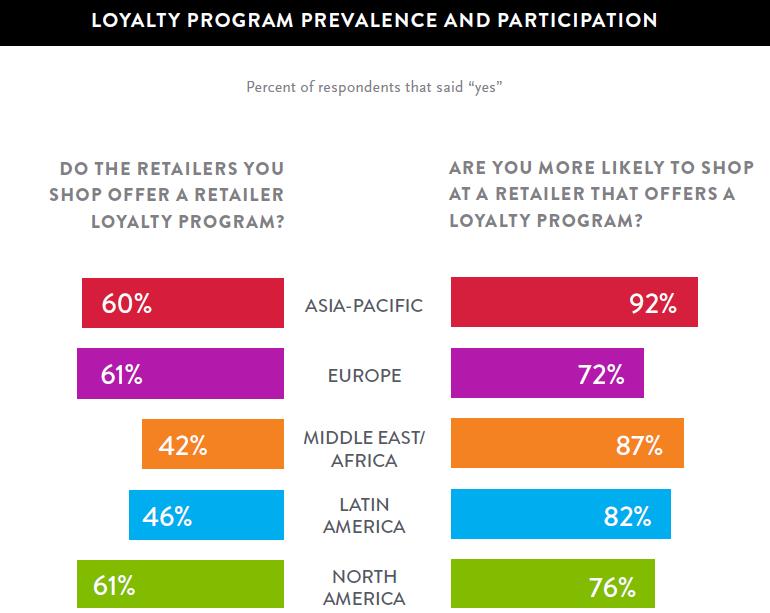 If we break up the stats country-wise, nearly 61% of respondents from North America and Europe agreed that retailers in their region offer a loyalty program. In the Asia-Pacific, the prevalence was about 60% followed by 46% in Latin America and 42% in the Middle East/Africa. Above mentioned Prevalence of loyalty programs in different geographies was further fueled by the consumer's positive response in the region. Nearly 92% of respondents in the Asia-Pacific, 87% in the Middle East/Africa, 82% in Latin America, 76% in North America and 72% in Europe  were in favor of the loyalty programs.
A majority of consumers across the globe prioritize Cost or Price of the product as the main criteria while making their buying decision. The response towards the need of a loyalty program in the developing countries of Asia-Pacific was a whopping 92% followed by 87% in Africa. The consumers in developing markets are more price conservative as a majority of them belong to the middle class. They favor incentives like loyalty cards which are likely to help them economically in the long run. Also they do not prefer to switch brands very often, hence loyalty programs suit them best.
"While the concept of loyalty is nothing new, we are seeing a significant surge in retailers—and particularly those in developing economies – investing in loyalty programs that give them valuable insight into how to better meet customer needs. Savvy retailers are mining the data and looking for new and innovative ways to achieve the benefits most important to their customers",said Currie, senior vice president Global Loyalty, Nielsen.
 75% Of The Folks Prefer Discounts And Free Gifts As Part Of Loyalty Program Incentives!
Undoubtedly, a majority of retail brands are likely to introduce the loyalty program to promote long-term association with consumers. But it is important to analyze the requirements or desired incentives of consumers before framing the policies of such loyalty programs. Nearly three-fourth of folks across the globe prefer discounts or free giveaways as incentives for loyalty programs.
About 82% of respondents from North America and Europe belonged to the discount/free products desiring group, whereas in Asia and Africa, the tally rested at 70% and 74% respectively. Almost all the figures in the below graph for discounted or free products are marginally close. There is hardly any consumer who would hesitate to opt for an incentive which is bound to save his hard-earned cash. Hence brands must focus on promoting discounts or free products as incentives for loyalty programs.
Enhanced customer service was important to 44% of global respondents. People generally lack patience and expect response to their queries at the earliest. Good customer service was especially important among more than half of Latin American (59%) and Asia-Pacific (53%) respondents. People in developing nations generally avoid switching brands (most of them belong to the middle class group) often, hence they prefer retailers who provide good customer service to ensure prolonged durability of purchased goods. Retailers of emerging markets should focus more on customer service to attract consumers and set up a brand recognition of their own.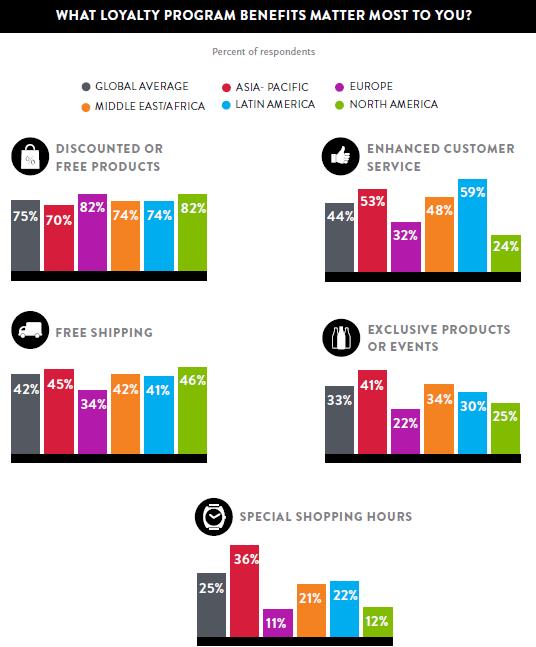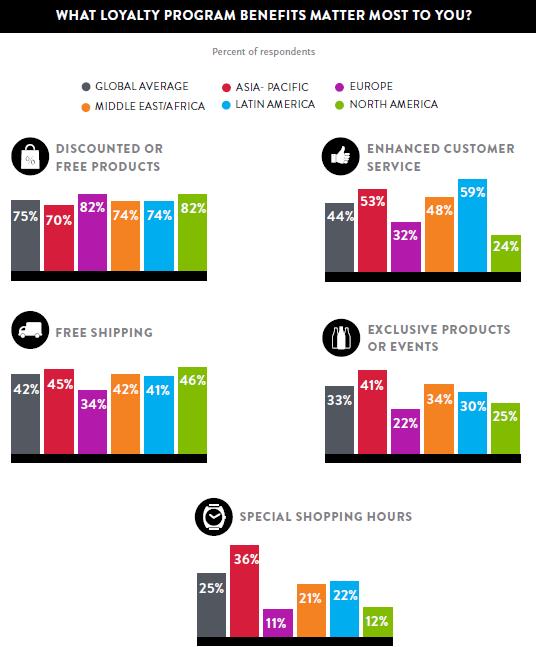 Free shipping incentives were opted by 42% of global respondents, whereas in North America, 46% of respondents and in Asia Pacific, 45% of respondents expect free shipping. Exclusive deals and special shopping hours enticed one-third (33%) and one-fourth (25%) of global respondents respectively. If we look at the stats, demography wise, then 41% of Asia-Pacific and 34% of Middle-East and Africa respondents said that exclusive deals  mattered the most. Special shopping hours was preferred by 36% of Asia-Pacific respondents, 22% of Latin Americans and 21% of Middle-East and African respondents. Where as the global  average rested at 25%.
Success of a brand or retail store is driven mainly by converting purchasers of a product to identifiable loyal customers. Three main criteria for  customer loyalty factors are active involvement from the Management in execution of the program and in an effective manner, Program Participant Communications and Automated Tracking Capabilities – combination of all these three lead to the success of loyalty programs. Marketers should thrive on attracting users to register for loyalty programs and provide incentives after analyzing their requirements as the consumer behavior varies from one region to another.
"In markets where loyalty programs are long established, customers tend to be savvy about copy-cat promotional offerings that don't offer unique advantages. In developed loyalty markets, such as in Europe and North America, retailers and manufacturers need to work together to offer exclusive rewards that cut through the clutter in an environment where consumers are falling out of love with shopping mega-format stores. New and innovative concepts, especially in the online space, that connect with how consumers want to shop are proving to be most effective." said Currie, senior vice president Global Loyalty, Nielsen.
Source : Nielsen