Social media obsession is one of the most widespread diseases amongst webs users across the globe. Nowadays, you may find people referring to each other as a Facebook Inc. (NASDAQ:FB) friend, a Twitter Inc. (NYSE:TWTR) follower or one amongst the Google Plus (social media arm of Google Inc. (NASDAQ:GOOG)) circles rather than digging deep into the actual connection or relation between them. Social media has caught the eyes of every single web user irrespective of age group due to its impressive features and vast scope of applications/usage in different fields. A leading provider of interactive marketing solutions Search Engine Journal compiled details and trends pertaining to social media obsession trends recently.
Google Plus Has Close To 1 Billion Registered Users!
Various top-notch networking sites like Facebook, Google Plus, Twitter and Instagram have amassed millions of users with Facebook emerging as the leader in the arena hosting a social interaction platform for over 1.189 billion monthly active users and is currently on a mission to add an extra feather to its cap by bringing more than 5 billion users via its Internet.org launch. Google Plus has close to 1 billion registered users, San Francisco based micro-blogging site Twitter has over 232 million active users and Facebook owned photo sharing app Instagram is actively used for posting soothing vintage looking images by over 150 million users. Websites like Orkut and MySpace were successfully outperformed by the above mentioned networking sites due to increasing internet penetration and social media obsession amongst web users.
Even though the messenger apps have recently stolen the thunder from social networking sites and have attracted teens worldwide, still, there are millions of users who prefer social media sites due to their vastly engaging applications like news consumption, brand engagement and a lot more which are devoid from messenger apps.
If we analyze the graph above, the social media titan Facebook has continuously scaled higher in terms of active user base Y-O-Y, mainly because Zuckerberg's networking site has had a huge list of attractive features compared to other sites. Similar was the case with the registered user base tally of Google Plus which rose exponentially since launch, mainly due to the Search giant forcing its users to register an account for accessing other Google products like YouTube commenting, placing reviews on Google City Expert program, brand engagement on +Post Ads and also default profile set by Google for all its Gmail users.
The 140 character micro-blogging site Twitter with its unique customs and traditions is the most preferred by niche user groups and is widely adopted by media firms and eminent personalities to accelerate the pace of news spread across the globe. Pinterest with 70 million users, has over 80% of shared content, Instagram which was designated as one of the fastest growing social media sites has over 150 million users.
Social Media Obsession Continues On Mobile Platform As 71% Of Users Utilize Mobile Devices To Access Social Media.
The increasing usage of internet on mobile devices like Smartphones and tablets has further lead to the rise in social media obsession. More than 71% of users utilize a mobile device to access social media. People are so attached to mobiles that on an average a user checks his mobile over 150 times or every 6.5 minutes and over 20% of internet usage time is on social media (of which 15.8% is spent on Facebook).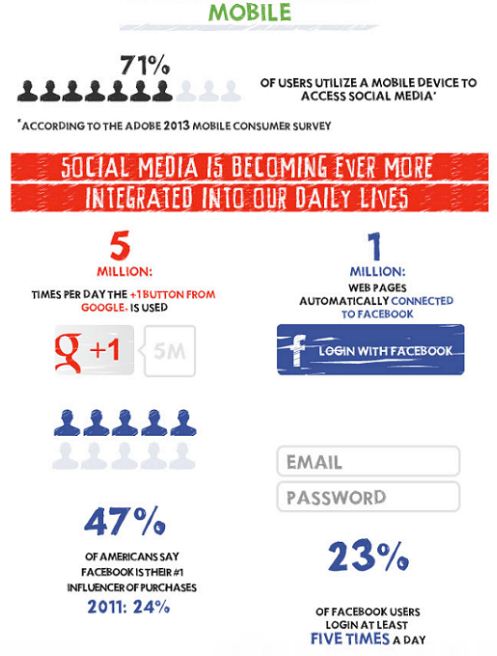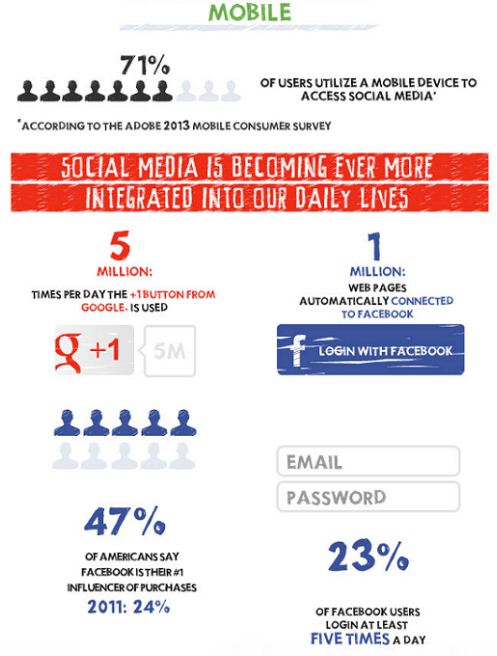 The +1 button on the Search giant's social media site is used 5 million times a day and every 8 seconds a new user signs up on the G+ platform. About 1 million web pages are automatically connected to Facebook, 23% of Facebook users login at least 5 times a day and about 47% of Americans are influenced by Facebook while making their buying decisions. In one Internet minute nearly 277,000 Facebook logins occur and over 6 million Facebook views are registered. Not just that, in one minute more than 100+ LinkedIn Corp. (NYSE:LNKD) accounts and 320+ new Twitter accounts are created and over 1.3 million video views are registered on the YouTube website.
More than 93% of marketers now use social media for businesses, and over 70% of brands have G+ accounts. Nearly 70% of marketers have successfully embraced Facebook for customer acquisition and 34% of marketers have used Twitter to generate leads. Brand marketers are increasingly adopting social networking sites as they provide direct interaction with customers and evoke engagement through various innovative ad features introduced by networking sites.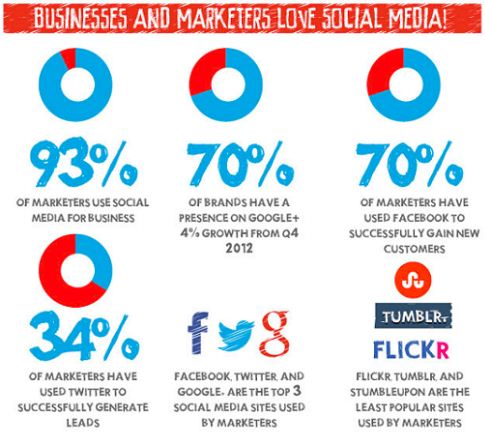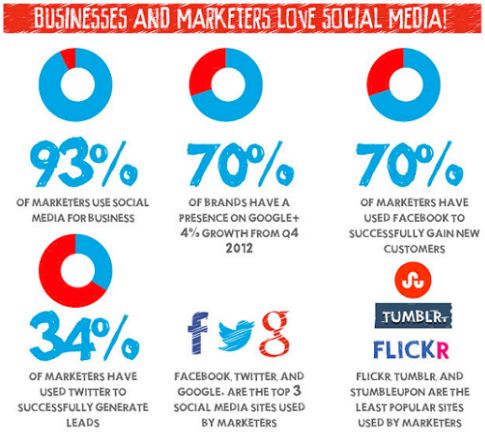 Consumers are increasingly using Facebook, Twitter and other sites for brand engagement. They prefer placing their views and complaints on the site as the chances of getting response at quick sessions is higher on networking sites to mass impressions of every post/complaint.
In major countries like the U.S nearly 16 minutes per hour is spent on social media networks while in Australia close to 14 minutes per hour is spent on networking websites. In the U.K about 13 minutes per hour is spent on accessing various social networking sites. People are highly addicted to networking sites and persistently keep checking their mobile phones for browsing through notifications, messages and news on networking sites.