Google Inc. (NASDAQ:GOOG) is making desperate attempts to surpass the social media titan Facebook Inc. (NASDAQ:FB) in social media arena, in terms of ad-revenue and user base. Although, Google's social media site Google Plus is ad-free, the Search giant recently introduced social ads, known as +Post Ads, which provide a unique opportunity for marketers to showcase their Google Plus post in the form of ads on Google's display network. Web users can engage with the web ads by voicing their opinions in the form of comments and follows, within the same browser. Google has cleverly leveraged upon its massive ad network and kept the infant social media front (Google Plus) ad-free (the ad interaction generated will not be visible on the Google Plus platform). Brands will now be able to promote photos, videos, Google Hangouts or group chat sessions hosted within Google+ inside the web ads.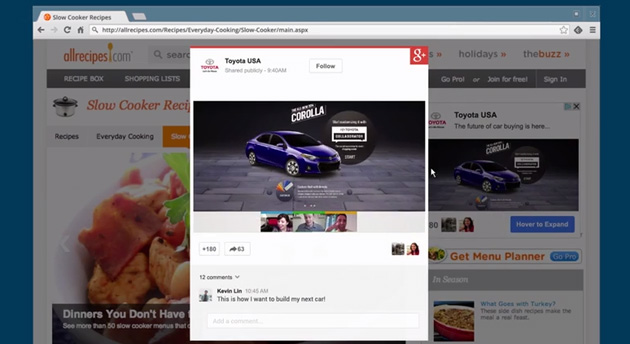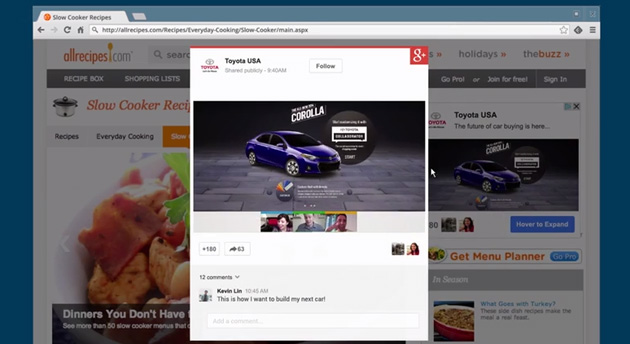 +Post Ads Promote Visibility Over Google's Entire Display Network! Likely To Increase Ad Engagement Rate!
Web ads hardly promote any social networking or provoke any discussion for users who wish to interact within the same web page displaying ads. Google's latest +post ads are an innovative move using which brand advertisers can promote their Google Plus posts (outside the Google Plus platform) on Google's display network, which hosts more than 2 million websites. Currently, this feature is being tested only with Toyota, the French telecom company Orange, Mondelez brands Ritz Crackers and Cadbury U.K., and is likely to be rolled out for other brands after analyzing its performance.
If a user is looking to buy an electronic good from Flipkart, a Snapdeal ad is likely to be displayed which will display the Google Plus post of Snapdeal (or whichever advertiser wishes to promote) related to offers and deals on electronic goods. It will also have an option to post comments on the displayed web ad (of Snapdeal) and interact with other users who are interested in buying or discussing about the same product.
The ads are quite similar to Google Plus, only difference is that the interactions will remain within the ad network. This initiative is likely to trigger better engagement for brand ads when compared to a mere Like, Share plug-in (of Facebook) or Follow option (of Twitter Inc. (NYSE:TWTR)) on brand websites. The sales pitch or content posted by brand advertisers is converted into an interactive and lively conversation. An Advertiser will only pay when a user hovers over the +Post ad for 2 seconds, which will cause it to expand on the screen. Although, certain brand lovers enjoy interacting with social media ads on Facebook and Twitter, for some users ads within news feed is likely to interrupt their social networking experience. Whereas this format of social ads (+Post Ads) are more favorable for advertiser and users, engagement is bound to increase as the users who visit brand websites are likely to shop and won't mind more relevant ads showcasing similar products, which will help in interacting with other consumers and aid them in better selection of product.
Google's director of global brand solutions Gretchen Howard said that – "+Post ads are a result of the company's ongoing effort to make its products more social. Over the past little over a year, we've been really thinking about how we build out sharing and recommendations into all of our ad products. We thought the next logical thing would be for brand advertisers to have conversations within the ad."
Google's social ads have indeed pressurized other social networking giants like Facebook to harness the platform outside its own social media network for brand advertising in a more interactive format. Although, Facebook had begun experimenting with targeting people inside other mobile apps using the Facebook login, but there hasn't been much progress after the initial test drive. There are rumors of Facebook running some ads on Zynga's website that use the Facebook login for targeting, but as of now Facebook has hardly anything to offer to brands outside its own platform.
+Post ads are supposedly more interactive than traditional display ads and an increasing number of brands are likely to adopt Google Plus to encash this unique advertising format and increase sales. Even consumers are likely to use the +post ads feature and engage actively as all the brand reviews will be packed within a single social ad, making the job easier for those who are bad at product selection. Instead of sandwiching the ads between the news feed and tweets, +post ads is a much more systematic approach for advertising and is more engaging for users.
http://www.youtube.com/watch?v=4yCUgx7H2zo
Source: Ad Age