Mark Zuckerberg, CEO Facebook Inc. (NASDAQ:FB), announced the launch of internet.org, partnering with various other companies in a goal of making internet cheaper for the next 5 billion users. Nokia, Samsung, Ericsson, Opera, Qualcomm and Mediatek are the ones that have already joined the consortium. One can arguably wonder why internet giants Google Inc. (NASDAQ:GOOG), Microsoft Corporation (NASDAQ:MSFT), Yahoo! Inc. (NASDAQ:YHOO) or world's best tech brand Apple Inc. (NASDAQ:AAPL) are staying away from this consortium. One can think of millions of possibilities and churn the rumor mill, but as you all we are also in the dark. Zuckerberg aims to bring the rest of the world on the internet and make them a part of knowledge sharing world. But is it the real motto: "making people part of information sharing world". I guess we need to wait and watch. But today we will try to uncover few hidden agendas of the whole 'exercise'.
By June 2013, Internet users around the world is 39%. Below given is the map of Internet Users World Map for 2012: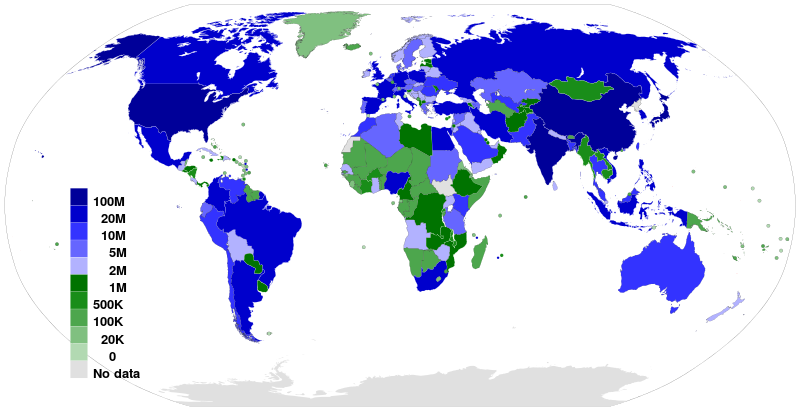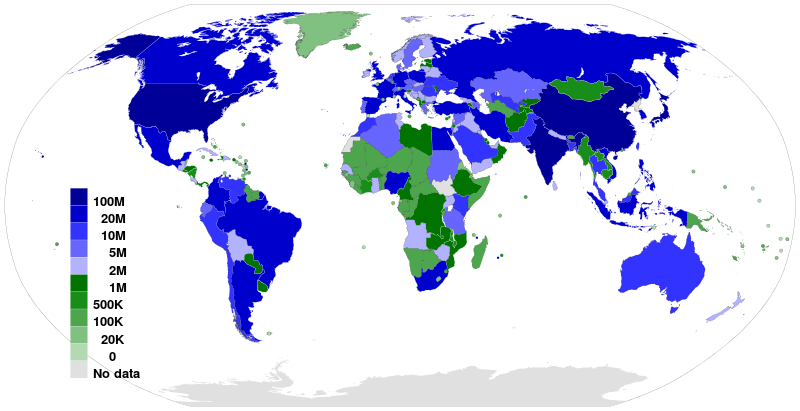 In developing nations only 31% people use the internet. "There are huge barriers in developing countries to connecting and joining the knowledge economy," said Zuckerberg, as he announced the new alliance. "Internet.org brings together a global partnership that will work to overcome these challenges, including making internet access available to those who cannot currently afford it." Hoping those barriers will get reduced as the consortium moves forward.
In a white paper talking in details about Internet.org, Zuckerberg tells how Internet is contributing to the GDP in developed countries. He also talked about how the world is in transition stage from Industrial economy to Knowledge economy. It says that the future is in information. So it is imperative to connect the left ones and bring them at the same level. The white paper uses the following graph from a study done by Mckinsey in 2011, to show how internet is contributing to the GDP in developed nation.
Zuckerberg aims to bring the world at the same level of knowledge and also help them learn new findings, connect with people using internet (read Facebook). Does he really trying to bring people on internet or on Facebook? Is he really keen on increasing the penetration of Internet or increasing the user base of Facebook? Zuckerberg quoted " If we wanted to focus on just making money, the right strategy for us would be to focus solely on the developed countries and the people already on Facebook, increasing their engagement rather than having these other folks join. Our service is free, and there aren't developed ad markets in a lot of these countries. So for a very long time this may not be profitable for us. But I'm willing to make that investment because I think it's really good for the world." Ain't Zuckerberg thinks the media as naive. We all know there is no market left for him in developed nations and Facebook has started hitting the wall in those countries; those who wanted to join has already joined. In fact, in few countries the growth graph has started moving towards downwards. The ads market, the biggest revenue source for Facebook, has been saturating for last few quarters in developed countries. And for the companies having operations in developing countries Facebook is yet to win their confidence for ROI. Facebook has to have new markets to ensure its growth and in many countries the market need to be developed. Therefore it is a nice move to solve the problem first and ultimately increase its user base. Hence increase the revenue torrent. It is nice to see companies creating opportunities for themselves and in turn helping the social infra to get developed. Hopefully it doesn't turn out to be a solely profit-making consortium and the mankind will be benefited out of this initiative, not just the corporate and politicians.
The world can't simply wait and watch on this. If it is really hold much of value for the world, as claimed by Zuckerberg himself, then he needs to show signs and positivity. And, he needs to come up with a full plan and show the perks. With corporate giants, associated in this initiatives, let's hope it doesn't become a fancy club to adore the big names from the corporate world at the cost of normal people and their dreams; fingers crossed. Let's visualize a world with free or minimum data usage charges and bet on its implementation.
Please use the comment section below and give us your inputs on what do you think of this initiative and how the world or people, as they say, can get aid out of it.