The social media titan Facebook Inc. (NASDAQ:FB) upheld its title of networking giant by yet another emphatic revenue records in Q4 of 2013. Facebook Q4 earnings report revealed revenue figure surpassing $2.5 billion mark which is 11% more than analysts' predicted figure of $2.33 billion, the overall revenue tally now rests at $2.59 billion. User growth (MAUs – monthly user base) was on the steady rise with 16% upgrade at 1.228 billion compared to Q4 2012 figure of 1.056 billion. Of the total monthly active user base of Facebook, 76.9% accessed the networking site from mobile devices.
Facebook Revenue Tally Rested At A Whopping $2.59 Billion,
The social media titan Facebook continued to impress with its mind-boggling revenue figure which is zooming higher and higher Y-O-Y. According to Facebook Q4 earnings report, revenue figure of $2.585 billion was recorded in which advertising revenue accounted for $2.34 billion. Nearly 53% of total revenue was from the mobile section. Earlier in Q3 2013, 49% of overall revenue was from mobile arena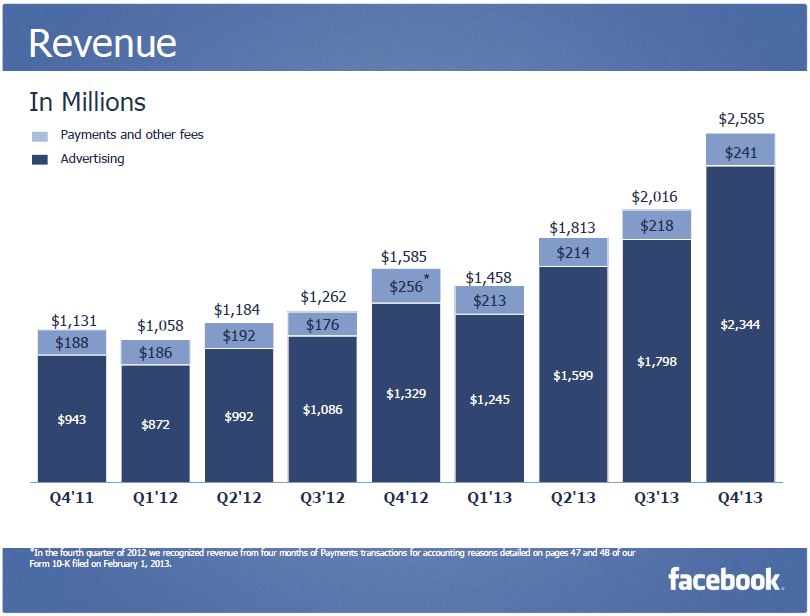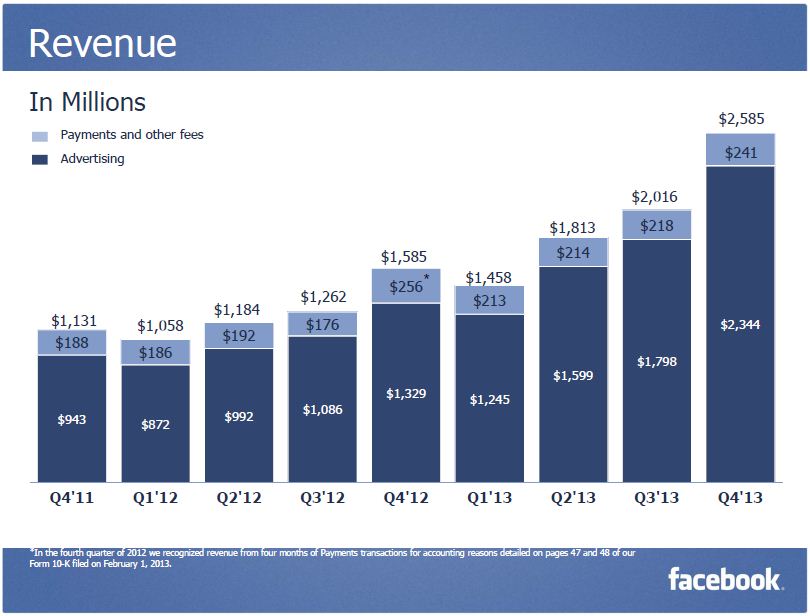 If we analyse bar graph above, 2013 has been quite blistering for the networking giant with revenue figure zooming higher from $1.45 billion in Q1 2013 to $2.59 billion in last quarter of the year, an increment by impressive 78.6%. If we compare revenue with earlier quarters, the Q4 figure of $2.59 billion was 28% more than the Q3 figure of $2.016 billion and about 63% more than Q4, 2012.
"It was a great end to the year for Facebook," said Mark Zuckerberg, Facebook founder and CEO in the earnings release. "We're looking forward to our next decade and to helping connect the rest of the world."
Revenue From The U.S And Canada Surpasses $1 Billion Mark, Revenue Share Of Developing Economies Still A Concern For Facebook!
If we consider revenue tally based on geography, things haven't worked that well for Facebook as the bulk of revenue is from developed states of the U.S and Canada. As per Facebook Q4 earnings report, nearly $1.2 billion which is 46% of overall Q4 revenue is from the developed states of the U.S and Canada. Advertisers from European countries too embraced Facebook at increasing rate contributing $727 million in revenue which is 35% more than Q3 2013 figure.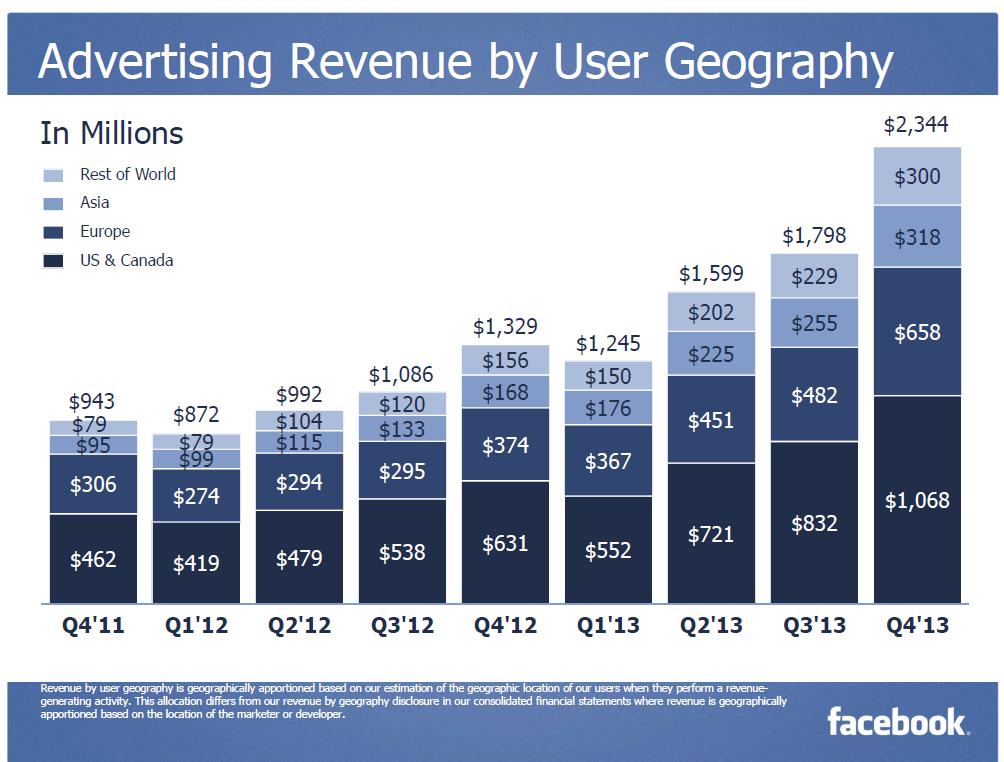 Advertising brands from Asia and rest of the world too increased their investment on Facebook advertising and contributed $618 million or 26% of the overall Q4 revenue of the social media titan. This figure although is not less significant but is much lesser when compared to user base from these countries. The concentration of revenue within certain developed regions has always been a matter of concern for the social media giant. If we consider average revenue per user (ARPU) in the U.S and Canada, the figure is as high as $6.03 (up by 24%), in Europe ARPU is $2.61 which is close by worldwide average ARPU of $2.14. In Asia, ARPU factor was about $0.95and in rest of the world about $0.84.
Monthly Active Users Increased By 3.2% Compared To Q3 2013!
If we consider MAUs on Facebook, the figure rose up by 16.2% to 1.228 billion compared to 1.056 billion a year ago same quarter. When compared with Q3 of 2013, increment recorded was mere 3.2%. An increment in MAUs was quite low of about 2 million in the U.S and Canada, whereas in the Asia and Europe the figure rested at 368 million ( an increase of 23% compared to Q4 2012) and 282 million (up by 8.04% compared to Q4 2012) respectively.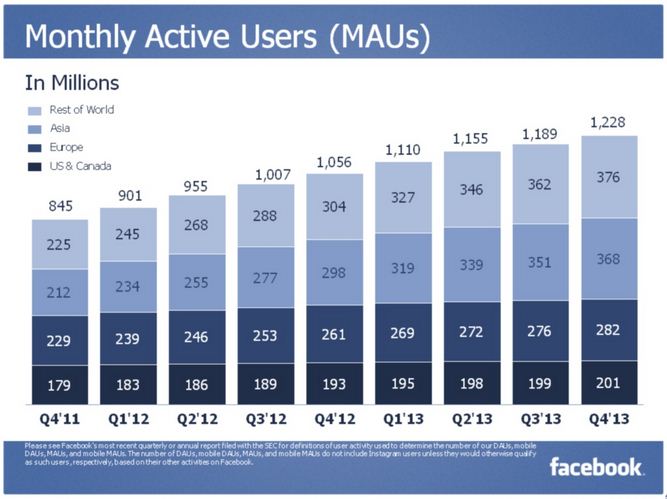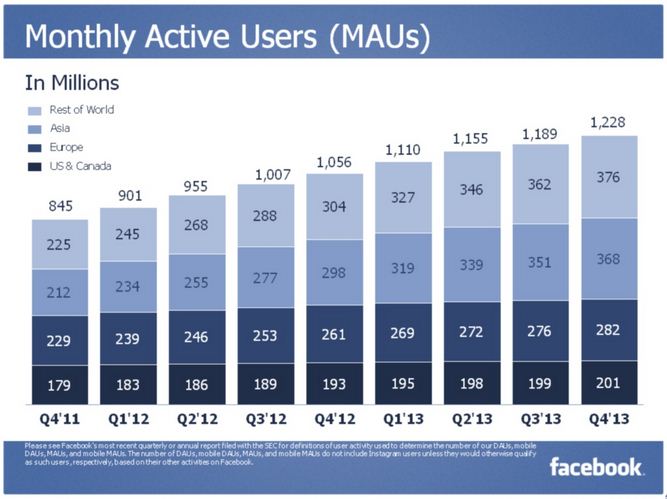 MAUs from Asia and rest of the world account for 29.9% and 22% respectively. The developed states of the U.S and Canada which drive in about 46% of overall revenue accounted for mere 16.3% of overall monthly active users.
Daily active users tally surged up to 757 million in Q4 2013, an increase of 3.9% compared to Q3 2013. Yet again the bulk of DAUs' share was owned by users in Asia and Rest of the world. Asians accounted for 26.4% of daily active users, Europe for 25.7% and the U.S and Canada for 19.4% combined. Daily active users rose up by 22.4% in last one year (Q4 2012).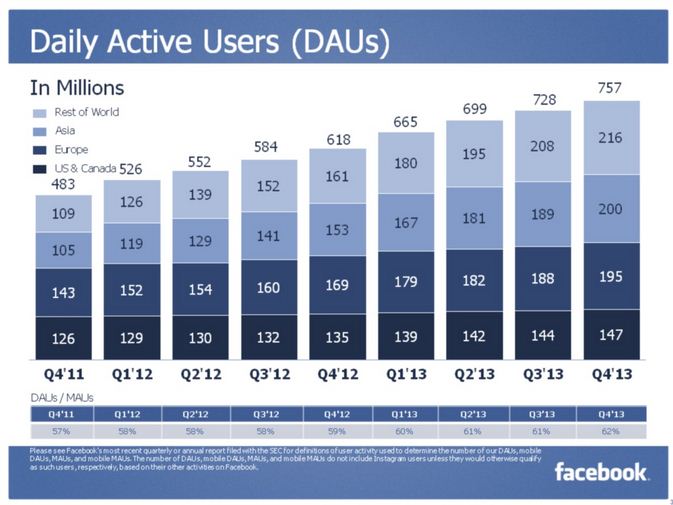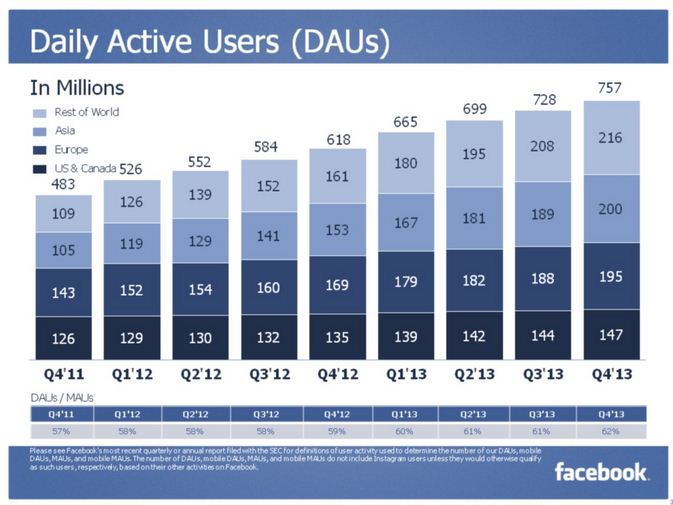 Mobile MAUs Account For 77% Of Total MAUs Of Facebook.
Increasing penetration of smartphone and tablets as well as the continuous evolvement of the technology powering Facebook mobile has led to a steady rise in Mobile MAUs figure. Currently, Facebook has 76.9% or 945 million of its total user base on the mobile platform. Mobile MAUs increased by 38% compared to a year ago quarter, whereas it increased by 8.1% when compared to Q3 of 2013.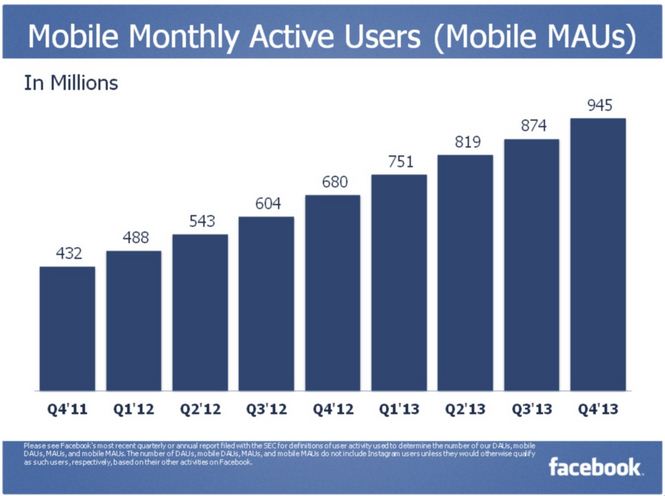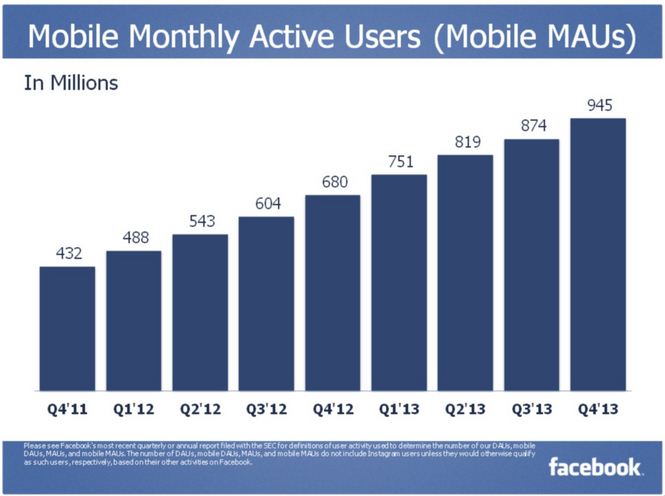 Mobile Only MAUs Increased By 88.5% In Last 1 Year!
If we analyse growth in terms of mobile only Facebook users, tally rose up from 254 million in Q3 2013 to 296 million in Q4 2013. When compared to Q4 of 2012, increment recorded was whopping 88.5%. This figure is bound to rise in future as more and more number of people are adopting social networking site on the mobile platform. It is vital for networking sites to revolutionize their mobile website and make sure that users' experience is enriched and all features available for the desktop website are present on mobile.