The easy-to-use factor and lucrative browsing features of various social media sites like Facebook Inc. (NASDAQ:FB), Twitter Inc. (NYSE:TWTR), LinkedIn Corp. (NYSE:LNKD), Pinterest and Instagram have not only pocketed young teens but have also grabbed the attention of higher age group adults. More than 73% of online adults now use one or the other social networking site to remain connected with their close peers and for other benefits. Adoption of niche sites like Pinterest, Instagram and LinkedIn Corp is on the rise but far behind the social media titan Facebook. A majority of adults are yet to completely assimilate or explore the in and out of Facebook, hence they still find it exciting. Also adult groups aren't early adopters, when it comes to getting hands-on with the latest in-trend social networking site.
Nearly 42% Of Online Adults Use Multiple Social Networking Sites.
Social media networks are no more a place solely for teens, as adults are increasingly adopting various social media sites. Pew Internet, a leading information provider on the issues, attitudes and trends pertaining to the U.S and rest of the world, surveyed 1,801 adults and discovered that 73% are active on at least one social network and about 42% of online adults use multiple social networking sites.
Facebook was the leading social media network adopted by nearly 71% of online adults, an increment by 67% compared to the previous year. LinkedIn was next in line with 22% (up by 2% compared to a-year-ago statistics) of online adults adopting the site to expand their professional network. Pin board style photo sharing website Pinterest with its lucrative photos attracted 21% of online adults especially women to engage and interact with users of similar interest areas. Twitter was adopted by 18%  of online adults and Instagram by 17%.
Although, Facebook is losing its luster amongst teens, adults are increasingly adopting the platform. Lack of privacy due to increasing adoption of platforms by adults is one prime reason behind the teen hiatus on Facebook. Also, the rise of various other niche networks, which are more suited to specific tasks or purpose with which users visit the niche sites, is another reason why teens are swaying away to other websites and apps.
Online adults group had discovered the flavour of Facebook rather late, hence it is increasingly being adopted and the figure is likely to rise for a few more years. LinkedIn was the second most popular, as a majority of online adults, being amongst the bread winners for their family or college graduates or higher education aspirants, generally like to keep themselves updated with latest job postings, knowledgeable information and spread their professional network.
Pinterest is widely used by online adults (especially women) as it provides better insights, information and browsing experience in form of lucrative images related to topics of a particular interest. Nearly 18% of online adults who are busy working during the day, generally sneak into their mobile or desktop devices and browse through tweets on Twitter, as they consume less time to go through unlike the lengthy status updates on Facebook.
Facebook Was A Daily-Go-To Site For 63% Of Online Adults, Instagram By 57% And Twitter For 46%!
When online adults were asked about their frequency of usage for the above discussed social media sites, results obtained were quite interesting. Facebook was undoubtedly leading with 63% of users logging into their profiles daily, about 22% weekly and 14% seldom. Instagram was second in line surpassing all the other major sites like Twitter, LinkedIn and Pinterest with 57% of online adults browsing through engaging content on a daily basis, 20% on weekly and 22% with an even lesser frequency.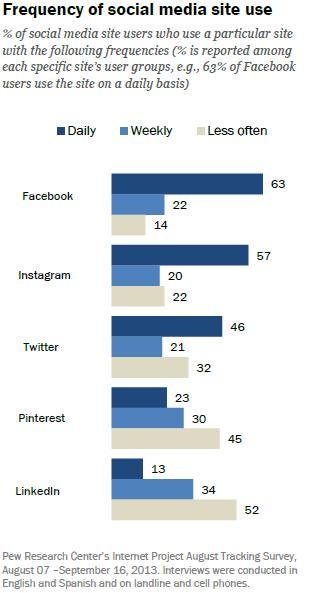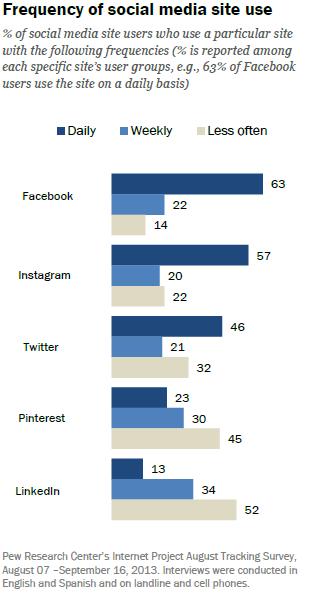 About 46% of online adults were daily active users of Twitter and about 21% checked or posted tweets on a weekly basis. Pinterest was opted as a daily-go-to social media site by 23% of users, 30% visited weekly and 45% with frequency lesser than 7 days.
Online adults generally prefer remaining active on Facebook to remain connected with their relatives, siblings and other close peers. The news feed revamp which provides informative and relevant articles have helped them in keeping themselves updated. They are generally slow in adapting to the latest social media sites prevailing in the market and thus they are still relying on Facebook. Also the fact that Facebook is easy-to-use and is adopted by a majority of folks they know, has kept them active on the site.
Frequency of usage on Pinterest and LinkedIn was comparatively less (lesser than frequency of daily-usage), as people generally browse through LinkedIn for job postings or read any informative business related content and develop business connections which are less variant on a daily basis. Adults refer the Pinterest site only when they are looking to gain more information or shop for their desired brand products. Nearly 92% of Pinterest users claim that their holiday shopping has become less stressful.