Social media titan, Facebook Inc. (NASDAQ:FB) is continuously making changes to its NewsFeed algorithm to provide users with more relevant news and enrich their browsing experience. Facebook has analyzed engagement rates by users for various types of posts in their news feed and is trying to provide news which users enjoy reading the most. Referral traffic through Facebook to media publisher's site spiked up by 170% in the last 1 year, which indicates the demand for news content related to latest trends and updates. Social media giant recently revamped its news feed algorithm to provide users with more relevant articles in their NewsFeed, and it updated its Story Bumping feature to highlight stories with new comments.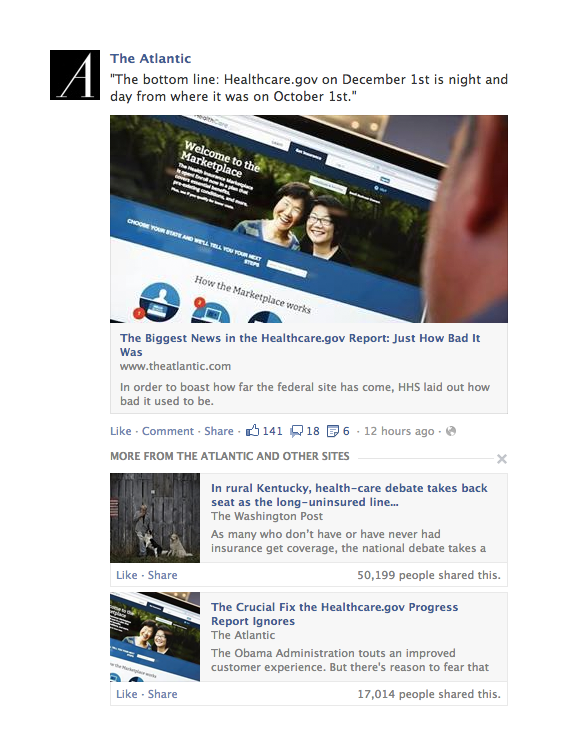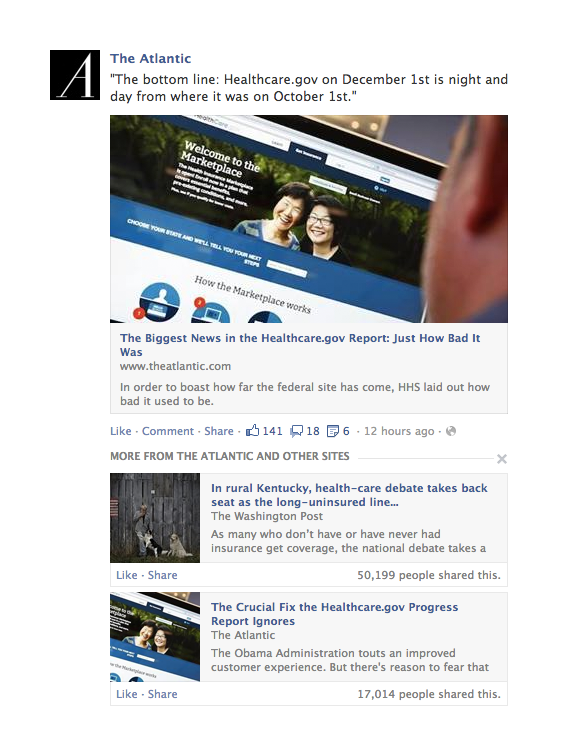 Media Publisher Sites Saw Facebook Referral Traffic Rate As High As 1081%! Facebook Mobile Users Love Browsing For Latest News And Trends!
Facebook conducted survey with 29 media publishers for a 7 day period to test the engagement rate by users with articles pertaining to news updates and latest trends. Results were quite positively diverging towards Facebook providing it a new direction to emerge as a media powerhouse in conveying news related to various fields to its users. Media publishers had a flourishing year with regards to the engagement from Facebook users, as average referral traffic from Facebook to media sites has increased by over 170% in the last 12 months. From September 2012 to September 2013, TIME's referral traffic has increased 208%, BuzzFeed is up by 855%. and Bleacher Report has increased by a whopping 1081%. Posting news updates from media publishers more frequently has increased the referral traffic by over 80%. Engagement in the form of Likes per post increased by over 10% and the number of net fans per page went up by 49%.
Facebook in its Newsroom Blog commented that – '' People use Facebook to share and connect, including staying current on the latest news, whether it's about their favourite celebrity or what's happening in the world. We've noticed that people enjoy seeing articles on Facebook, and so we're now paying closer attention to what makes for high quality content, and how often articles are clicked on from News Feed on mobile. What this means is that you may start to notice links to articles a little more often (particularly on mobile)''
People love browsing through high quality content articles about current events, sports and entertainment, hence Facebook enhanced its platform for users to provide all their needs within the site. To make the experience even more unique and engaging, Facebook will show its users additional articles similar to the ones they had just read. After users click on a particular article link, 3 more related articles will be shown directly below the NewsFeed post which might interest users to engage.
To make sure that users don't miss out on any news, the bumping feature has also updated, which will highlight stories with new comments. Users after having read a particular story hardly bother to check if any of their friends have evoked any discussion related to it, latest update will resurface the article with new comments from friends so that users can also participate and voice their opinions. According to Pew research center, Facebook was the leading social media site for more than 30% of the U.S adults for news consumption.
Facebook Trying To Emerge As A Complete Package Website Or Intentions Of Monetization Behind The News Feed Revamp ?
Increasing penetration of internet on Smartphones has shifted a major part of web surfing from desktop to mobile devices. Facebook mobile has also revamped its features well to provide soothing experience to users to browse through its site. Both these factors have contributed to the increase in news consumption on Facebook mobile. Facebook has magnificently paced in driving mobile referral traffic rate to websites with an increase of 253% in last one year.
Facebook recently has implemented a lot of changes to provide users with all possible needs of the day, and enhance itself as a complete package website such that whatever is needed by the users, their first preference would be Facebook. The increasing demand for news content by people and rising usage of Smartphone and tablet devices are likely to up surge news consumption rate in days to come.
Yet another motto behind the move could be – monetization and shift of networking trend to messaging apps. Facebook hardly introduces any features which are not monetizable. Although, right now Facebook is providing news content to its users through media publishers but at a later stage they are likely to monetize this feature and media publishers might have to invest monetary funds to be the first ones to outbreak news information to its readers. There is a lot of demand for news amongst public, media publishers are striving hard to be the first one to broadcast the news to public – Facebook might leverage this fact and monetize this feature to educate its 1.189 billion users with news from media publishers with maximum investment for ramping up their news updates on top of the user's news feed.
Another prime reason could be the shift of networking activity to messenger apps. WeChat (400 million users), WhatsApp (300 million users), Line (260 million users) and similar mobile messenger apps which serve approximately over 1.3 billion users, have stolen the thunder from Facebook as most of the teens prefer networking with their friends on these messaging apps. Facebook is looking to evolve its platform for diversified purposes as each of these services like the messenger apps, blogging sites (Tumblr) and Twitter are stealing the charm from Facebook.