Google Inc. (NASDAQ:GOOGL) owned Android Play store continues to keep up a healthy lead over Apple Inc. (NASDAQ:AAPL) iOS App store in terms of number of downloads in Q2 2014. According to App Annie Market Index for Q2 2014,  Google Play quarterly downloads exceeded App store downloads by 60% in Q2 2014, an increase from 45% in the earlier quarter. A majority of the Play store download increase was mainly due to the accelerated adoption-rate of low-cost Android handsets in India, Brazil and Thailand.
However, the lead of Android Play in number of downloads failed to bring more enough of app revenue dollars to beat Apple App Store. The revenue generated by Apple's App store was a whopping 80% more than Google Play store. The main countries powering the App store are China, Japan and increasingly Taiwan, Kuwait and Turkey. The revenue contribution from these countries grew by 30% Q-O-Q.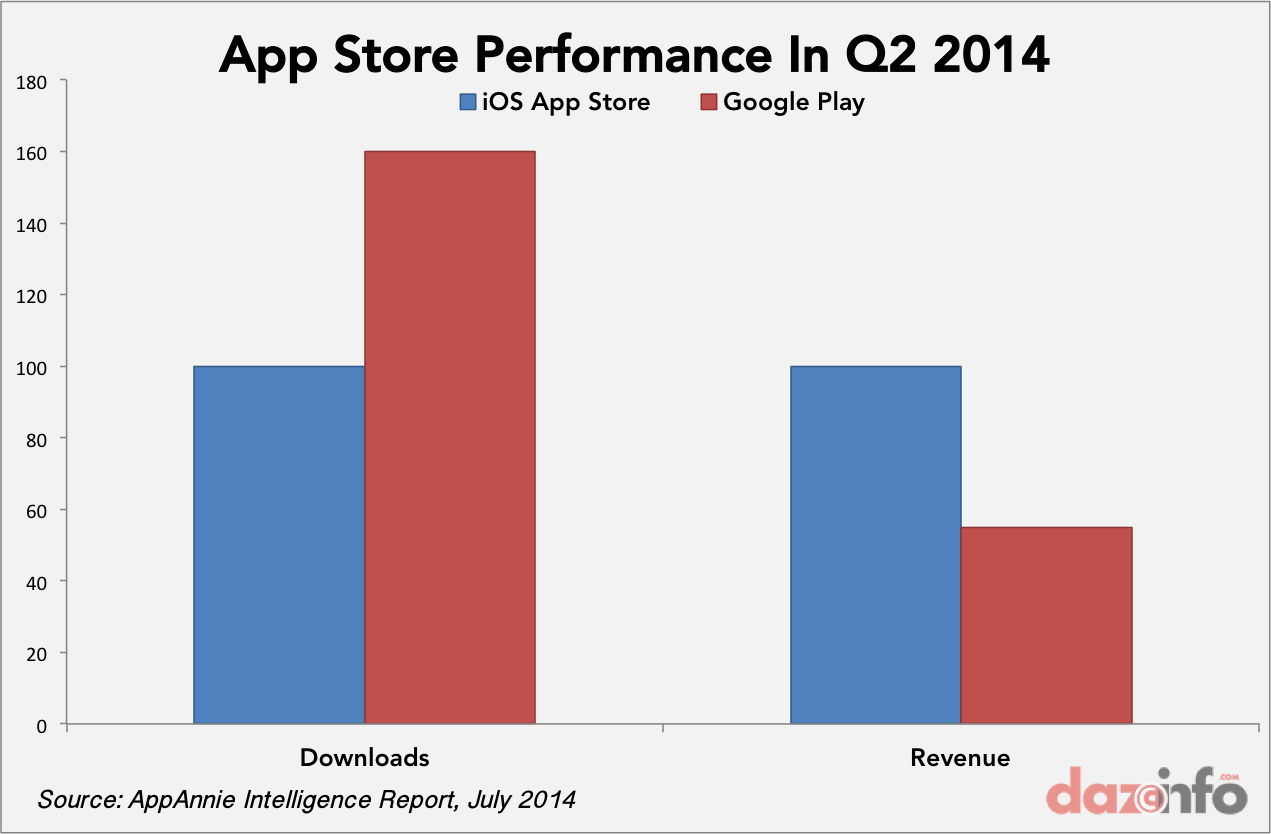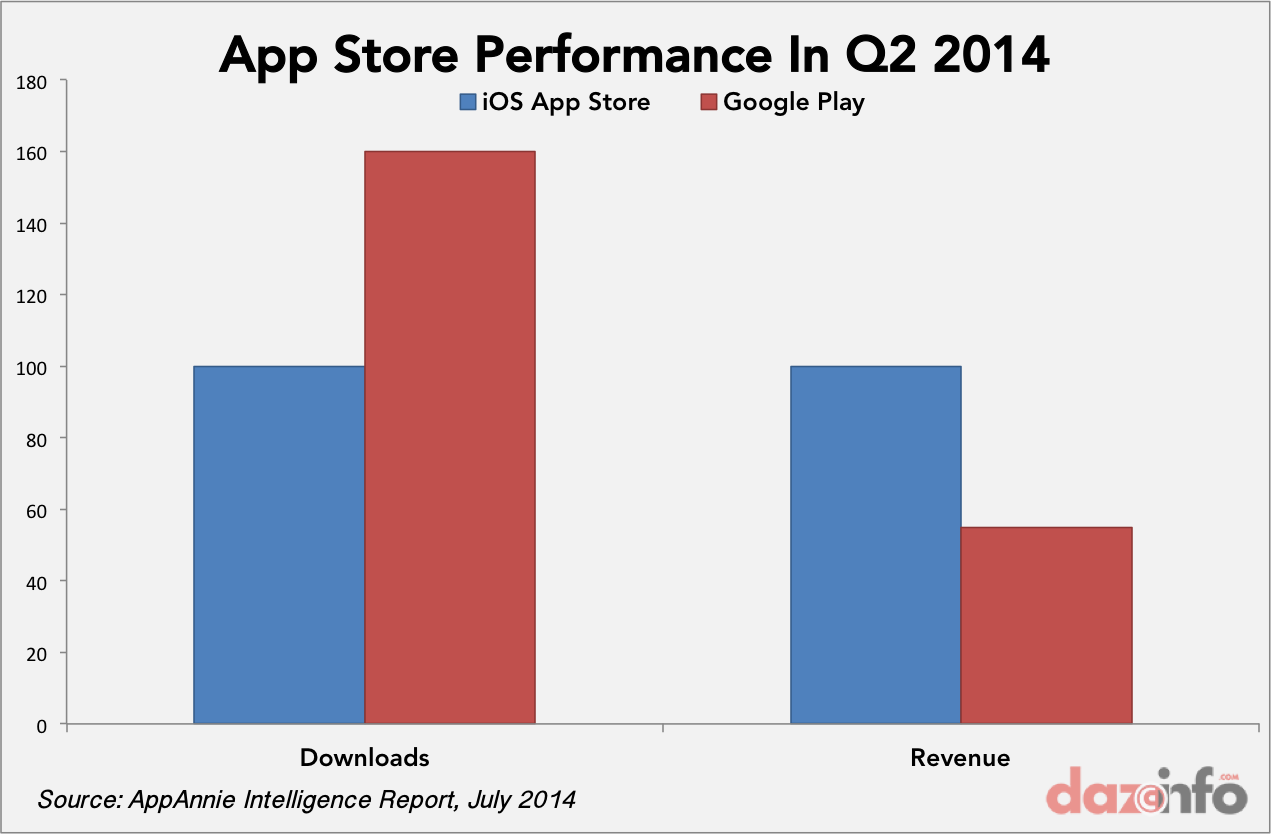 India Is The Force Behind Google Play's Success
The top three countries by the number of downloads on Google Play were the United States, Brazil and India. During the same period last year, Google Play downloads were only 10% higher than Apple App store downloads. The recent massive surge in downloads has been attributed to India, which was the fastest growing market in Asia-Pacific smartphone shipments from Q1 2013 to Q1 2014. Low-cost Android models such as the Moto G, Moto E and other products are accelerating the pace of Android adoption in India. Besides, as the mobile internet is slowly gaining ground and local and regional mobile messaging apps are becoming more popular among mobile users, a large number of Indian consumers making the jump from  feature phone to smartphone.  
Smartphone penetration, however, still stands at 10%, due to lack of proper network infrastructure. Oliver Lo, EVP Marketing at App Annie sounded confident of future growth prospects in India:
"The notion that 'West is Best' is holding less sway as Google Play and iOS App Store are being increasingly supported by emerging smartphone markets such as India and China. The fact that only 10% of the Indian population is smartphone-enabled is an exciting prospect for app publishers looking for new markets to explore. We expect strong Google Play downloads combined with future smartphone adoption could help set the stage for rapid growth in India's mobile app-related revenue by 2017."
Other noteworthy countries included Taiwan, South Korean and Thailand. As the gulf between downloads continues to increase, Google is likely to generate a major share of App store revenue from these countries and will eventually bridge the gap with iOS in terms of revenue.
China and Japan Contributing to Apple App Store Revenue
Apple continues to generate explosive revenue through its three main countries,  U.S.A, Japan and noteworthy China. All these countries are now responsible for more than half of the total App Store revenue. Sales of Apple iPhone are up 50% Y-O-Y in the country following the tie-up with NTT Docomo in 2013. After Apple signed a deal with China mobile in January 2014 to sell an estimated 20 million iPhones through the network, its revenue share from the App store has soared by 20% from Q1 2014 to Q2 2014.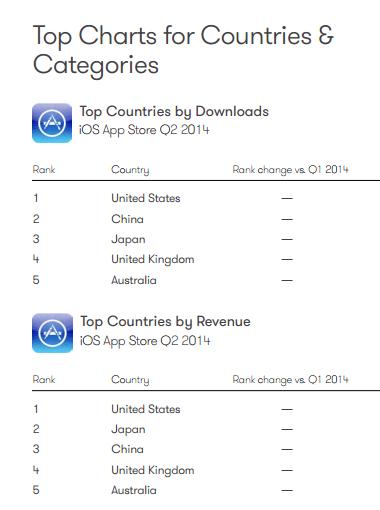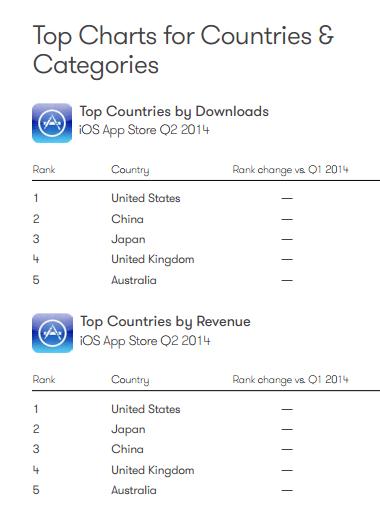 China is taking a keen interest in the low-cost older models of iPhone such as iPhone 4S, which was responsible for 25% of all iPhone sales in Q1 2014. An estimated US$10 billion was China's contribution to Apple's revenue during the Q1 2014. As China mobile continues to roll out 4G networks in China and Apple opens more stores, It will be interesting to see if China can officially surpass the US in terms of App store revenue.
The launch of the iPhone 6 will play a crucial role in Apple 's future in China. If the rumored phablet phone is a best-seller in China and Japan,  its app store revenue could skyrocket due to increased revenue from games and other apps.  Japan is the largest country in the world in terms of revenue coming from App Store and Google Play combined, mainly due to games such as Monster strike and Disney Tsum Tsum.
News And Sports App Making An Impact
Another interesting trend was the impact of the FIFA world cup 2014 on both app store downloads. During the World Cup 2014 held in Brazil, the country's market-share in the 'Sports' group doubled in terms of downloads. The category also grew elsewhere with Germany, Argentina and the United States stores seeing a 20% quarterly increase. The  News category was ranked behind only Games as the second fastest growing category in percent market share of Google Play revenue.